Open Access This article is
freely available
re-usable
Review
Redox for Repair: Cold Physical Plasmas and Nrf2 Signaling Promoting Wound Healing
1
Plasma Life Science, Leibniz Institute for Plasma Science and Technology (INP Greifswald), Felix-Hausdorff-Str. 2, 17489 Greifswald, Germany
2
ZIK-PRE, Leibniz Institute for Plasma Science and Technology (INP Greifswald), Felix-Hausdorff-Str. 2, 17489 Greifswald, Germany
*
Author to whom correspondence should be addressed.
Received: 28 September 2018 / Accepted: 18 October 2018 / Published: 19 October 2018
Abstract
:
Chronic wounds and ulcers are major public health threats. Being a substantial burden for patients and health care systems alike, better understanding of wound pathophysiology and new avenues in the therapy of chronic wounds are urgently needed. Cold physical plasmas are particularly effective in promoting wound closure, irrespective of its etiology. These partially ionized gases deliver a therapeutic cocktail of reactive oxygen and nitrogen species safely at body temperature and without genotoxic side effects. This field of plasma medicine reanimates the idea of redox repair in physiological healing. This review compiles previous findings of plasma effects in wound healing. It discusses new links between plasma treatment of cells and tissues, and the perception and intracellular translation of plasma-derived reactive species via redox signaling pathways. Specifically, (i) molecular switches governing redox-mediated tissue response; (ii) the activation of the nuclear E2-related factor (Nrf2) signaling, together with antioxidative and immunomodulatory responses; and (iii) the stabilization of the scaffolding function and actin network in dermal fibroblasts are emphasized in the light of wound healing.
Keywords:
Keap1; kINPen; plasma medicine; reactive oxygen species (ROS); reactive nitrogen species (RNS); redox regulation
Funding
This work was supported by the Ministry of Education, Science and Culture of the State of Mecklenburg-Western Pomerania (Germany), the European Union, European Social Fund (grant numbers AU 11 038; ESF/IV-BM-B35-0010/13 and AU 15 001), and the German Federal Ministry of Education and Research (BMBF, grant number 03Z22DN11).
Conflicts of Interest
The authors declare that they have no conflicts of interest.
Abbreviations
| | |
| --- | --- |
| ARE | antioxidant response element |
| Keap1 | Kelch-like ECH-associated protein 1 |
| Nrf2 | nuclear factor-erythroid 2-related factor 2 |
| ROS | reactive oxygen species |
| RNS | reactive nitrogen species |
Figure 1. Parameter influencing impact, efficiency and specificity of plasma. (A) Cold physical plasma generates reactive oxygen (ROS) and nitrogen species (RNS), which can be delivered to target cells. (B) Optical emission spectroscopy resolves, for example, OH (~308 nm) and the second positive system of molecular nitrogen (315–380 nm, upper diagram) as well as other excited species such as atomic O (777 nm and 844 nm) and atomic Ar in the range of 696 and 912 nm (lower diagram). (C) Device parameters such as treatment area, flow rate, working gas, components of gas and their tuning (a) as well as process parameter including treatment and incubation time, direct vs. indirect treatment, distance to the effluent and throughput can be modulated. Plasma is used to treat liquids (b), cells or tissues (c) or can be applied in vivo directly to the skin (d).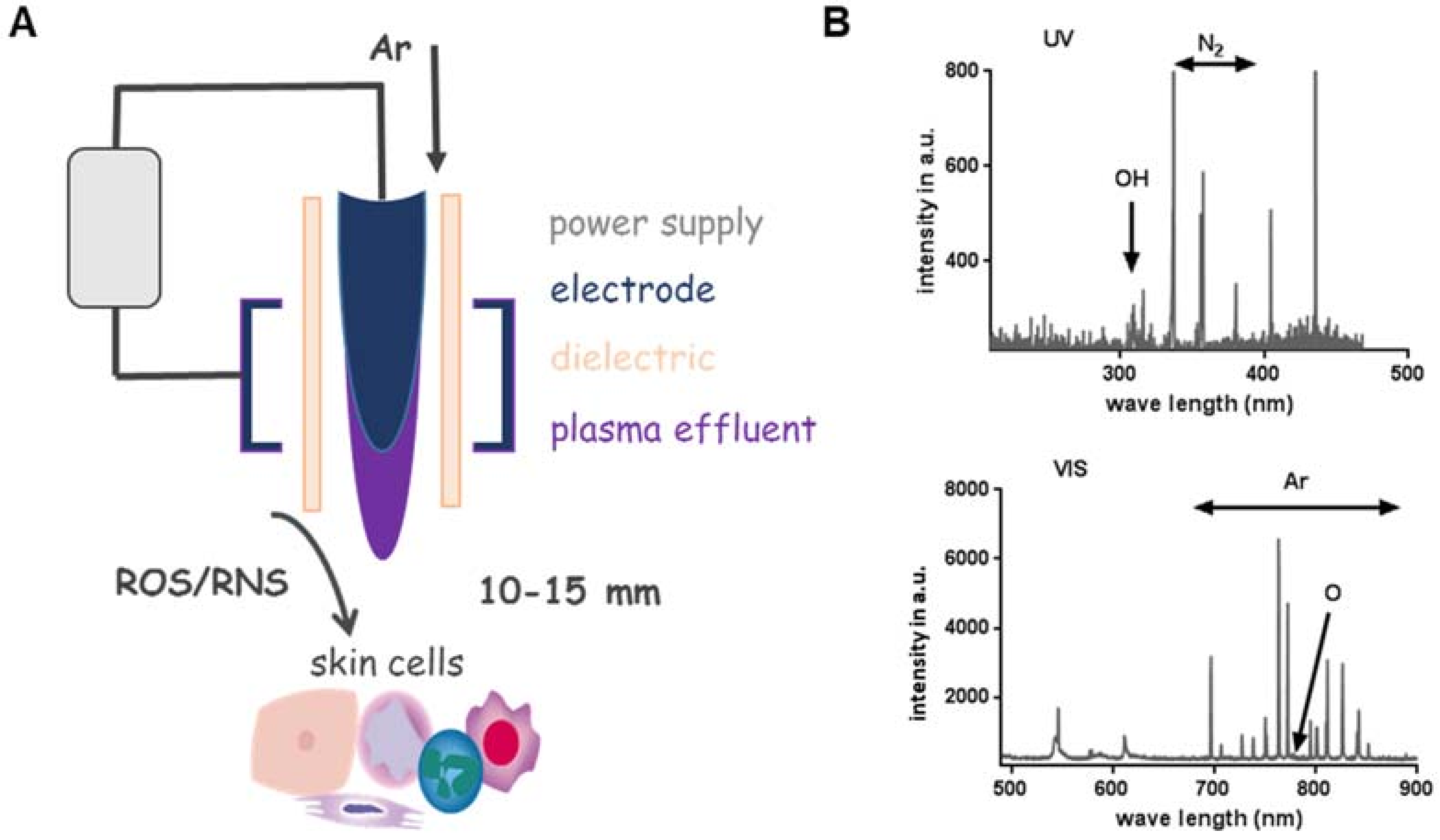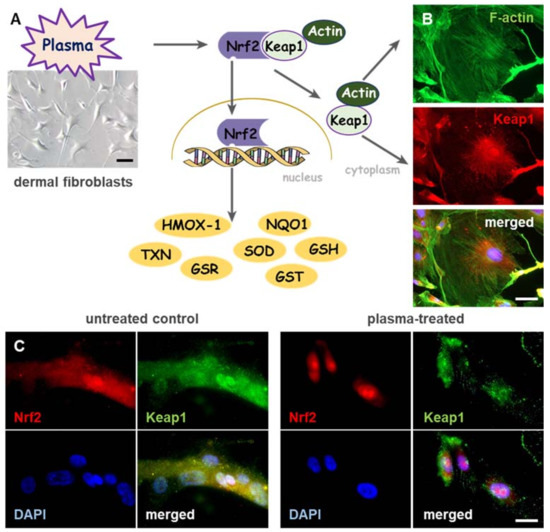 Figure 2.
Cold physical plasma triggers nuclear translocation of Nrf2, and induces co-localization of Keap1 with actin filaments in the cytoplasm. (
A
) Dermal fibroblasts (bright field image, left) were isolated from SKH1 mouse skin and exposed to cold physical plasma-derived ROS/RNS. Upon nuclear translocation of the nuclear factor erythroid 2-related factor 2 (Nrf2), plasma significantly altered antioxidant and phase II detoxification enzymes and proteins (e.g., heme oxygenase 1 (HMOX-1), NADPH quinone oxidoreductase 1 (NQO1), thioredoxin (TXN), glutathione reductase (GSR), superoxide dismutase (SOD), glutathione
S
-transferase (GST), glutathione (GSH) etc.). (
B
) Cytoplasmic localization of Kelch-like ECH-associated protein 1 (Keap1) was detected immunohistochemically by anti-Keap1 antibody (red). Co-localization of Keap1 with actin filaments was visualized by staining with fluorescein isothiocyanate (FITC)-phalloidin (green). (
C
) Subcellular localization of Keap1 (green) and trans-localization of Nrf2 (red) from the cytoplasm to the nucleus were detected immunohistochemically by anti-Keap1 and anti-Nrf2 antibodies in plasma-treated (right panel), but not control fibroblasts (left panel). Scale bars 100 µm (
A
), 50 µm (
B
,
C
).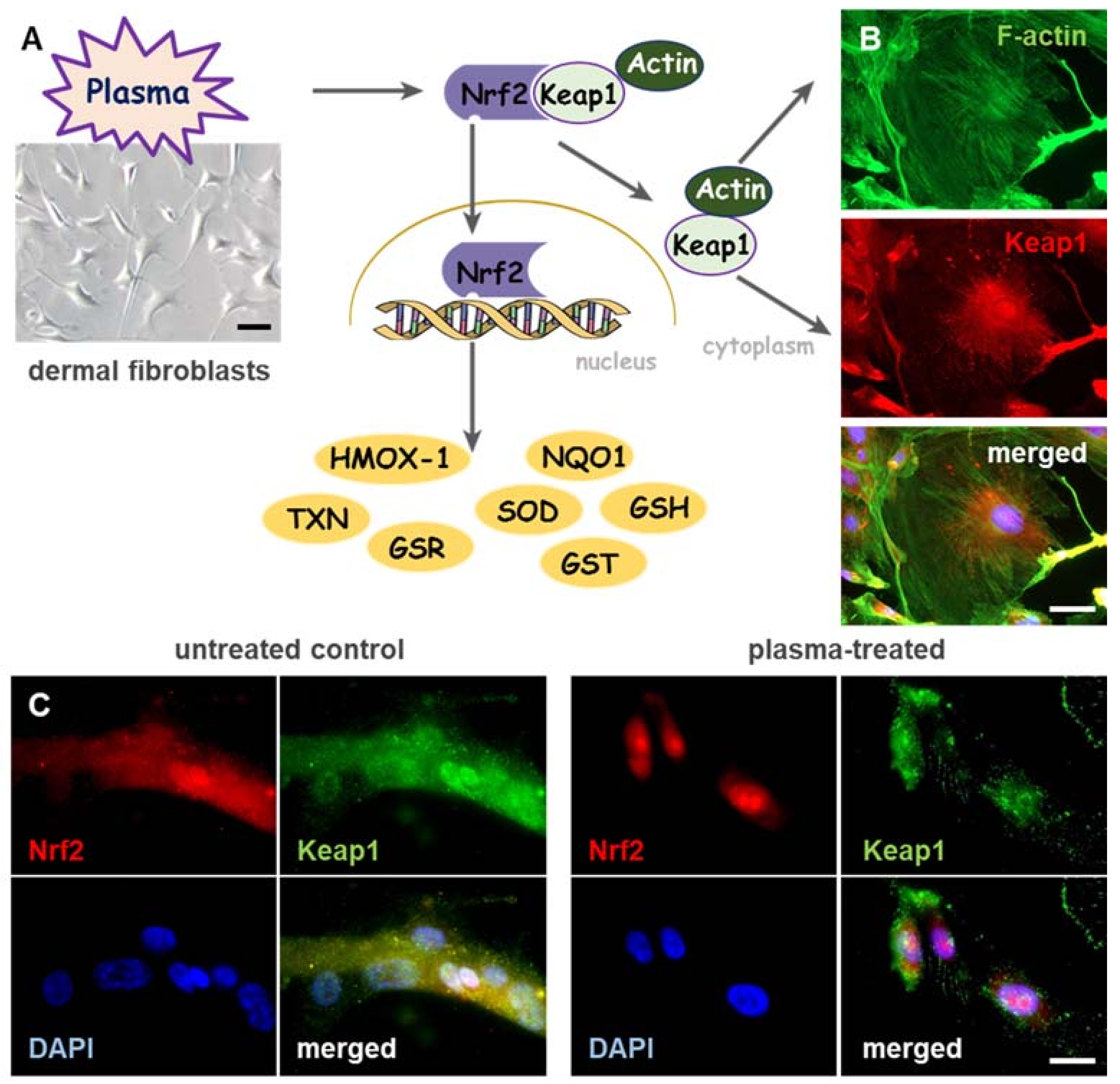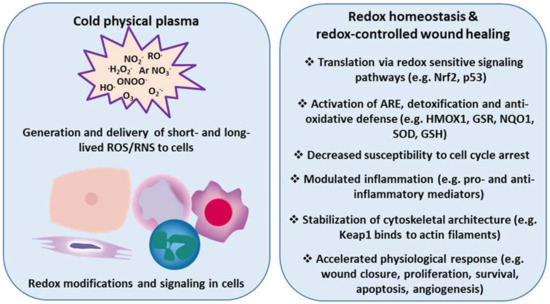 Figure 3. Cold physical plasma-derived generation and delivery of ROS/RNS triggers redox modifications and accelerates physiological responses in wound healing. Redox sensitive signaling pathways (e.g., Nrf2, p53) provide protection from excess ROS/RNS to eventually re-establish redox homeostasis. Cold physical plasma-derived ROS/RNS are efficient triggers of such signaling events in skin cells in vitro and in vivo. Accordingly, plasma treatment promotes several cellular and tissue responses linked to molecular signatures accompanying enhanced wound healing.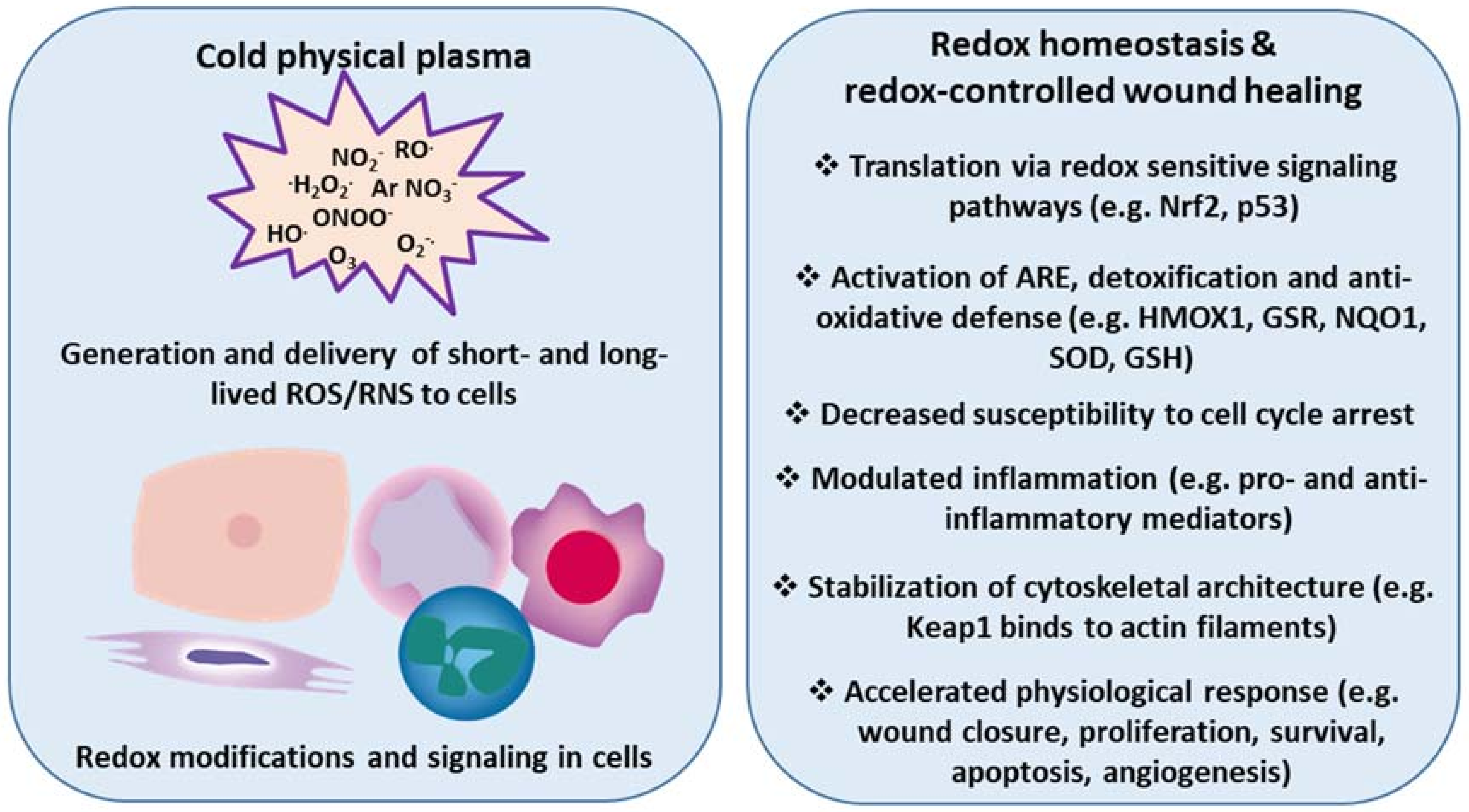 © 2018 by the authors. Licensee MDPI, Basel, Switzerland. This article is an open access article distributed under the terms and conditions of the Creative Commons Attribution (CC BY) license (http://creativecommons.org/licenses/by/4.0/).