Investigating Quantum Coherence by Negative Excursions of the Wigner Quasi-Distribution
1
Department of Information Engineering, Università Politecnica delle Marche, 60131 Ancona, Italy
2
Institute for Microelectronics, TU Wien, 1040 Wien, Austria
3
School of Electrical, Computer, and Energy Engineering, Arizona State University, Tempe, AZ 85287-5706, USA
4
Christian Doppler Laboratory for High Performance TCAD, Institute for Microelectronics, TU Wien, 1040 Wien, Austria
*
Author to whom correspondence should be addressed.
Received: 23 January 2019 / Revised: 25 March 2019 / Accepted: 27 March 2019 / Published: 30 March 2019
Abstract
Quantum information and quantum communication are both strongly based on concepts of quantum superposition and entanglement. Entanglement allows distinct bodies, that share a common origin or that have interacted in the past, to continue to be described by the same wave function until evolution is coherent. So, there is an equivalence between coherence and entanglement. In this paper, we show the relation between quantum coherence and quantum interference and the negative parts of the Wigner quasi-distribution, using the Wigner signed-particle formulation. A simple physical problem consisting of electrons in a nanowire interacting with the potential of a repulsive dopant placed in the center of it creates a quasi two-slit electron system that separates the wave function into two entangled branches. The analysis of the Wigner quasi-distribution of this problem establishes that its negative part is principally concentrated in the region after the dopant between the two entangled branches, maintaining the coherence between them. Moreover, quantum interference is shown in this region both in the positive and in the negative part of the Wigner function and is produced by the superposition of Wigner functions evaluated at points of the momentum space that are symmetric with respect to the initial momentum of the injected electrons.
View Full-Text
►

▼

Figures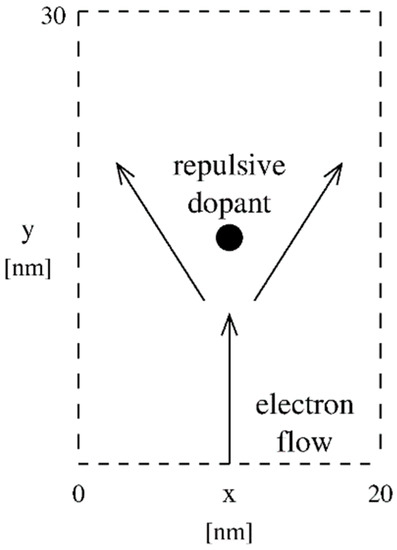 Figure 1
This is an open access article distributed under the
Creative Commons Attribution License
which permits unrestricted use, distribution, and reproduction in any medium, provided the original work is properly cited (CC BY 4.0).

Share & Cite This Article
MDPI and ACS Style
Ballicchia, M.; Ferry, D.K.; Nedjalkov, M.; Weinbub, J. Investigating Quantum Coherence by Negative Excursions of the Wigner Quasi-Distribution. Appl. Sci. 2019, 9, 1344.
Note that from the first issue of 2016, MDPI journals use article numbers instead of page numbers. See further details here.
Related Articles
Comments
[Return to top]