Conversion of Stearic Acid into Bio-Gasoline over Pd/ZSM-5 Catalysts with Enhanced Accessibility
1
Group of Chemical and Environmental Engineering, Rey Juan Carlos University, c/ Tulipán s/n, 28933 Móstoles, Madrid, Spain
2
IMDEA Energy Institute, Avda. Ramón de la Sagra, 3, 28935 Móstoles, Madrid, Spain
*
Author to whom correspondence should be addressed.
Received: 29 April 2019 / Revised: 5 June 2019 / Accepted: 6 June 2019 / Published: 11 June 2019
Abstract
Palladium supported on nanocrystalline ZSM-5 (n-ZSM-5, Si/Al = 32) and hierarchical ZSM-5 (h-ZSM-5) with different acidity (Si/Al = 33, 51, 122) were tested in the liquid-phase conversion of stearic acid under nitrogen atmosphere (6 bar). The incorporation of Pd into ZSM-5 zeolite increased significantly the share of gasoline in the reaction products due to the promotion by this metal of both decarboxylation and hydrogen transfer reactions. Likewise, the Pd nanoparticles dispersed over the zeolitic support favored the conversion of light olefins formed by end-chain cracking reactions into gasoline-range hydrocarbons according to an oligomerization/cyclization/aromatization pathway. Additionally, Pd/h-ZSM-5 gave rise to higher conversion and selectivity towards gasoline than Pd/n-ZSM-5, due mainly to the enhanced accessibility and improved Pd dispersion achieved when using the hierarchical zeolite. The decrease in the Si/Al atomic ratio in Pd/h-ZSM-5 samples resulted in a rise in the stearic acid conversion, although it was lower than expected. This finding denotes that, for supports with high acid sites concentration, the Pd availability became the limiting factor as the metal was loaded in similar amounts in all catalysts. Finally, the increase of the reaction temperature with the Pd/h-ZSM-5 (122) catalyst augmented both stearic acid conversion and gasoline selectivity, since it enhanced the conversion of the light olefins, formed as primary cracking products, into liquid hydrocarbons. Therefore, it can be concluded that Pd supported on hierarchical ZSM-5 zeolite is a convenient catalyst for obtaining bio-gasoline from oleaginous feedstock.
View Full-Text
►

▼

Figures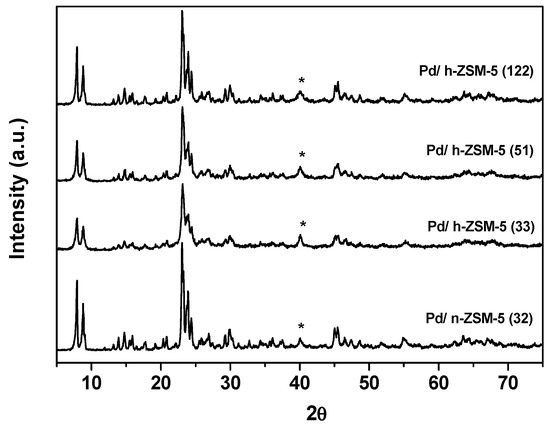 Figure 1
This is an open access article distributed under the
Creative Commons Attribution License
which permits unrestricted use, distribution, and reproduction in any medium, provided the original work is properly cited (CC BY 4.0).

Share & Cite This Article
MDPI and ACS Style
Arroyo, M.; Briones, L.; Escola, J.M.; Serrano, D.P. Conversion of Stearic Acid into Bio-Gasoline over Pd/ZSM-5 Catalysts with Enhanced Accessibility. Appl. Sci. 2019, 9, 2386.
Note that from the first issue of 2016, MDPI journals use article numbers instead of page numbers. See further details here.
Related Articles
Comments
[Return to top]