Cold Argon Plasma as Adjuvant Tumour Therapy on Progressive Head and Neck Cancer: A Preclinical Study
1
Leibniz Institute for Plasma Science and Technology (INP), Felix-Hausdorff-Str. 2, 17489 Greifswald, Germany
2
Department of Oral and Maxillofacial Surgery, Plastic Surgery, University Medicine Greifswald, Ferdinand-Sauerbruch-Str, 17475 Greifswald, Germany
3
Leibniz Institute for Plasma Science and Technology (INP), ZIK Plasmatis, Felix-Hausdorff-Str. 2, 17489 Greifswald, Germany
4
Department of Hygiene and Environmental Medicine, University Medicine Greifswald, Walther-Rathenau-Str. 49a, 17475 Greifswald, Germany
*
Author to whom correspondence should be addressed.
†
Those authors contributed equally to this paper.
Received: 29 April 2019 / Revised: 12 May 2019 / Accepted: 14 May 2019 / Published: 19 May 2019
Abstract
Investigating cold argon plasma (CAP) for medical applications is a rapidly growing, innovative field of research. The controllable supply of reactive oxygen and nitrogen species through CAP has the potential for utilization in tumour treatment. Maxillofacial surgery is limited if tumours grow on vital structures such as the
arteria carotis
. Here CAP could be considered as an option for adjuvant intraoperative tumour therapy especially in the case of squamous cell carcinoma of the head and neck. Further preclinical research is necessary to investigate the efficacy of this technology for future clinical applications in cancer treatment. Initially, a variety of in vitro assays was performed on two cell lines that served as surrogate for the squamous cell carcinoma (SCC) and healthy tissue, respectively. Cell viability, motility and the activation of apoptosis in SCC cells (HNO97) was compared with those in normal HaCaT keratinocytes. In addition, induction of apoptosis in ex vivo CAP treated human tissue biopsies of patients with tumours of the head and neck was monitored and compared to healthy control tissue of the same patient. In response to CAP treatment, normal HaCaT keratinocytes differed significantly from their malignant counterpart HNO97 cells in cell motility only whereas cell viability remained similar. Moreover, CAP treatment of tumour tissue induced more apoptotic cells than in healthy tissue that was accompanied by elevated extracellular cytochrome c levels. This study promotes a future role of CAP as an adjuvant intraoperative tumour therapy option in the treatment of head and neck cancer. Moreover, patient-derived tissue explants complement in vitro examinations in a meaningful way to reflect an antitumoral role of CAP.
View Full-Text
►

▼

Figures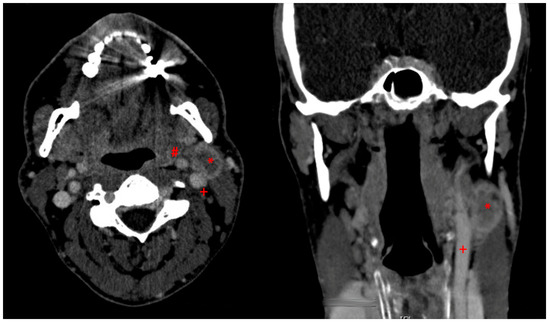 Figure 1
This is an open access article distributed under the
Creative Commons Attribution License
which permits unrestricted use, distribution, and reproduction in any medium, provided the original work is properly cited (CC BY 4.0).

Share & Cite This Article
MDPI and ACS Style
Hasse, S.; Seebauer, C.; Wende, K.; Schmidt, A.; Metelmann, H.-R.; von Woedtke, T.; Bekeschus, S. Cold Argon Plasma as Adjuvant Tumour Therapy on Progressive Head and Neck Cancer: A Preclinical Study. Appl. Sci. 2019, 9, 2061.
Note that from the first issue of 2016, MDPI journals use article numbers instead of page numbers. See further details here.
Related Articles
Comments
[Return to top]