Open Access This article is
freely available
re-usable
Article
Assessment of Student Music Performances Using Deep Neural Networks
Center for Music Technology, Georgia Institute of Technology, Atlanta, GA 30318, USA
†
These authors contributed equally to this work.

Received: 28 February 2018 / Accepted: 22 March 2018 / Published: 27 March 2018
Abstract
:
Music performance assessment is a highly subjective task often relying on experts to gauge both the technical and aesthetic aspects of the performance from the audio signal. This article explores the task of building computational models for music performance assessment, i.e., analyzing an audio recording of a performance and rating it along several criteria such as musicality, note accuracy, etc. Much of the earlier work in this area has been centered around using hand-crafted features intended to capture relevant aspects of a performance. However, such features are based on our limited understanding of music perception and may not be optimal. In this article, we propose using Deep Neural Networks (DNNs) for the task and compare their performance against a baseline model using standard and hand-crafted features. We show that, using input representations at different levels of abstraction, DNNs can outperform the baseline models across all assessment criteria. In addition, we use model analysis techniques to further explain the model predictions in an attempt to gain useful insights into the assessment process. The results demonstrate the potential of using supervised feature learning techniques to better characterize music performances.
Keywords:
music performance assessment; deep learning; deep neural networks; DNN; music information retrieval; MIR; music informatics; music education; music learning
3. Material and Methods
In this study, we focus on building DNN based regression models that are capable of predicting ratings given by expert human judges for performances of pitched wind instruments. We experiment with two different input representations, which respectively encode a music signal at high and low levels of abstraction. We also present different DNN architectures targeted at this task. The models are trained to assess a musical performance along several distinct criteria such as note accuracy, rhythmic accuracy, etc. The performance of the DNN models are compared against a Support Vector Regression (SVR) based model trained using standard and hand-crafted features tuned for this task.
4. Results
The performance of the investigated models are shown in
Figure 6
( metric) and
Table 2
( metric). All of the correlation results are significant with
p
-values .
The following observations and inferences can be made from the results:
(i)

For both student categories and for all assessment criteria, the SVR model is always outperformed by at least one of the DNN models. This holds true for both evaluation metrics. This suggests that deep architectures are able to extract more (musically) meaningful information from the data than standard and hand-crafted features.

(ii)

The best performance is observed for the assessment of Musicality. For both student categories, the best DNN models show clear superior performance compared to the SVR-BD model. It is worth noting that, among all the assessment criteria, Musicality is probably the most abstract and difficult to define. This makes feature engineering for Musicality rather difficult. The better performance of DNNs at this assessment criterion further indicates the capability of feature learning methods to model abstract concepts by learning patterns in data. Within the DNN models, those using RNNs consistently perform better for both student categories (except for PCM-CRNN for Symphonic Band). This shows the benefits of capturing temporal information for modeling this assessment criterion.

(iii)

The PC-FCN model outperforms the other DNN models in the case of Note Accuracy for the Symphonic Band. As Symphonic Band students show a generally higher musical proficiency than Middle School students, one possible reason for this could be that as the proficiency level of the students increases, the high level melodic information encoded in the pitch contour becomes more important in the assessment process. It is also worth noting that the musical scores performed by the Symphonic Band students are considerably more complex than the Middle School students in terms of note density and distribution across the scales. We discuss this further in

Section 5

.

(iv)

For the Tone Quality criterion, the DNN models show only minor improvement over the baseline SVR-BD model. This could possibly be explained by the spectral features (MFCCs, etc.), which are already very efficient at capturing timbral information and, thus, cannot be easily outperformed by learned features. The relatively poor performance of PC-FCN at this criterion is expected, given that the pitch contour computation process discards all timbre information; hence, the model has no relevant information to begin with. However, the performance of the MEL input based models (M-CRNN and PCM-CRNN) suggests that DNNs are able to learn useful features for this criteria from the MEL input representation.

(v)

For Middle School, the PCM-CRNN hybrid model performs at par or better than all other models and across all assessment criteria. This is expected since it observes both high level and low level representations as input and therefore draws from more data to learn better features. However, the performance of this model falls below expectation in the first three assessment criteria for Symphonic Band. This requires further investigation as there is no obvious explanation.
While the performance of the proposed models is significantly better than previously used methods, it is not robust enough for use in practical applications. Peak shows that the models are currently able to only explain around of the variance in the data and more work is needed to improve the performance before they can be deployed in applications, which can be directly used by students.
5. Model Analysis
In order to better explain the model predictions and explore the feature learning process further, we take a closer look at the PC-FCN model. We do not use the other larger models because they have high dimensionality in the feature space, which makes analysis using the tools mentioned below difficult. The PC-FCN model is suitable for our analysis because of its simpler architecture and smaller size, which enables easier and interpretable analysis.
6. Conclusions
Music performance assessment is a broad research area that deals with understanding, modeling, and characterizing several aspects of a music performance. This article explores the use of DNNs for assessing performances of pitched wind instruments for two student categories at different proficiency levels. Specifically, we train DNN based regression models for the prediction of assessments given by expert human judges across several subjective assessment criteria. Two different DNN architectures are proposed for the task: (i) a fully convolutional model using pitch contours as input, and (ii) a convolutional recurrent model using Mel spectrogram as input. The two proposed input representations are chosen with the intent to respectively encode high level melodic content and low level information spanning multiple dimensions. While the melodic information encoded in pitch contours enables better characterization of Musicality and Note Accuracy, timbral information in Mel spectrograms aids assessment of Tone Quality. A third hybrid model combining the above architectures is also proposed, which tries to leverage features learned from both input representations. The proposed DNN models outperform a baseline model using low-level and hand-designed features across all four assessment criteria (Musicality, Note Accuracy, Rhythmic Accuracy and Tonality) for both evaluation metrics ( and ). This is observed for both student categories. Finally, in order to explain the model predictions and understand the feature learning process in a better way, model analysis techniques are used. These techniques help explain the effectiveness of pitch contours as input representation for assessing students at a higher proficiency level and show that abstract concepts like Musicality share features across student categories. To summarize, our key contributions include:
(i)

We introduce DNN based architectures for the music performance assessment task. The experimental results show the overall promise of using supervised feature learning methods for this task and the shortcomings of traditional approaches in describing music performances.

(ii)

We compare and contrast input data representations at different levels of abstraction and show that information encoded by each is critical for different assessment criteria.

(iii)

Compared to the baseline, we are able to show considerable improvement in model performance. For Musicality, which is arguably the most abstract assessment criterion, we demonstrate clear superior performance of the DNN models.

(iv)

We use model analysis techniques such as filter distance measures and saliency maps to explain the model predictions and further our understanding of the performance assessment process in general.
While the results are encouraging, they are not reliable enough for use in practical applications to provide feedback to students. The following avenues for future work might help improve the system:
(i)

Developing better input representations

: Constant Q-Transforms have shown good results with other MIR tasks [

28

] and are thus a potential candidate for a low level representation. In addition, augmenting the pitch contours with the amplitude variations or pitch saliency could be a simple and yet effective way to encode dynamics. Another potential direction could be to switch to a raw time-domain input representation. While input representations help condense information, which facilitates feature learning, information that might be otherwise useful is discarded during their computation process. Examples include the loss of timbral and dynamic information during the pitch extraction process or the loss of the phase in a magnitude spectrum. Therefore, learning from raw audio—though challenging—presents opportunities to not only improve the performance of the models at this task, but also further our understanding of music perception in general.

(ii)

Adding the musical score

: Although the human judges have access to the score that the students are performing, the DNN models do not. It would be of interest to design a model that allows encoding the score information in the input representation.

(iii)

Improving the training data

: While we use the concept of weak labels to improve model training by increasing the amount of data available, other more popular data augmentation methods such as pitch shifting can be used to potentially increase the models' robustness. Adding performances from other instruments to increase the available data is also an option, but requires adequate care to avoid bias towards a particular class of instruments. Given enough data, an alternative option would be to train instrument specific models, which can then capture the nuances and assessment criteria of the individual instruments better.

(iv)

Modifying the training methodology

: Since the models are trained on one dataset with a limited number of instruments, they cannot be directly used on other music performance datasets. However, based on our preliminary cross-category analysis results, transfer learning [

71

] could be an option for certain assessment criteria and warrants further investigation.

(v)

Investigating alternative model analysis techniques

: Along with the techniques used in this article, other model analysis techniques such as layer-wise relevance propagation [

70

] can be explored to further improve our understanding of the feature learning process. Improving the interpretability of DNNs is an active area of research in the Artificial Intelligence community and more efforts are needed to build better tools targeting music and general audio-based tasks.

(vi)

Combining multiple modalities

: A music performance mostly caters to the auditory sense. However, visual cues such as gestures form a significant component of a music performance, which might influence the perception of expressiveness [

72

,

73

]. Using multi-modal input representations, which encode both auditory and visual information can provide several interesting possibilities for future research.
In this study, we show that DNNs are a promising tool for building computational models that can enable researchers to explore the area of music performance analysis in new and interesting ways. While considerable research still needs to be done before we can develop a comprehensive understanding of various aspects of a musical performance, our ability to interpret the models and to learn from feature representations will continue to be a critical factor in this endeavor.
Acknowledgments
The authors would like to thank the Florida Bandmasters Association for providing the dataset used in this study. We also gratefully acknowledge NVIDIA Corporation (Santa Clara, CA, United States) who supported this research by providing a Titan X GPU via the NVIDIA GPU Grant program.
Author Contributions
A.P., S.G. and A.L. conceived and designed the experiments; A.P. and S.G. implemented the models, performed the experiments, and analyzed the data; A.P., S.G. and A.L. wrote the paper.
Conflicts of Interest
The authors declare no conflict of interest.



Figure 3. Flow diagram for computation of input representations. F0: Fundamental frequency, MIDI: Musical instrument digital interface.


Figure 4. Model architecture diagrams. (a) Fully Convolutional Pitch Contour Model (PC-FCN); (b) Convolutional Recurrent Model with Mel Spectrogram (M-CRNN).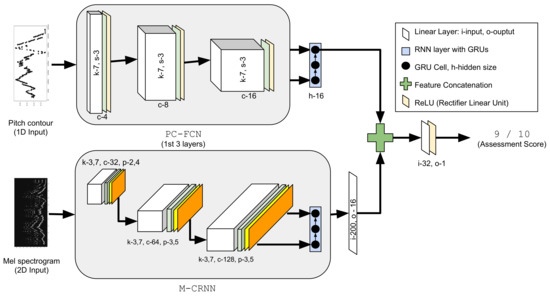 Figure 5. Architecture diagram of the Hybrid Model Combining Mel-Spectrogram and Pitch Contour Inputs (PCM-CRNN).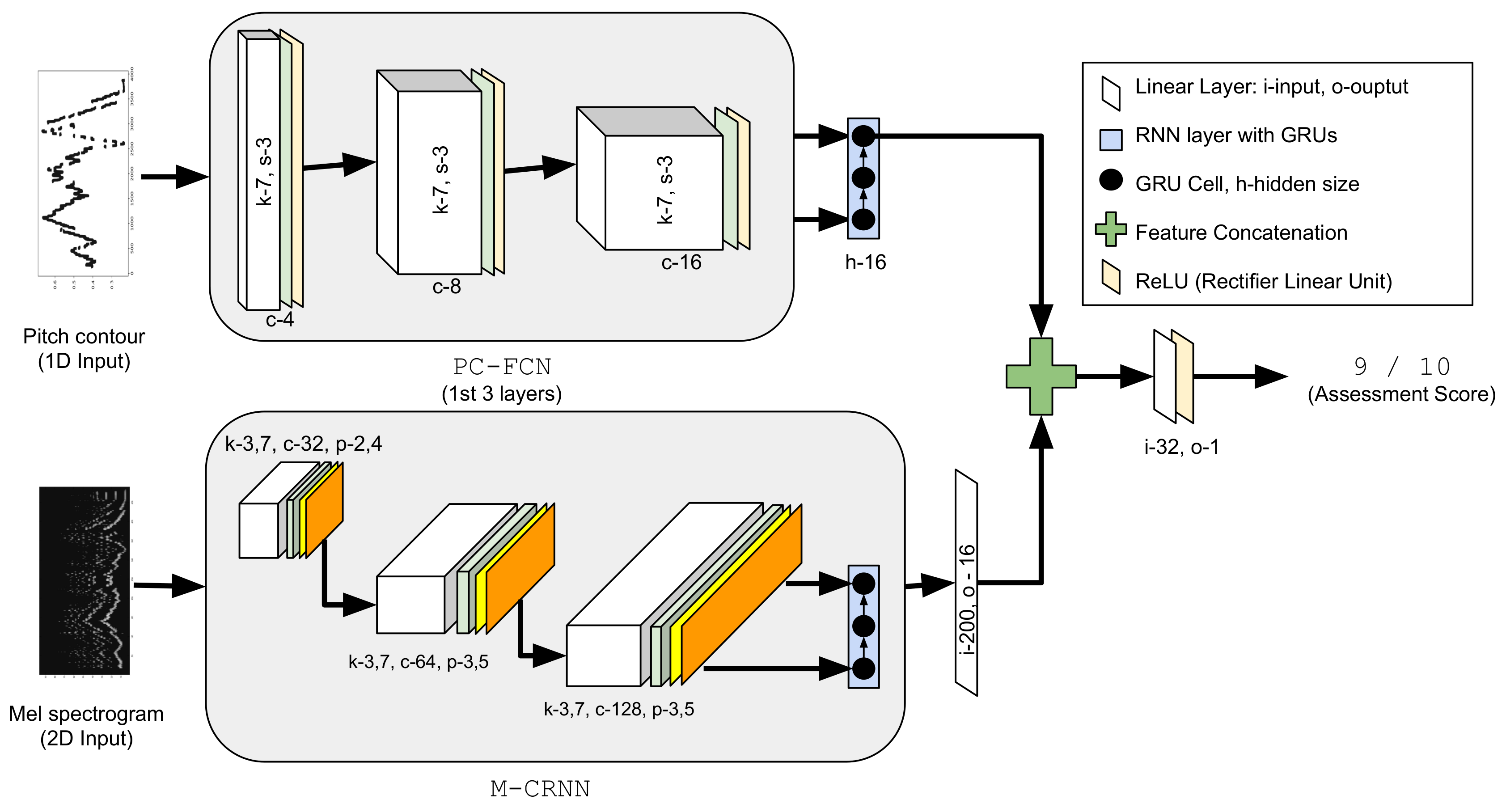 Figure 6. Evaluation results showing metric for all assessment criteria. SVR-BD: Baseline Model, PC-FCN: Fully Convolutional Pitch Contour Model, M-CRNN: Convolutional Recurrent Model with Mel Spectrogram, PCM-CRNN: Hybrid Model Combining Mel-Spectrogram and Pitch Contour Inputs.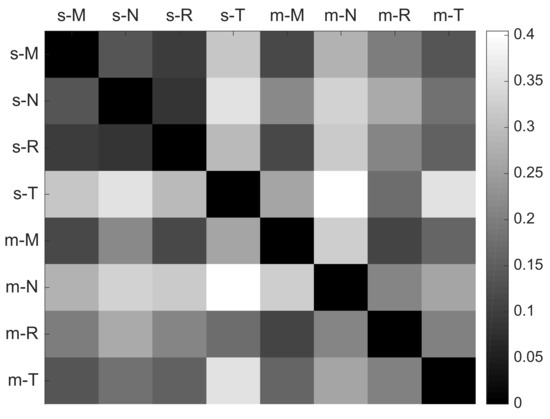 Figure 7. Cosine distance matrix between the weight vectors of the 1st convolutional layer of the Fully Convolutional Pitch Contourmodel (PC-FCN) for different (s: Symphonic Band, m: Middle School, M: Musicality, N: Note Accuracy, R: Rhythmic Accuracy, T: Tone Quality). Darker shade indicates lower distance.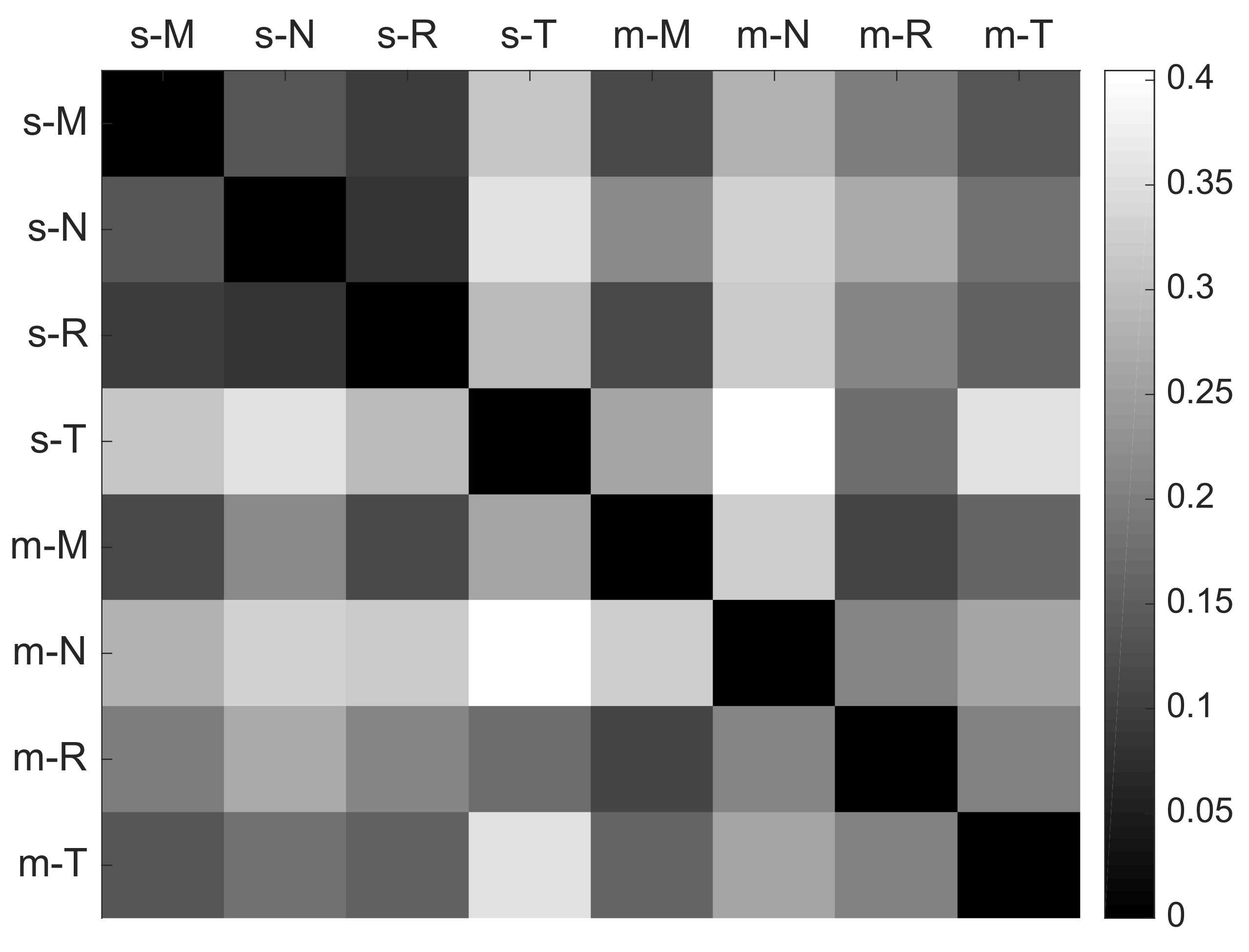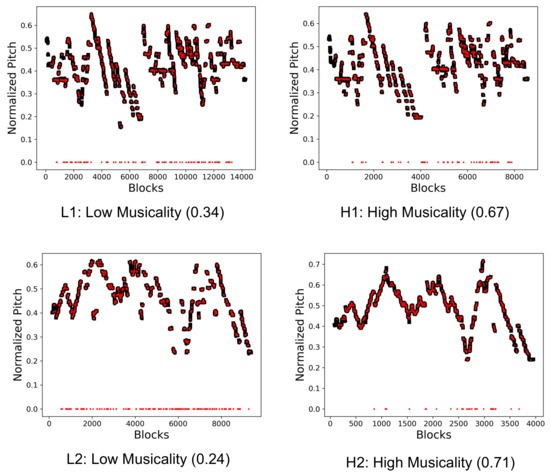 Figure 8.
Saliency maps using PC-FCN model for four performances of Bb Clarinet (the two on the top are from 2014 Symphonic Band performances, the two on the bottom are from 2013 Middle School performances). The original pitch contour is shown in black and the salient sections are shown in red. The
y
-axis represents the normalized pitch values while the
x
-axis represents time in terms of blocks.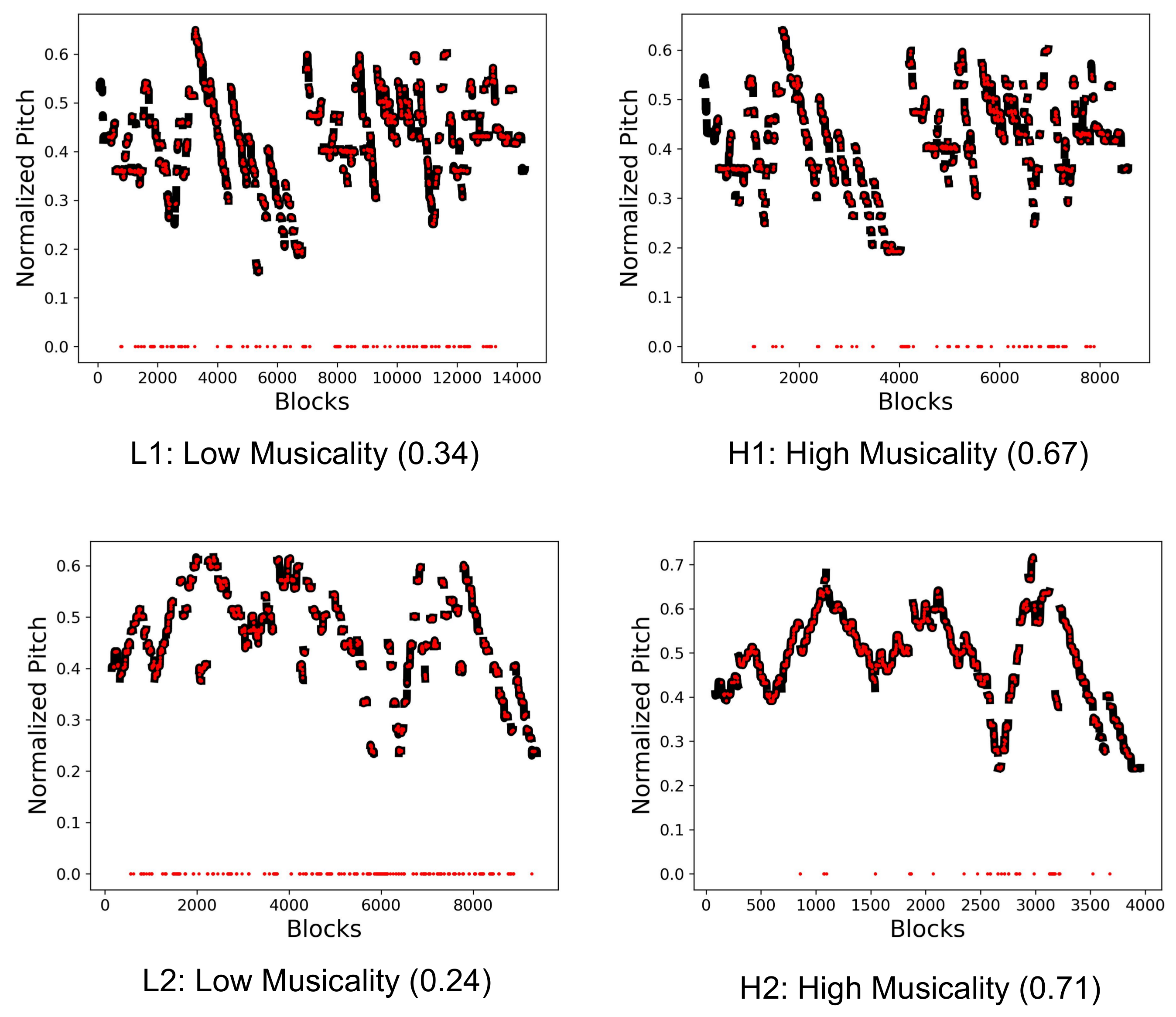 Table 1. Dataset statistics for technical exercise showing the number of performances across years, average duration of performances and the % split across instruments (a: Alto Saxophone, c: Bb Clarinet, f: Flute).
Middle School
Symphonic Band
# Students
Avg. Duration (in s)
# Students
Avg. Duration (in s)
2013
447
a: 27% , c: 33%, f: 40%
34.07
462
a: 25% , c: 38%, f: 37%
51.93
2014
498
a: 30% , c: 33%, f: 37%
35.70
527
a: 20% , c: 39%, f: 41%
47.96
2015
465
a: 26% , c: 36%, f: 38%
35.27
561
a: 23% , c: 39%, f: 37%
55.33
Total
1410
a: 28% , c: 34%, f: 38%
35.01
1550
a: 23% , c: 39%, f: 38%
51.74

Table 2. Evaluation results showing the Pearson Correlation Coefficient for all models and both student categories (M: Musicality, N: Note Accuracy, R: Rhythm Accuracy, T: Tone Quality, SVR-BD: Baseline Model, PC-FCN: Fully Convolutional Pitch Contour Model, M-CRNN: Convolutional Recurrent Model with Mel Spectrogram, PCM-CRNN: Hybrid Model Combining Mel-Spectrogram and Pitch Contour Inputs).
Symphonic Band
Middle School
Models
M
N
R
T
M
N
R
T
SVR-BD
0.612
0.547
0.649
0.628
0.619
0.595
0.418
0.587
PC-FCN
0.744
0.647
0.743
0.612
0.619
0.561
0.465
0.560
M-CRNN
0.733
0.582
0.700
0.624
0.723
0.666
0.602
0.573
PCM-CRNN
0.689
0.694
0.655
0.649
0.724
0.653
0.630
0.634

© 2018 by the authors. Licensee MDPI, Basel, Switzerland. This article is an open access article distributed under the terms and conditions of the Creative Commons Attribution (CC BY) license (http://creativecommons.org/licenses/by/4.0/).