Printability Study of Bioprinted Tubular Structures Using Liquid Hydrogel Precursors in a Support Bath
Department of Mechanical Engineering, Stevens Institute of Technology, Hoboken, NJ 07030, USA
*
Author to whom correspondence should be addressed.
Received: 31 January 2018 / Revised: 28 February 2018 / Accepted: 6 March 2018 / Published: 9 March 2018
Abstract
Microextrusion-based bioprinting within a support bath material is an emerging additive manufacturing paradigm for complex three-dimensional (3D) tissue construct fabrication. Although a support bath medium enables arbitrary in-process geometries to be printed, a significant challenge lies in preserving the shape fidelity upon the extraction of the support bath material. Based on the bioprinting in a support bath paradigm, this paper advances quantitative analyses to systematically determine the printability of cell-laden liquid hydrogel precursors towards filament-based tissue constructs. First, a yield stress nanoclay material is judiciously selected as the support bath medium owing to its insensitivity to temperature and ionic variations that are considered in the context of the current gelatin-alginate bio-ink material formulation. Furthermore, phenomenological observations for the rheology-mediated print outcomes enable the compositions for the bio-ink material (10% gelatin, 3% alginate), in tandem with the support bath medium (4% nanoclay, 0.5% CaCl
2
), to be identified. To systematically evaluate the performance outcomes for bioprinting within a support bath, this paper advances an experimental parametric study to optimize the 3D structural shape fidelity by varying parameters such as the layer height, extrusion flowrate, printing temperature, and printhead speed, towards fabricating complex 3D structures with the stabilization of the desired shape outcome. Specifically, it is found that the layer height and printhead speed are determinant parameters for the extent of successive layer fusion. Moreover, maintenance of an optimal bath temperature is identified as a key parameter for establishing the printability for the hydrogel bio-ink. Studying this effect is enabled by the custom design of a PID temperature control system with integration with the bioprinter for real-time precision control of the support bath temperature. In order to qualify the printed construct, a surface irregularity metric, defined as the average height difference between consecutive local maximum and minimum points of the binary image contour for the printed structure, is advanced to evaluate the quality of the printed constructs. Complex one-to-four bifurcating tubular structure prints demonstrate the applicability of the optimized bioprinting parameter space to create exemplar 3D human vessel-like structures. Finally, a cell viability assay and perfusion test for a printed cell-laden tubular element demonstrates high cell survival rates and leakage-free flow, respectively.
View Full-Text
►

▼

Figures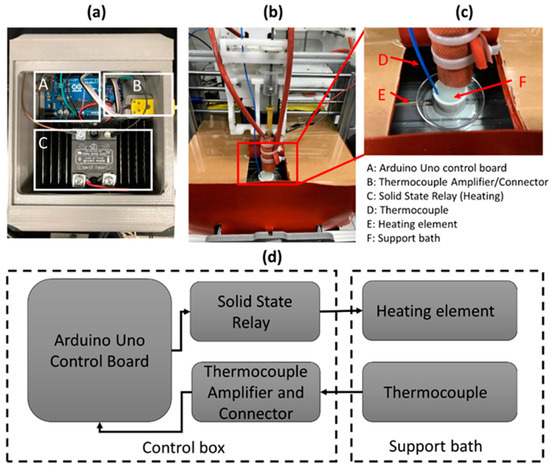 Figure 1
This is an open access article distributed under the
Creative Commons Attribution License
which permits unrestricted use, distribution, and reproduction in any medium, provided the original work is properly cited (CC BY 4.0).

Share & Cite This Article
MDPI and ACS Style
Ding, H.; Chang, R.C. Printability Study of Bioprinted Tubular Structures Using Liquid Hydrogel Precursors in a Support Bath. Appl. Sci. 2018, 8, 403.
Note that from the first issue of 2016, MDPI journals use article numbers instead of page numbers. See further details here.
Related Articles
Comments
[Return to top]