A New Weighting Approach with Application to Ionospheric Delay Constraint for GPS/GALILEO Real-Time Precise Point Positioning
1
NASG Key Laboratory of Land Environment and Disater Monitoring, China University of Mining and Technology, Xuzhou 221116, China
2
School of Geomatics and Urban Spatial Information, Beijing University of Civil Engineering and Architecure, Beijing 100044, China
3
School of Environment Science and Spatial Informatics, China University of Mining and Technology 1Daxue Road, Xuzhou 221116, China
4
School of Geography, NanJing Normal University, No.1 Wenyuan Road, Xianlin University District, Nanjing 210023, China
5
School of Geodesy and Geomatics, Wuhan University, 129 Luoyu Road, Wuhan 430079, China
6
University of Chinese Academy of Sciences, Beijing 100049, China
*
Author to whom correspondence should be addressed.
Received: 8 November 2018 / Revised: 5 December 2018 / Accepted: 5 December 2018 / Published: 7 December 2018
Abstract
The real-time precise point positioning (RT PPP) technique has attracted increasing attention due to its high-accuracy and real-time performance. However, a considerable initialization time, normally a few hours, is required in order to achieve the proper convergence of the real-valued ambiguities and other estimate parameters. The RT PPP convergence time may be reduced by combining quad-constellation global navigation satellite system (GNSS), or by using RT ionospheric products to constrain the ionosphere delay. But to improve the performance of convergence and achieve the best positioning solutions in the whole data processing, proper and precise variances of the observations and ionospheric constraints are important, since they involve the processing of measurements of different types and with different accuracy. To address this issue, a weighting approach is proposed by a combination of the weight factors searching algorithm and a moving-window average filter. In this approach, the variances of ionospheric constraints are adjusted dynamically according to the principle that the sum of the quadratic forms of weighted residuals is the minimum, and the filter is applied to combine all epoch-by-epoch weight factors within a time window. To evaluate the proposed approach, datasets from 31 Multi-GNSS Experiment (MGEX) stations during the period of DOY (day of year) 023-054 in 2018 are analyzed with different positioning modes and different data processing methods. Experimental results show that the new weighting approach can significantly improve the convergence performance, and that the maximum improvement rate reaches 35.9% in comparison to the traditional method of priori variance in the static dual-frequency positioning mode. In terms of the RMS (Root Mean Square) statistics of positioning errors calculated by the new method after filter convergence, the same accuracy level as that of RT PPP without constraints can be achieved.
View Full-Text
►

▼

Figures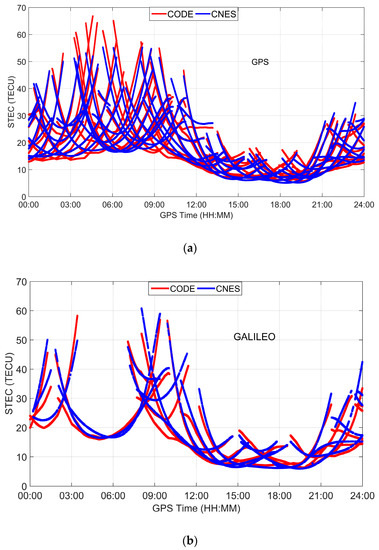 Figure 1
This is an open access article distributed under the
Creative Commons Attribution License
which permits unrestricted use, distribution, and reproduction in any medium, provided the original work is properly cited (CC BY 4.0).

Share & Cite This Article
MDPI and ACS Style
Liu, T.; Wang, J.; Yu, H.; Cao, X.; Ge, Y. A New Weighting Approach with Application to Ionospheric Delay Constraint for GPS/GALILEO Real-Time Precise Point Positioning. Appl. Sci. 2018, 8, 2537.
Note that from the first issue of 2016, MDPI journals use article numbers instead of page numbers. See further details here.
Related Articles
Comments
[Return to top]