Open Access This article is
freely available
re-usable
Article
Desert and Sonic Ecosystems: Incorporating Environmental Factors within Site-Responsive Sonic Art
1
Arts, Media + Engineering, Arizona State University, Tempe, AZ 85287-5802, USA
2
Design Media Arts, University of California, Los Angeles, CA 90095-1456, USA
†
Current address: ASU Arts, Media + Engineering, 950 S Forest Mall, Tempe, AZ 85287, USA.

Academic Editor: Stefania Serafin
Received: 3 November 2017 / Accepted: 9 January 2018 / Published: 14 January 2018
Abstract
:
Advancements in embedded computer platforms have allowed data to be collected and shared between objects—or smart devices—in a network. While this has resulted in highly functional outcomes in fields such as automation and monitoring, there are also implications for artistic and expressive systems. In this paper we present a pluralistic approach to incorporating environmental factors within the field of site-responsive sonic art using embedded audio and data processing techniques. In particular, we focus on the role of such systems within an ecosystemic framework, both in terms of incorporating systems of living organisms, as well as sonic interaction design. We describe the implementation of such a system within a large-scale site-responsive sonic art installation that took place in the subtropical desert climate of Arizona in 2017.
Keywords:
sonic interaction design; audio signal processing; music technology; ecosystems
Acknowledgments
We would like to thank our partner organization, Free Arts for Abused Children of Arizona, and all the volunteers that gave their time to help facilitate this project. We would also like to thank our other partners, the Clark Park Community Garden and the Tempe Community Action Agency, who were hugely instrumental in facilitating this project. We are indebted to Tobias Feltus for his thorough audio-visual documentation of the installation. Finally, the authors gratefully acknowledge the Community Partnership Grant from the City of Tempe.
Author Contributions
L.H. conceived the project; L.H. and J.S. designed and performed the experiments; L.H. and J.S. wrote the paper; J.S. created the figures; L.H. revised the paper.
Conflicts of Interest
The authors declare no conflict of interest.
Abbreviations
The following abbreviations are used in this manuscript:
| | |
| --- | --- |
| DSP | digital signal processing |
| DMI | digital musical instrument |
| HCI | human–computer interaction |
| TCAA | Tempe Community Action Agency |
| USB | Universal Serial Bus |
| C4DM | Centre for Digital Music |
| Pd | Pure Data |
| CdS | cadmium sulphide |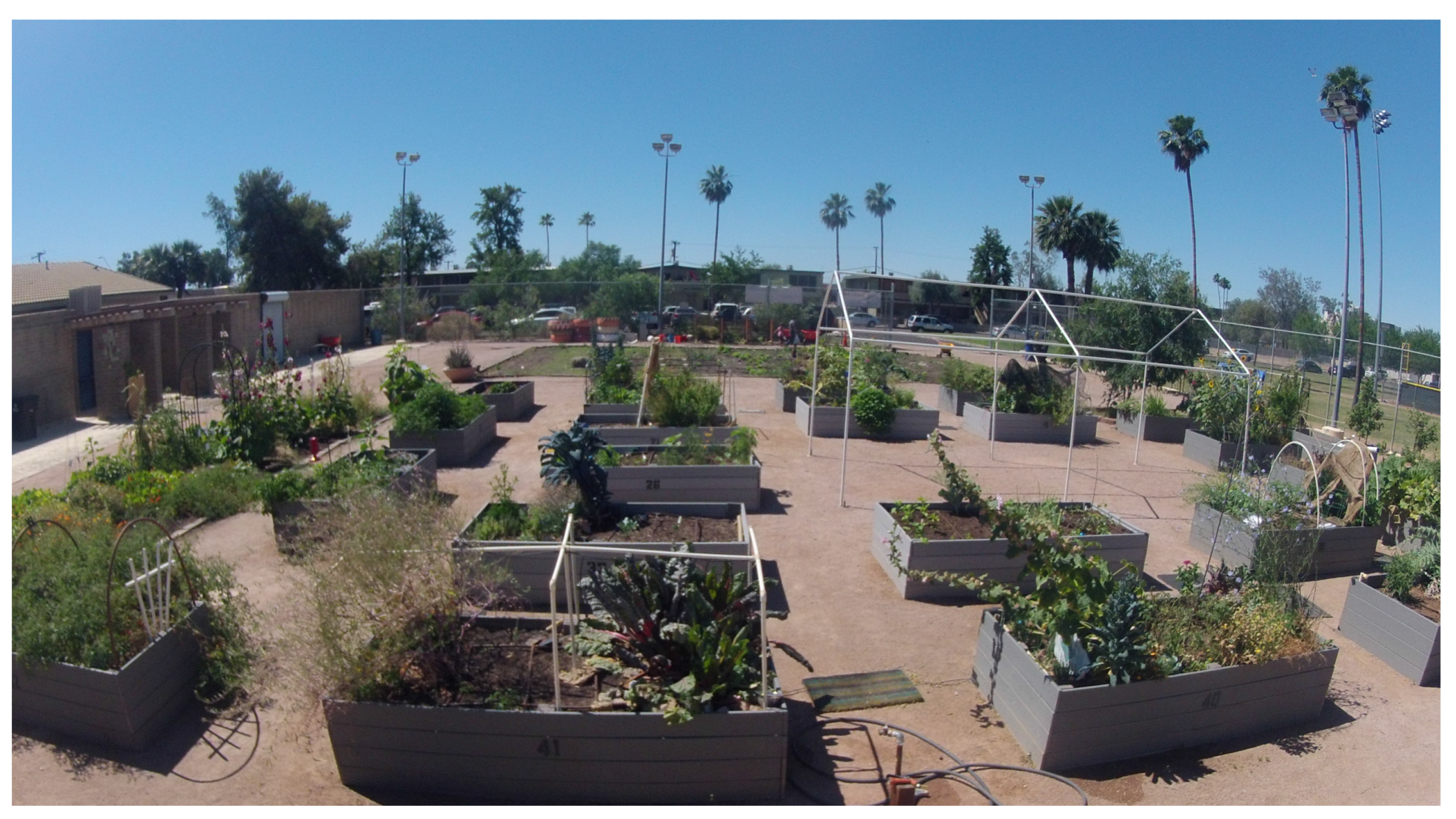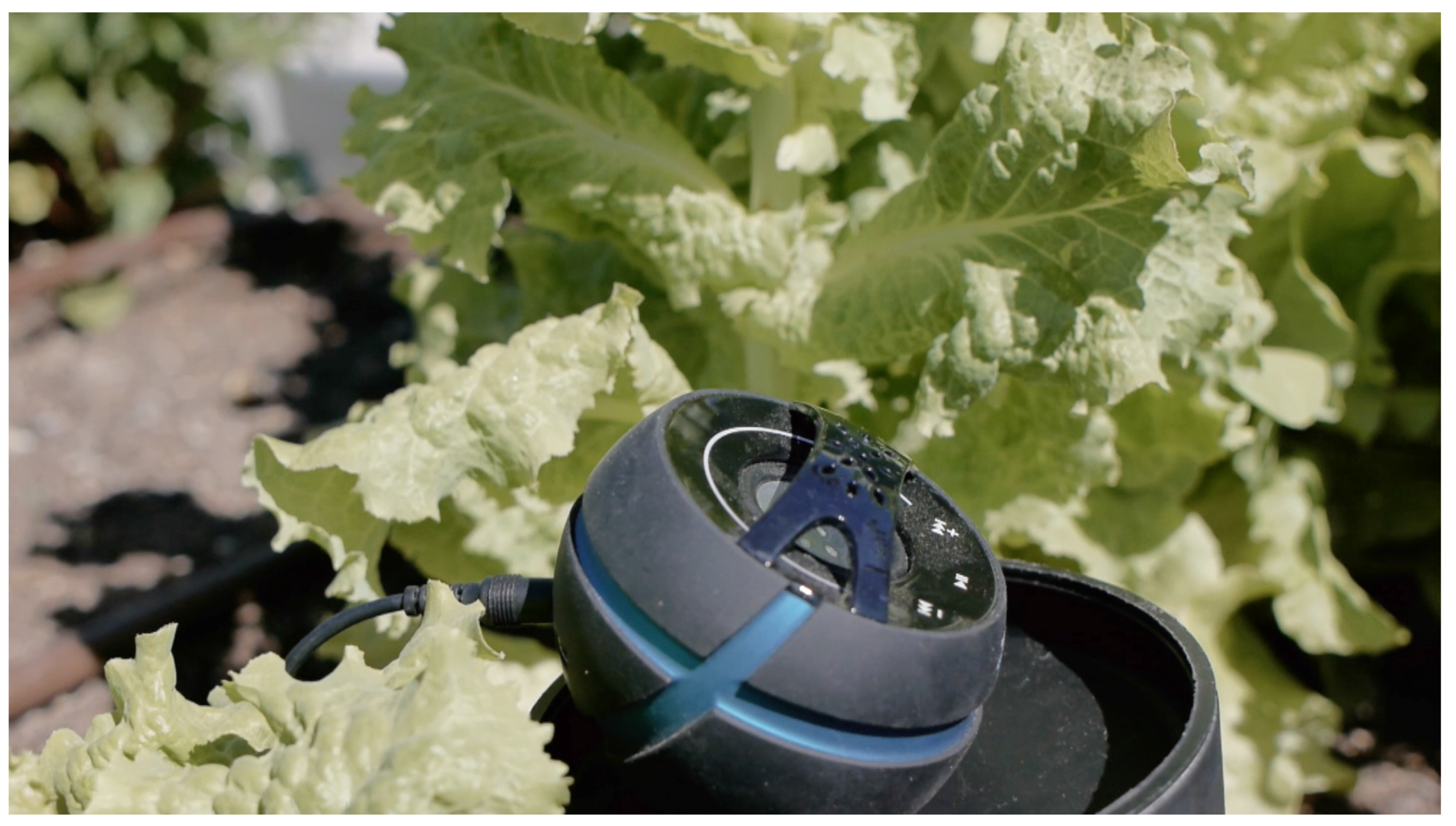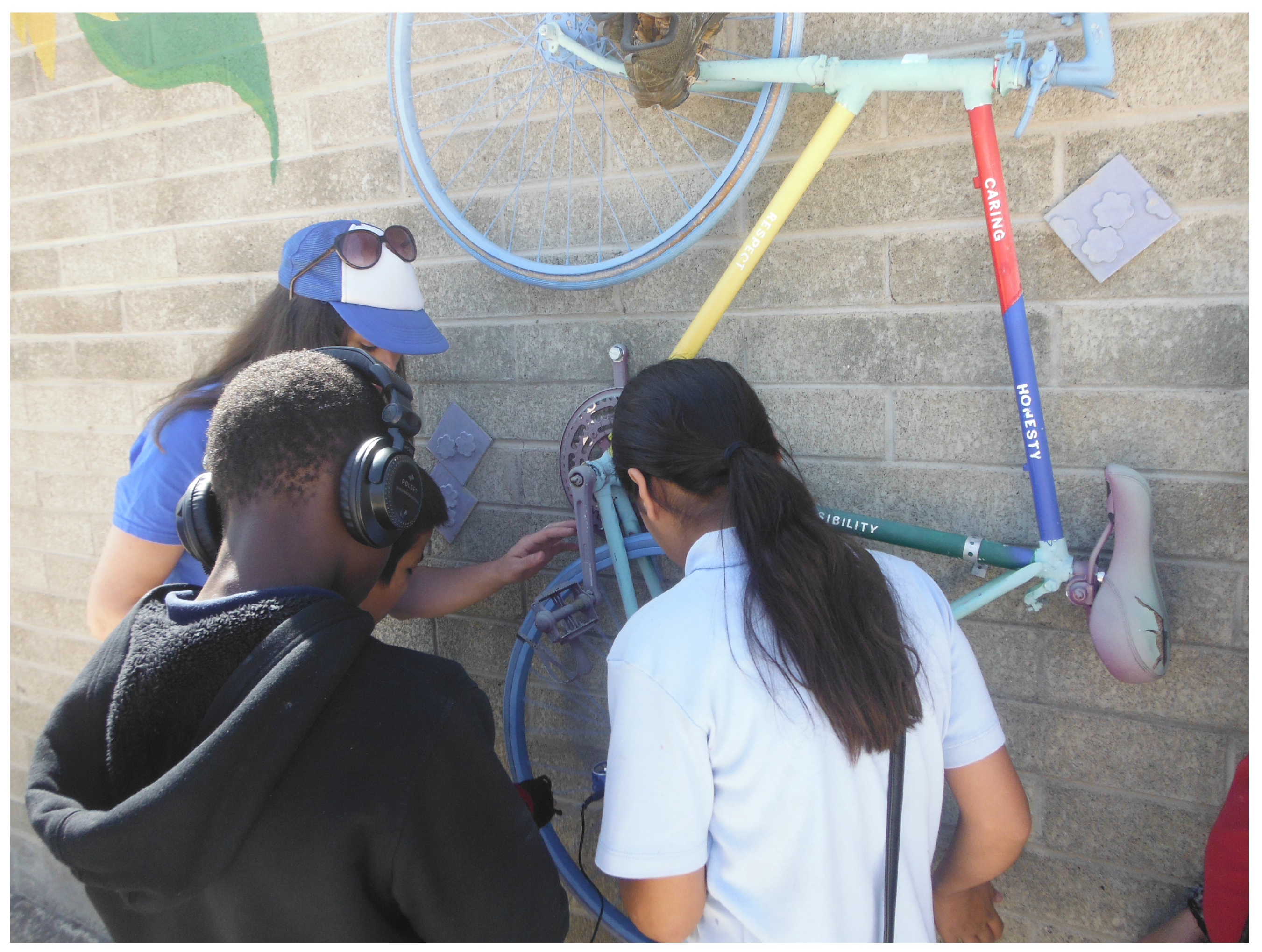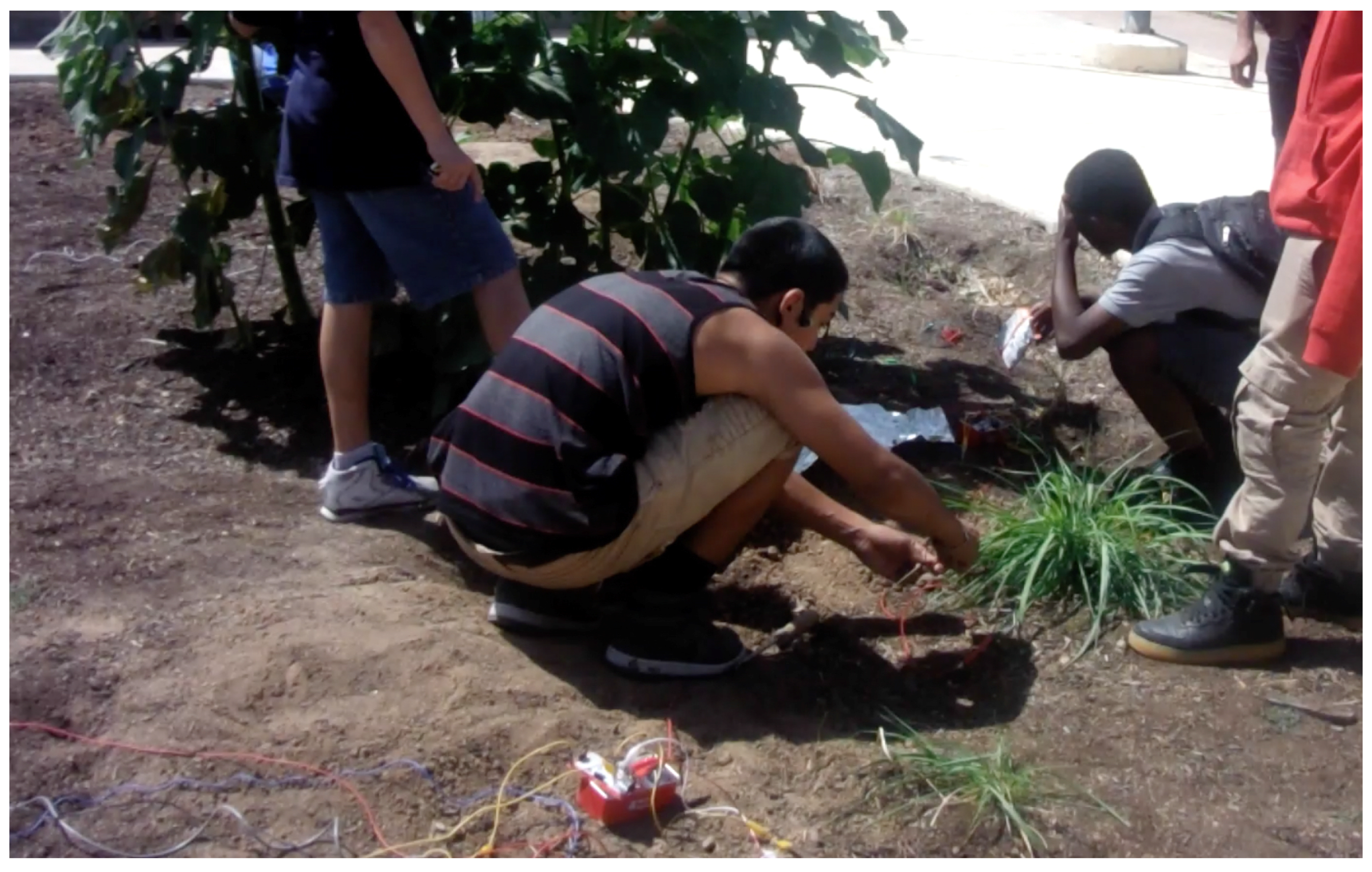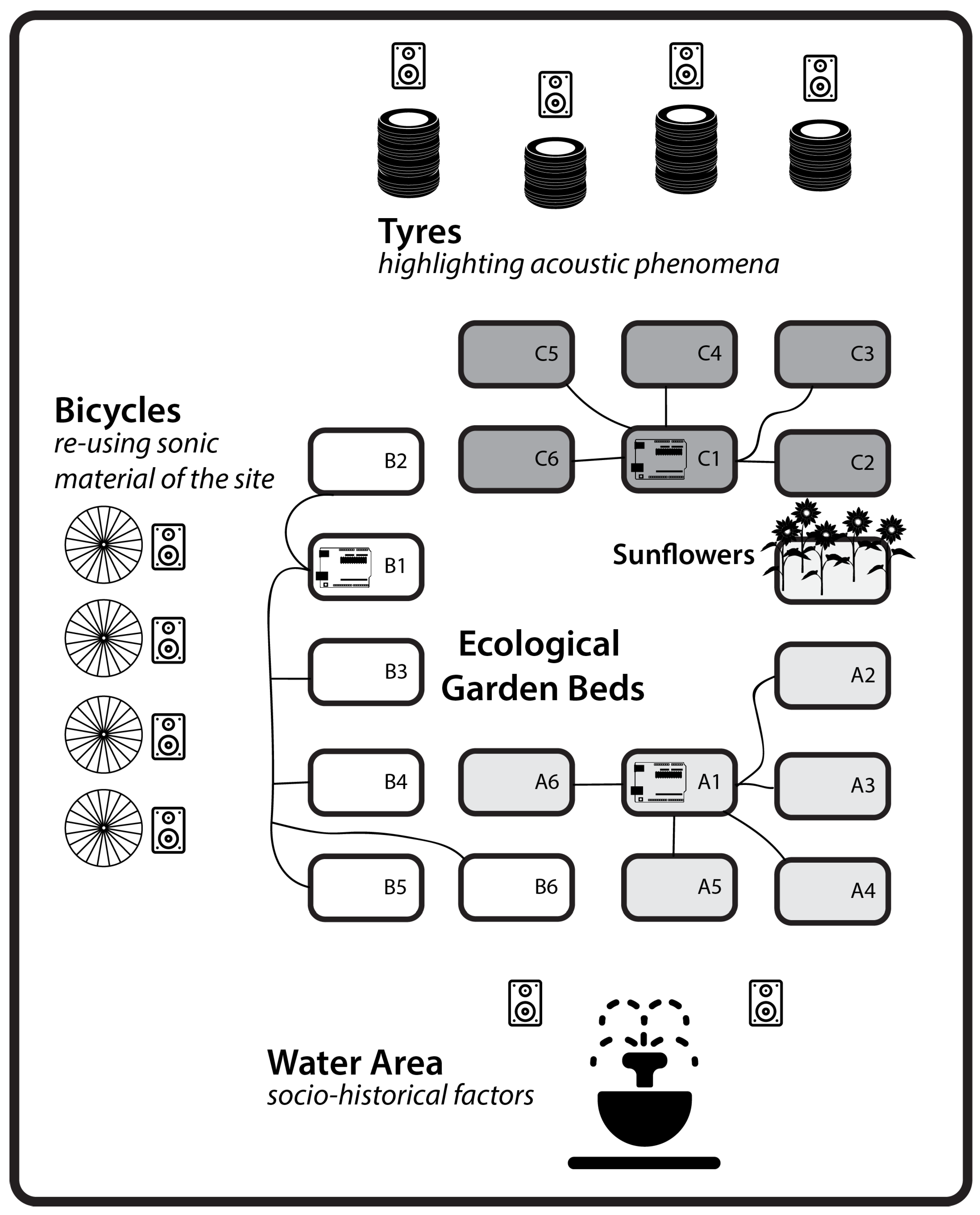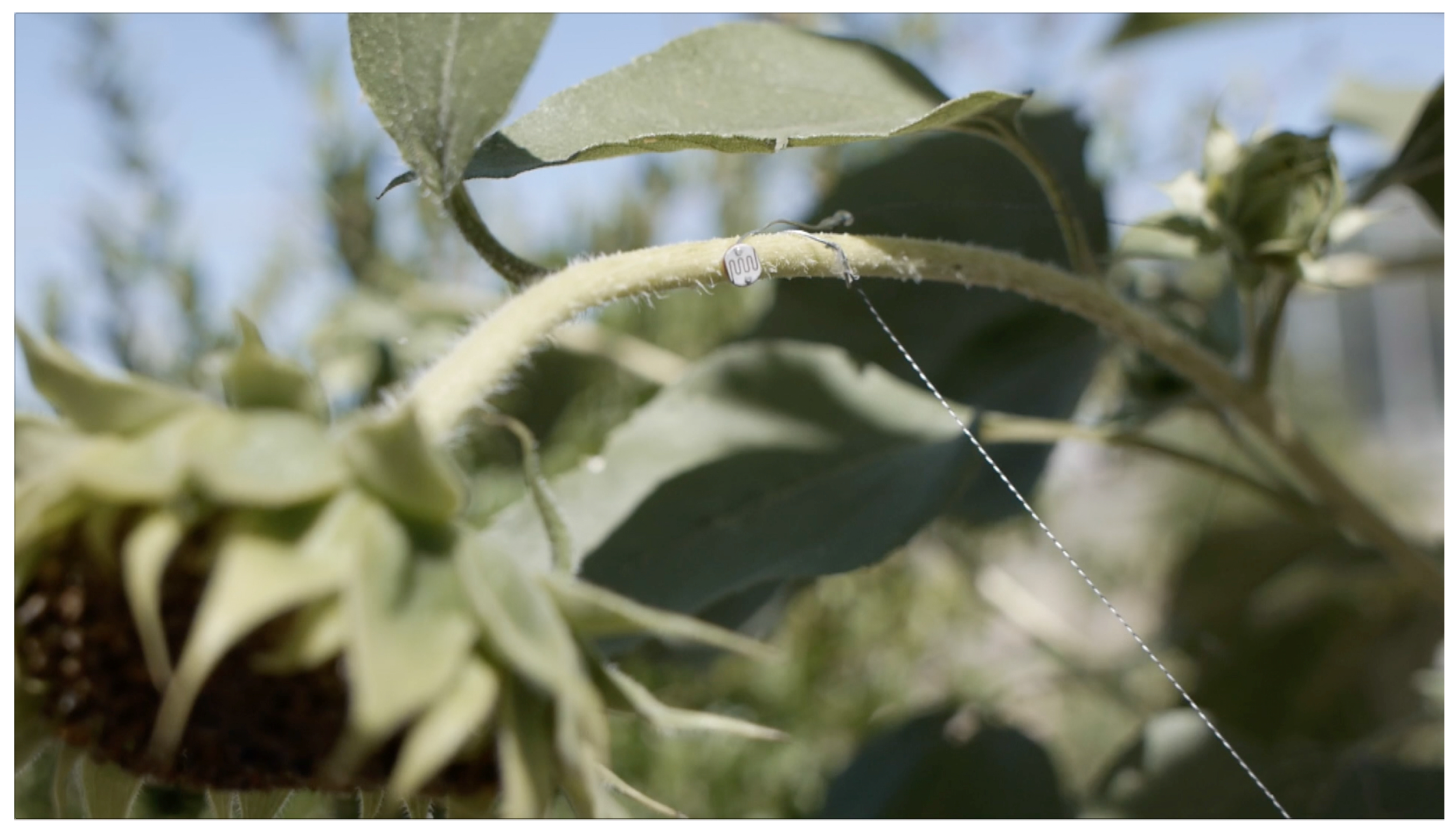 | Equipment | Description | Bed Location |
| --- | --- | --- |
| Mighty Dwarf | portable 10 W speaker | A1, B1 |
| Minirig | portable 15 W speaker | C1, B5 |
| X-Mini | low-cost 2.5 W portable speaker | all remaining beds |
| Zoom H1 audio recorder | used for powered X-Y stereo microphones | A1, B1, C1 |
| LOLLETTE anemometer | wind speed sensor | B1 |
| Adafruit accelerometer | used to detect movement | B1 |
| cadmium sulphide (CdS) photoresistor | used to detect movement via fluctuations in light | A1 |
| Sonbest temperature/humidity sensor | used to detect slow changes in soil state | C1 |

© 2018 by the authors. Licensee MDPI, Basel, Switzerland. This article is an open access article distributed under the terms and conditions of the Creative Commons Attribution (CC BY) license (http://creativecommons.org/licenses/by/4.0/).