Open Access This article is
freely available
re-usable
Review
Speech-Stimulating Substances in Autism Spectrum Disorders
1
Research Division, Autism Immunology Unit of Maracaibo, Maracaibo 4001, Venezuela
2
Department of Biology, Faculty of Sciences, University of Zulia, Maracaibo 4001, Venezuela
3
Catedra libre de Autismo, Universidad del Zulia, Maracaibo 4001, Venezuela
4
Italian Group for Studying Autism—GISA, 25018 Brescia, Italy
5
Biomedical Centre for Autism Research and Treatment, 70126 Bari, Italy
6
Department of Cellular and Integrative Physiology, School of Medicine, University of Texas Health Science Center San Antonio, San Antonio, TX 78229, USA
7
Department of Experimental Medicine, University of Campania, 80138 Napoli, Italy
8
Centre for Autism-La Forza del Silenzio, 81036 Caserta, Italy
*
Author to whom correspondence should be addressed.
Received: 24 May 2019 / Accepted: 11 June 2019 / Published: 12 June 2019
Abstract
:
Autism spectrum disorder (ASD) is characterized by the core domains of persistent deficits in social communication and restricted-repetitive patterns of behaviors, interests, or activities. A heterogeneous and complex set of neurodevelopmental conditions are grouped in the spectrum. Pro-inflammatory events and immune system dysfunctions are cellular and molecular events associated with ASD. Several conditions co-occur with ASD: seizures, gastro-intestinal problems, attention deficit, anxiety and depression, and sleep problems. However, language and speech issues are key components of ASD symptoms current therapies find difficult to face. Several speech-stimulating substances have been shown to be effective in increasing speech ability in ASD subjects. The need for large clinical trials to determine safety and efficacy is recommended.
Keywords:
autism spectrum disorder; speech; language; nutrition
Author Contributions
Conceptualization, N.S.-H. and D.S.; methodology, N.A.; software, A.L.B.; validation, N.S.-H., S.S. and D.S.; resources, N.A.; data curation, A.L.B.; writing—original draft preparation, M.A.C., K.E.U., N.S.-H., S.S., D.S.; writing—review and editing, D.S. and S.S.; visualization, A.L.B.; supervision, D.S. and S.S.; project administration, N.S.-H.; funding acquisition, D.S.
Funding
This research received no external funding.
Acknowledgments
To Valentina Patterson for motivating us to make revisions related to the translational medicine of autism.
Conflicts of Interest
The authors declare no conflict of interest.
Figure 1. Key elements of cognitive process regulation through substances discussed in the manuscript and their chemical structures.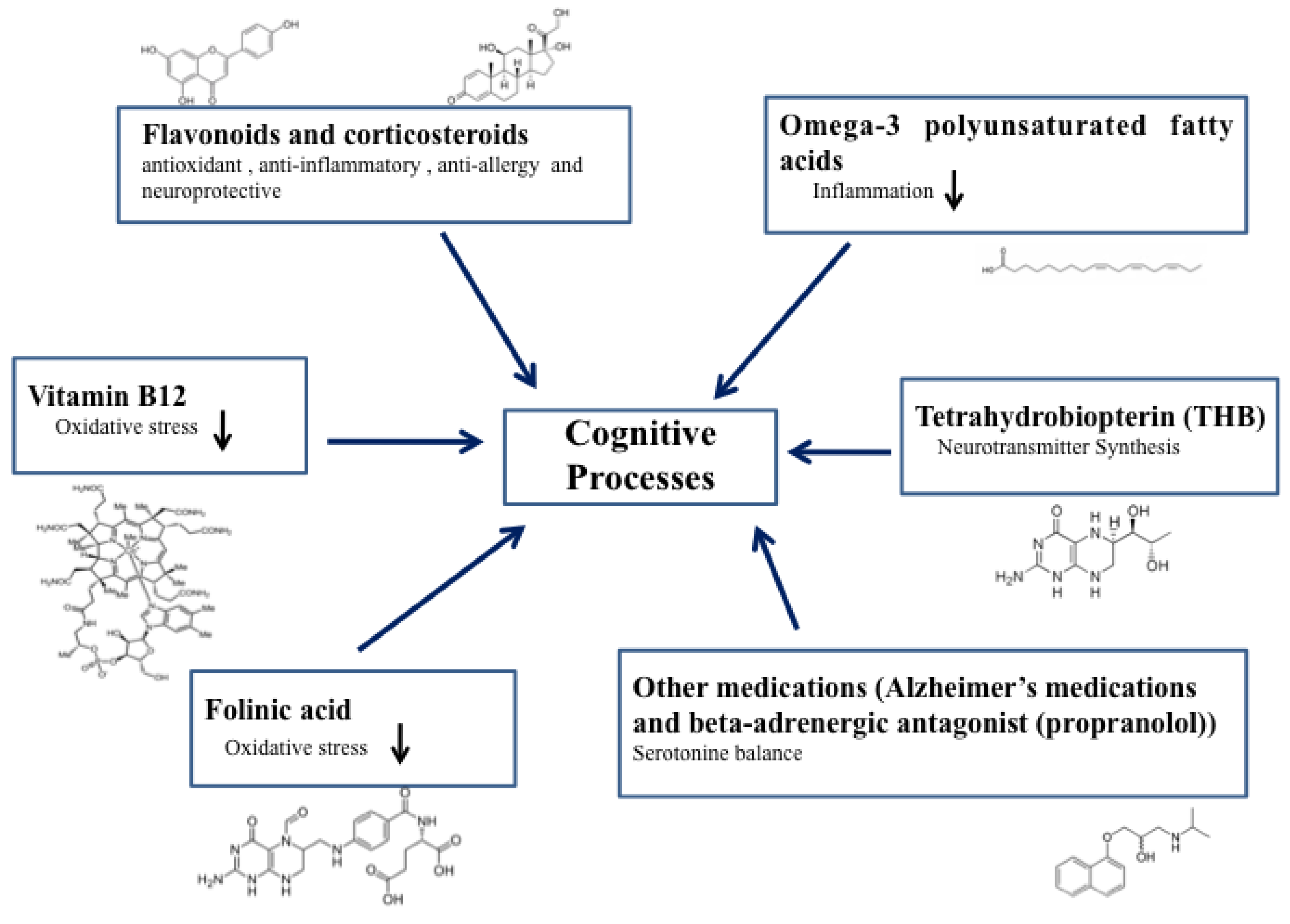 © 2019 by the authors. Licensee MDPI, Basel, Switzerland. This article is an open access article distributed under the terms and conditions of the Creative Commons Attribution (CC BY) license (http://creativecommons.org/licenses/by/4.0/).