The Keeping on Track Study: Exploring the Activity Levels and Utilization of Healthcare Services of Acute Coronary Syndrome (ACS) Patients in the First 30-Days after Discharge from Hospital
1
College of Nursing and Health Sciences, Flinders University, Adelaide 5001, Australia
2
Deakin University, Warnambool, Victoria 3280, Australia
3
Wardliparingga Aboriginal Research Unit, South Australian Health and Medical Research Institute, Adelaide, South Australia 5001, Australia
4
Centre for Research and Action in Public Health, University of Canberra, Canberra, Australian Capital Territory 2001, Australia
5
Department of Cardiology, Lyell McEwin Hospital, Elizabeth, South Australia 5112, Australia
6
College of Medicine, Flinders University, Adelaide 5001, Australia
7
Health Translation SA, South Australian Health and Medical Research Institute, Adelaide, South Australia 5001, Australia
8
Monash University, Clayton, Victoria 3168, Australia
*
Author to whom correspondence should be addressed.
Received: 27 February 2019 / Revised: 7 April 2019 / Accepted: 10 April 2019 / Published: 19 April 2019
Abstract
The aim of this study was to investigate the impact of bedside discharge education on activity levels and healthcare utilization for patients with acute coronary syndrome (ACS) in the first 30 days post-discharge. Knowledge recall and objective activity and location data were collected by global positioning systems (GPS). Participants were asked to carry the tracking applications (apps) for 30–90 days. Eighteen participants were recruited (6 metropolitan 12 rural) 61% ST elevation myocardial infarction (STEMI), mean age 55 years, 83% male. Recall of discharge education included knowledge of diagnosis (recall = 100%), procedures (e.g., angiogram = 40%), and comorbidities (e.g., hypertension = 60%, diabetes = 100%). In the first 30 days post-discharge, median steps per day was 2506 (standard deviation (SD) ± 369) steps (one participant completed 10,000 steps), 62% visited a general practitioner (GP) 16% attended cardiac rehabilitation, 16% visited a cardiologist, 72% a pharmacist, 27% visited the emergency department for cardiac event, and 61% a pathology service (blood tests). Adherence to using the activity tracking apps was 87%. Managing Big Data from the GPS and physical activity tracking apps was a challenge with over 300,000 lines of raw data cleaned to 90,000 data points for analysis. This study was an example of the application of objective data from the real world to help understand post-ACS discharge patient activity. Rates of access to services in the first 30 days continue to be of concern.
View Full-Text
►

▼

Figures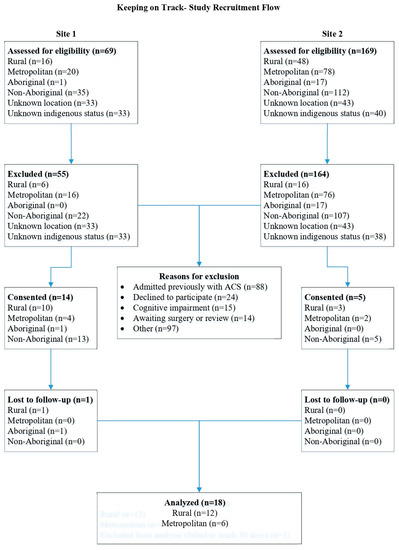 Figure 1
This is an open access article distributed under the
Creative Commons Attribution License
which permits unrestricted use, distribution, and reproduction in any medium, provided the original work is properly cited (CC BY 4.0).

Share & Cite This Article
MDPI and ACS Style
Clark, R.A.; Foote, J.; Versace, V.L.; Brown, A.; Daniel, M.; Coffee, N.T.; Marin, T.S.; Kourbelis, C.; Arstall, M.; Ganesan, A.; Maddison, R.; Kelly, J.; Barry, T.; Keech, W.; Nicholls, S.J.; on behalf of the Health Translation SA Cardiac Rehabilitation Group. The Keeping on Track Study: Exploring the Activity Levels and Utilization of Healthcare Services of Acute Coronary Syndrome (ACS) Patients in the First 30-Days after Discharge from Hospital. Med. Sci. 2019, 7, 61.
Note that from the first issue of 2016, MDPI journals use article numbers instead of page numbers. See further details here.
Related Articles
Comments
[Return to top]