Apolipoprotein E Epsilon 4 Genotype, Mild Traumatic Brain Injury, and the Development of Chronic Traumatic Encephalopathy
1
Department of Neurological Surgery, University of California San Francisco, San Francisco, CA 94122, USA
2
Department of Neurological Surgery, University of California San Diego, San Diego, CA 92093, USA
3
Department of Surgery, University of California San Francisco, San Francisco, CA 94122, USA
4
Howard Hughes Medical Institute, Chevy Chase, MD 20815, USA
5
Department of Neurology, University of Utah, Salt Lake City, UT 84112, USA
6
Department of Pathology, University of California San Francisco, San Francisco, CA 94122, USA
7
Department of Oral and Maxillofacial Surgery, University of California San Francisco, San Francisco, CA 94122, USA
*
Author to whom correspondence should be addressed.
Received: 25 August 2018 / Revised: 4 September 2018 / Accepted: 12 September 2018 / Published: 14 September 2018
Abstract
The annual incidence of mild traumatic brain injury (MTBI) is 3.8 million in the USA with 10–15% experiencing persistent morbidity beyond one year. Chronic traumatic encephalopathy (CTE), a neurodegenerative disease characterized by accumulation of hyperphosphorylated tau, can occur with repetitive MTBI. Risk factors for CTE are challenging to identify because injury mechanisms of MTBI are heterogeneous, clinical manifestations and management vary, and CTE is a postmortem diagnosis, making prospective studies difficult. There is growing interest in the genetic influence on head trauma and development of CTE. Apolipoprotein epsilon 4 (
APOE-ε4
) associates with many neurologic diseases, and consensus on the ε4 allele as a risk factor is lacking. This review investigates the influence of
APOE-ε4
on MTBI and CTE. A comprehensive PubMed literature search (1966 to 12 June 2018) identified 24 unique reports on the topic (19 MTBI studies: 8 athletic, 5 military, 6 population-based; 5 CTE studies: 4 athletic and military, 1 leucotomy group).
APOE-ε4
genotype is found to associate with outcomes in 4/8 athletic reports, 3/5 military reports, and 5/6 population-based reports following MTBI. Evidence on the association between
APOE-ε4
and CTE from case series is equivocal. Refining modalities to aid CTE diagnosis in larger samples is needed in MTBI.
View Full-Text
►

▼

Figures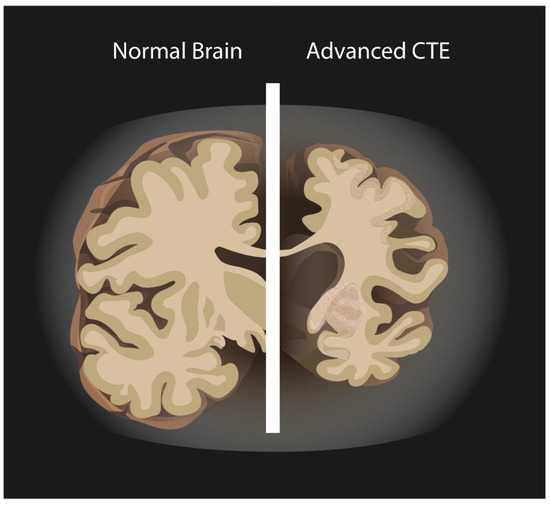 Figure 1
This is an open access article distributed under the
Creative Commons Attribution License
which permits unrestricted use, distribution, and reproduction in any medium, provided the original work is properly cited (CC BY 4.0).

Share & Cite This Article
MDPI and ACS Style
Deng, H.; Ordaz, A.; Upadhyayula, P.S.; Gillis-Buck, E.M.; Suen, C.G.; Melhado, C.G.; Mohammed, N.; Lam, T.; Yue, J.K. Apolipoprotein E Epsilon 4 Genotype, Mild Traumatic Brain Injury, and the Development of Chronic Traumatic Encephalopathy. Med. Sci. 2018, 6, 78.
Note that from the first issue of 2016, MDPI journals use article numbers instead of page numbers. See further details here.
Related Articles
Comments
[Return to top]