Assessing the Multiple Impacts of Extreme Hurricanes in Southern New England, USA
1
Graduate School of Oceanography, University of Rhode Island, 215 South Ferry Road, Narragansett, RI 02882, USA
2
Civil and Environmental Engineering Department, Florida State University, Tallahassee, FL 32310, USA
3
Rhode Island School of Design, Providence, RI 02903, USA
*
Author to whom correspondence should be addressed.
Received: 14 May 2019 / Revised: 7 June 2019 / Accepted: 14 June 2019 / Published: 19 June 2019
Abstract
The southern New England coast of the United States is particularly vulnerable to land-falling hurricanes because of its east-west orientation. The impact of two major hurricanes on the city of Providence (Rhode Island, USA) during the middle decades of the 20th century spurred the construction of the Fox Point Hurricane Barrier (FPHB) to protect the city from storm surge flooding. Although the Rhode Island/Narragansett Bay area has not experienced a major hurricane for several decades, increased coastal development along with potentially increased hurricane activity associated with climate change motivates an assessment of the impacts of a major hurricane on the region. The ocean/estuary response to an extreme hurricane is simulated using a high-resolution implementation of the ADvanced CIRCulation (ADCIRC) model coupled to the Precipitation-Runoff Modeling System (PRMS). The storm surge response in ADCIRC is first verified with a simulation of a historical hurricane that made landfall in southern New England. The storm surge and the hydrological models are then forced with winds and rainfall from a hypothetical hurricane dubbed "Rhody", which has many of the characteristics of historical storms that have impacted the region. Rhody makes landfall just west of Narragansett Bay, and after passing north of the Bay, executes a loop to the east and the south before making a second landfall. Results are presented for three versions of Rhody, varying in the maximum wind speed at landfall. The storm surge resulting from the strongest Rhody version (weak Saffir–Simpson category five) during the first landfall exceeds 7 m in height in Providence at the north end of the Bay. This exceeds the height of the FPHB, resulting in flooding in Providence. A simulation including river inflow computed from the runoff model indicates that if the Barrier remains closed and its pumps fail (for example, because of a power outage or equipment failure), severe flooding occurs north of the FPHB due to impoundment of the river inflow. These results show that northern Narragansett Bay could be particularly vulnerable to both storm surge and rainfall-driven flooding, especially if the FPHB suffers a power outage. They also demonstrate that, for wind-driven storm surge alone under present sea level conditions, the FPHB will protect Providence for hurricanes less intense than category five.
View Full-Text
►

▼

Figures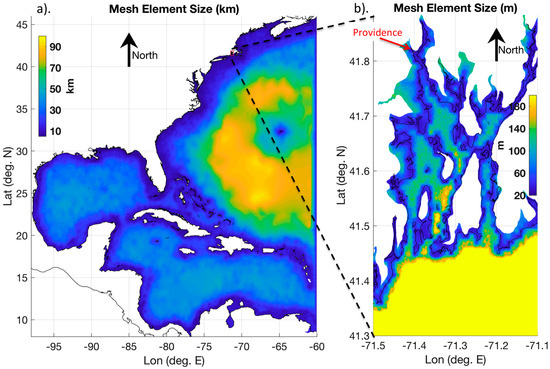 Figure 1
This is an open access article distributed under the
Creative Commons Attribution License
which permits unrestricted use, distribution, and reproduction in any medium, provided the original work is properly cited (CC BY 4.0).

Share & Cite This Article
MDPI and ACS Style
Ullman, D.S.; Ginis, I.; Huang, W.; Nowakowski, C.; Chen, X.; Stempel, P. Assessing the Multiple Impacts of Extreme Hurricanes in Southern New England, USA. Geosciences 2019, 9, 265.
Note that from the first issue of 2016, MDPI journals use article numbers instead of page numbers. See further details here.
Related Articles
Comments
[Return to top]