Morphostructural, Meteorological and Seismic Factors Controlling Landslides in Weak Rocks: The Case Studies of Castelnuovo and Ponzano (North East Abruzzo, Central Italy)
1
Department of Engineering and Geology, Università degli Studi "G. d'Annunzio" Chieti-Pescara, Via dei Vestini 31, 66100 Chieti Scalo (CH), Italy
2
Istituto Nazionale di Geofisica e Vulcanologia, Sezione Roma 1, Via di Vigna Murata 605, 00143 Rome, Italy
*
Author to whom correspondence should be addressed.
Received: 6 January 2019 / Revised: 1 March 2019 / Accepted: 4 March 2019 / Published: 9 March 2019
Abstract
We investigated the role of the morphostructural setting and seismic and meteorological factors in the development of landslides in the piedmont of the Abruzzo Apennines. In February 2017, following a heavy snow precipitation event and a moderate seismic sequence (at the end of the Central Italy 2016–2017 seismic crisis), several landslides affected the NE-Abruzzo chain and piedmont area. This work is focused on the Ponzano landslide (Civitella del Tronto, Teramo) and the Castelnuovo landslide (Campli, Teramo) in the NE Abruzzo hilly piedmont. These landslides consist of: (1) a large translational slide-complex landslide, affecting the Miocene–Pliocene sandstone clay bedrock sequence of the piedmont hilly sector; and (2) a complex (topple/fall-slide) landslide, which occurred along a high and steep scarp on conglomerate rocks pertaining to terraced alluvial fan deposits of the Pleistocene superficial deposits. Both of the landslides are typical of the Abruzzo hilly piedmont and both of them largely affected houses and villages located on top of the scarp or within the slope. The landslides were studied by means of field geological and geomorphological mapping, borehole investigations, geostructural analysis and photogeological analysis. For the Ponzano landslide, a detail pre-post-landslide air photo interpretation allowed for defining the deformation pattern occurred on the slope. For the Castelnuovo landslide, the triggering factors and the stability of the slope were evaluated with FLAC3D numerical modelling, in pre- and post-landslide conditions. Through this integrated analysis, the triggering factors, the landslide mechanism and the stability conditions of the landslides and the characterization of two main types of landslides affecting the piedmont hilly area of the Abruzzo region were investigated.
View Full-Text
►

▼

Figures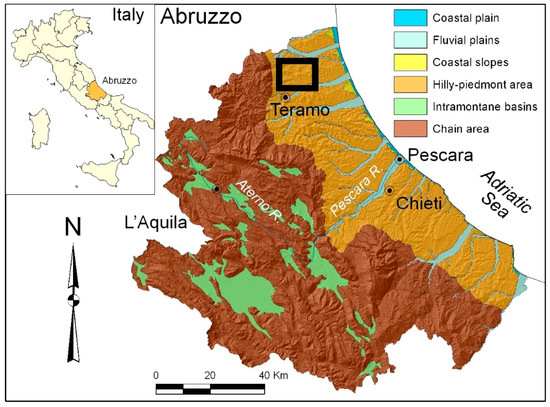 Figure 1
This is an open access article distributed under the
Creative Commons Attribution License
which permits unrestricted use, distribution, and reproduction in any medium, provided the original work is properly cited (CC BY 4.0).

Share & Cite This Article
MDPI and ACS Style
Calista, M.; Miccadei, E.; Piacentini, T.; Sciarra, N. Morphostructural, Meteorological and Seismic Factors Controlling Landslides in Weak Rocks: The Case Studies of Castelnuovo and Ponzano (North East Abruzzo, Central Italy). Geosciences 2019, 9, 122.
Note that from the first issue of 2016, MDPI journals use article numbers instead of page numbers. See further details here.
Related Articles
Comments
[Return to top]