Bench-Scale Experiments on Effects of Pipe Flow and Entrapped Air in Soil Layer on Hillslope Landslides
1
Sediment Disaster Prevention Technology Center, Kinki Regional Bureau, MLIT, Ichinono 3027-6, Nachikatsuura-cho, Wakayama Prefecture, Higashimuro-gun 649-5302, Japan
2
National Institute for Land and Infrastructure Management, MLIT, Asahi 1, Ibaraki Prefecture, Tsukuba City 305-0804, Japan
3
CTI Engineering Co., LTD., Onigakubo 1047-27, Ibaraki Prefecture, Tsukuba City 300-2651, Japan
*
Author to whom correspondence should be addressed.
Received: 31 December 2018 / Revised: 11 March 2019 / Accepted: 15 March 2019 / Published: 21 March 2019
Abstract
Soil pipes are commonly found in landslide scarps, and it has been suggested that build-up of pore water pressure due to clogged soil pipes influences landslide initiation. Several researchers have also suggested that entrapped air in the soil layer increases the pore water pressure. We carried out bench-scale model experiments to investigate the influence of soil pipes and entrapped air on the build-up of pore water pressure. We installed a water supply system consisting of an artificial rainfall simulator, and used a water supply tank to supply water to the model slope and artificial pipe. We used two types of artificial pipe: A straight pipe, and a confluence of three pipes. Furthermore, we placed a layer of silica sand on top of the model slope to investigate the effect of entrapped air in the soil layer on the build-up of pore water pressure. Silica sand is finer than the sand that we used for the bulk of the model slope. Our results indicate that, although artificial pipes decrease the pore water pressure when the amount of water supplied was smaller than the pipe drainage capacity, the pore water pressure increased when the water supply was too large for the artificial pipe to drain. In particular, the confluence of pipes increased the pore water pressure because the water supply exceeded the drainage capacity. The results also indicate that entrapped air increases the pore water pressure in the area with relatively low drainage capacity, too. Based on these results, we found that although soil pipes can drain a certain amount of water from a soil layer, they can also increase the pore water pressure, and destabilize slopes. Furthermore, entrapped air enhances the trend that the pore water pressure can increase in the area with relatively low drainage capacity, as pore water pressure increases when too much water is supplied, and the artificial pipe cannot drain all of it.
View Full-Text
►

▼

Figures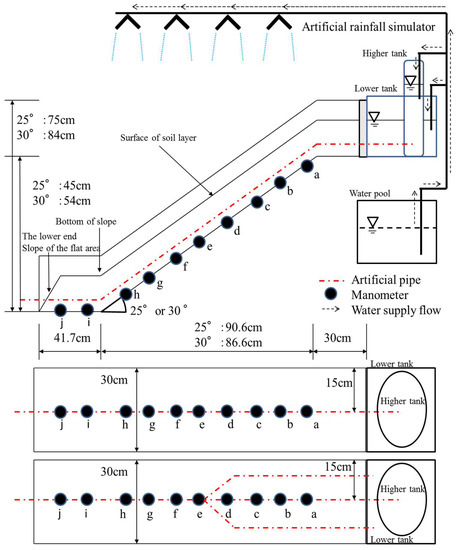 Figure 1
This is an open access article distributed under the
Creative Commons Attribution License
which permits unrestricted use, distribution, and reproduction in any medium, provided the original work is properly cited (CC BY 4.0).

Share & Cite This Article
MDPI and ACS Style
Tanaka, Y.; Uchida, T.; Nagai, H.; Todate, H. Bench-Scale Experiments on Effects of Pipe Flow and Entrapped Air in Soil Layer on Hillslope Landslides. Geosciences 2019, 9, 138.
Note that from the first issue of 2016, MDPI journals use article numbers instead of page numbers. See further details here.
Related Articles
Comments
[Return to top]