Springtime Flood Risk Reduction in Rural Arctic: A Comparative Study of Interior Alaska, United States and Central Yakutia, Russia
1
Science Diplomacy Center, The Fletcher School of Law and Diplomacy, Tufts University, Medford, MA 02155, USA
2
International Arctic Research Center (IARC), University of Alaska Fairbanks, Fairbanks, AK 99775-7340, USA
3
Institute of Engineering & Technology, North-Eastern Federal University, Yakutsk 677007, Russia
4
Department of Regional Economic and Social Studies, Yakutian Scientific Center of the Russian Academy of Sciences, Yakutsk 677007, Russia
5
The Institute for Humanities Research and Indigenous Studies of the North, Russian Academy of Sciences Siberian Branch, Yakutsk 677000, Russia
6
Institute of Natural Sciences, North-Eastern Federal University, Yakutsk 677000, Russia
7
The Melnikov Permafrost Institute, Siberian Branch of the Russian Academy of Sciences, Yakutsk 677010, Russia
*
Author to whom correspondence should be addressed.
Received: 30 November 2017 / Revised: 6 February 2018 / Accepted: 3 March 2018 / Published: 8 March 2018
Abstract
Every spring, riverine communities throughout the Arctic face flood risk. As the river ice begins to thaw and break up, ice jams—accumulation of chunks and sheets of ice in the river channel, force melt water and ice floes to back up for dozens of kilometers and flood vulnerable communities upstream. Via a comparative analysis between two flood-prone communities in Alaska and Yakutia (Siberia), this study examines key components of flood risk—hazards, exposure, and vulnerability, and existing practices in flood risk reduction in rural Arctic. The research sites are two rural communities—Galena (Yukon River) and Edeytsy (Lena River), which sustained major ice-jam floods in May 2013. The data was acquired through a combination of direct observations on site, review of documents and archives, focus group discussions, and surveys. Five focus groups with US and Russian representatives from disaster management agencies revealed a few similar patterns as well as significant differences in flood risk reduction strategies. The main differences included higher reliance on mechanical and short-term ice jam and flood mitigation efforts (e.g., ice-jam demolition) in the Russian Arctic, and lack of a centralized flood management model in the US. Surveys conducted among population at risk during the site visits to Edeytsy (November 2015) and Galena (March 2016) revealed higher satisfaction levels with the existing flood risk reduction efforts among Edeytsy residents. Survey respondents in Galena indicated the lack of ice jam removal and other flood prevention measures as the key drawback in the existing flood management. Historical analysis, conducted via the disaster Pressure and Release (PAR) model, revealed that springtime flood risk in both regions results from complex interactions among a series of natural processes that generate conditions of hazard, and human actions that generate conditions of communities' exposure and vulnerability. The analysis revealed colonial heritage, top-down governance, and limited inclusion of local communities in the decision-making as the driving forces of vulnerability in both regions. Seasonal weather patterns and regional river channel morphology determine the location, severity, and duration of floods. The analysis also revealed the importance of continuous communication between all stakeholders in timely and effective flood risk management in both regions.
View Full-Text
►

▼

Figures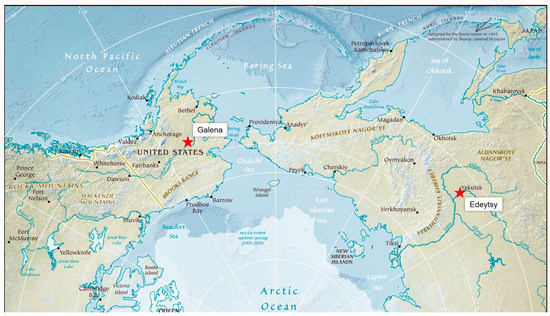 Figure 1
This is an open access article distributed under the
Creative Commons Attribution License
which permits unrestricted use, distribution, and reproduction in any medium, provided the original work is properly cited (CC BY 4.0).

Share & Cite This Article
MDPI and ACS Style
Kontar, Y.Y.; Eichelberger, J.C.; Gavrilyeva, T.N.; Filippova, V.V.; Savvinova, A.N.; Tananaev, N.I.; Trainor, S.F. Springtime Flood Risk Reduction in Rural Arctic: A Comparative Study of Interior Alaska, United States and Central Yakutia, Russia. Geosciences 2018, 8, 90.
Note that from the first issue of 2016, MDPI journals use article numbers instead of page numbers. See further details here.
Related Articles
Comments
[Return to top]