Seabed Morphology and Sedimentary Regimes defining Fishing Grounds along the Eastern Brazilian Shelf
1
Programa de Pós-Graduação em Oceanografia Ambiental, Universidade Federal do Espírito Santo, Vitória 29075-910, Brazil
2
Departamento de Oceanografia, Universidade Federal do Espírito Santo, Vitória 29075-910, Brazil
3
Department of Ecology and Evolutionary Biology, University of California Santa Cruz, Santa Cruz, CA 95060, USA
4
Instituto de Pesquisas Jardim Botânico do Rio de Janeiro, Rua Pacheco Leão 915, Rio de Janeiro 22460-030, Brazil
5
Instituto de Biologia and SAGE/COPPE, Universidade Federal do Rio de Janeiro, Ilha do Fundão, Rio de Janeiro 21944-970, Brazil
*
Author to whom correspondence should be addressed.
Received: 6 November 2017 / Revised: 26 February 2018 / Accepted: 3 March 2018 / Published: 9 March 2018
Abstract
Shelf morphology and sedimentary regimes are influenced by processes operating at different temporal and spatial scales and are important records of sea level changes and sediment supply and/or carbonate production. The northern continental shelf of Espírito Santo (Brazil) contains evidence of different sedimentary regimes that distribute diverse and complex marine habitats. Herein, seabed morphology, acoustic images of the seafloor (side scan sonar and sub-bottom profiler), and sediment samples were used to investigate the influence of sedimentary regimes on physical marine habitat distribution. Seabed mapping is also integrated with available data on fisheries to understand the influence of shelf morphology and sedimentology in the usage of distinct fishing gears. The results indicate five morpho-sedimentary facies: terrigenous mud, terrigenous sand, rhodolith beds, carbonate gravel with rhodoliths, and hardground. Through an integrated analysis of the geomorphology and sedimentary distribution, two morpho-sedimentary domains were identified: a sediment-fed shelf adjacent to the Doce River associated with a major mud depocenter and a delta front morphology characterized by gentle slopes and low terrain ruggedness, and a sediment-starved shelf dominated by carbonate sedimentation showing an irregular morphology associated with higher slopes and terrain ruggedness. These contrasting morpho-sedimentary domains are a result of sedimentary responses to sea level fluctuation during Late Quaternary, specially, during the deglaciation processes after the Last Glacial Maximum. The morphological and sedimentary contrasts along the area define the physical habitat distribution. The sediment supply regime area is associated with a terrigenous fine/muddy sedimentation bed, which control the local morphology and favors coastal and delta front progradation. This physical habitat is a well-known shrimp-fishing ground where intense trawling takes place, as well as gillnet fisheries targeting weakfish and croakers. The accommodation regime or low sediment influx area is characterized by carbonate sedimentation associated with hardgrounds and rhodolith beds. In contrast, this physical habitat with scarce sediment supply, facilitates extensive benthic colonization by crustose coralline algae (CCA), which is primarily associated to line fisheries, longlines, and spearfishing. Rhodoliths show a high diversity of CCA and the occurrence of an endemic kelp species. Long-term processes such as relative sea level fluctuations and sediment supply are a legacy for the distribution of benthic habitats, and their resulting morphology can be a surrogate for predicting fishing activities or a first-base analysis for marine spatial planning. Available low-resolution bathymetric datasets can be a powerful tool, if applied with caution and in a regional scale approach. Here, terrain variables (terrain slope and ruggedness) derived from an extensive available (low-resolution and interpolated) bathymetric dataset distinguished two contrasting morphological domains characterized by rugged and smooth/flat seabeds.
View Full-Text
►

▼

Figures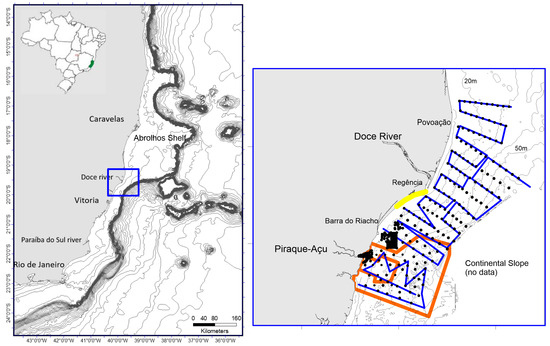 Figure 1
This is an open access article distributed under the
Creative Commons Attribution License
which permits unrestricted use, distribution, and reproduction in any medium, provided the original work is properly cited (CC BY 4.0).

Printed Edition Available!
A printed edition of this Special Issue is available
here
.
Share & Cite This Article
MDPI and ACS Style
Bourguignon, S.N.; Bastos, A.C.; Quaresma, V.S.; Vieira, F.V.; Pinheiro, H.; Amado-Filho, G.M.; De Moura, R.L.; Teixeira, J.B. Seabed Morphology and Sedimentary Regimes defining Fishing Grounds along the Eastern Brazilian Shelf. Geosciences 2018, 8, 91.
Note that from the first issue of 2016, MDPI journals use article numbers instead of page numbers. See further details here.
Related Articles
Comments
[Return to top]