Open Access This article is
freely available
re-usable
Review
Change the Humans First: Principles for Improving the Management of Free-Roaming Cats
1
School of Psychology, University of New England, Armidale, NSW 2350, Australia
2
UNE Business School, University of New England, Armidale, NSW 2350, Australia
*
Author to whom correspondence should be addressed.
Received: 22 July 2019 / Accepted: 12 August 2019 / Published: 14 August 2019
Abstract
:
Simple Summary
For free-roaming cat management to be effective, people—including land managers, conservationists, cat lovers and the general public—need to be sufficiently empowered and motivated to accept and implement management actions. Research in the social and behavioural sciences has shown that engaging everyone and gaining consensus can be incredibly challenging. This paper describes an integrative framework based on the behavioural literature to design better, equitable and ethically acceptable interventions for free-roaming cat management.
Abstract
In Australia, free-roaming cats can be found in urban and rural areas across the country. They are inherently difficult to manage but it is frequently human behaviour that demands the most attention and is in most need of change. To the frustration of policy makers and practitioners, scientific knowledge, technological developments, and legal and institutional innovations, often run afoul of insufficient public capacity, opportunity and motivation to act. This paper demonstrates how the behavioural science literature can provide important insights into maximising the impact of free-roaming cat control activities within an ethical framework that prioritises acting "with" all stakeholders, rather than "on" stakeholders. By better understanding how human values, attitudes and beliefs are shaped, practitioners can more effectively and respectfully interact with how people interpret the world around them, make choices and behave. This literature also has much to say about why certain types of media and marketing messages elicit behaviour change and why other types fall flat. Finally, in addition to explaining the behavioural science and its implications, this review provides researchers, policy makers and engagement specialists with an inclusive, practical framework for conceptualising behaviour change and working to ensure land managers, cat owners and the general public can agree on and adopt best practices for managing free-roaming cats.
Keywords:
human behaviour change; intervention design; behaviour change wheel; community-based social marketing
Author Contributions
Conceptualisation and Literature Review, L.J.M., D.W.H. and A.B.D.; Writing—Original Draft Preparation, L.J.M.; Writing—Review and Editing, D.W.H. and A.B.D.
Funding
This research received no external funding.
Conflicts of Interest
The authors declare no conflict of interest.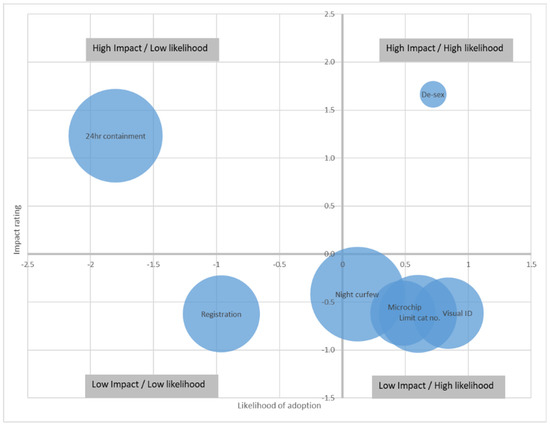 Figure 1.
Impact–Likelihood prioritisation matrix ranking cat owner behaviours based on standardised values for effectiveness of behaviour for reducing the number of free-roaming cats (impact) and likelihood of behaviour adoption (after [
56
]). Size of circles indicate proportion of target population not currently engaging in the behaviour.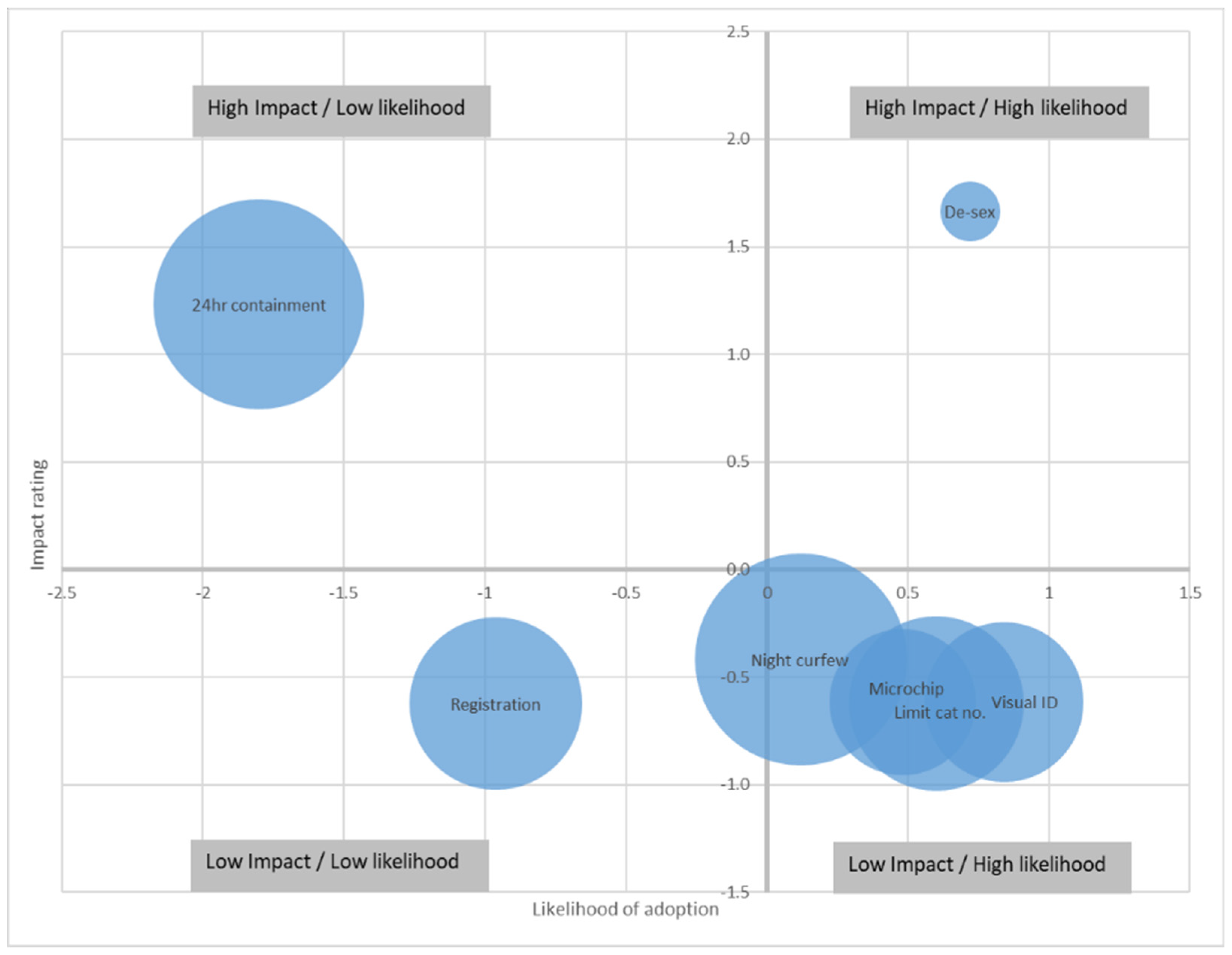 | What | Who | When | Where | How Often |
| --- | --- | --- | --- | --- |
| De-sexing | cat owner | as early as possible | at local vet | once only |
| Microchipping | cat owner | when first adopted/purchased | at local vet | once only |
| Visual identification | cat owner | as early as possible | placed on cat | all the time cat the is outside |
| Registration | cat owner | when first adopted/purchased | at office/online | every year/or when details change |
| Night curfew | cat owner | at night | at home | every night |
| 24-h containment | cat owner | all the time | at home | all the time |
| Limit no. of cats per household | cat owner | all the time | at home | all the time |

Table 2.
Ranking of cat owner behaviours based on effectiveness of behaviour for reducing the number of free-roaming cats, likelihood of adoption by cat owners and current practice (penetration) (after [
54
]). Data for effectiveness from [
56
], and survey data for Likelihood and Penetration from Myriad Research [
58
], except where indicated.
| Behaviour | Effectiveness | Likelihood of Adoption (0–4) | Penetration (0–1) | Weighted Score | Rank |
| --- | --- | --- | --- | --- | --- |
| 24 h contain | 8.10 | 1.4 | 0.13 | 9.87 | 1 |
| Night curfew | 1.60 | 3.0 | 0.12 | 4.22 | 2 |
| De-sex | 9.80 | 3.5 | 0.93 | 2.40 | 3 |
| Visual identification | 0.82 | 3.6 1 | 0.50 | 1.48 | 4 |
| Limit cat no. | 0.79 | 3.4 | 0.40 | 1.42 | 5 |
| Microchip | 0.82 | 3.3 | 0.58 | 1.14 | 6 |
| Registration | 0.79 | 2.1 | 0.41 2 | 0.98 | 7 |

Table 3.
Examples of intervention techniques for cat management and the Capability, Opportunity, Motivation-Behaviour (COM-B) behavioural factors they best match (after [
66
]).
Technique
COM-B Factor
Examples
Persuasion
Motivation
Messages that promote the benefits of a particular cat management behaviour or the negative implications of not performing the behaviour
Provision of information so that comparison can be made for participating or not participating
Messages framed in local context and delivered by locals
Incentives
Motivation
Positive financial or social reward for participating in a particular action, e.g., reduced registration for de-sexed cats
Coercion
Motivation
Fines or social punishment for not participating in desired behaviour, or participating in a non-desired behaviour
Restriction
Opportunity
Regulations to restrict a behaviour's performance, e.g., limiting the number of cats a household can have
Modelling
Motivation
Setting up a 'demonstration site' at a well-known location, or with an inspirational local, e.g., to display how they contain their cat
Enablement
Capability
Opportunity
Motivation
Ensuring local supply of resources such as traps that can be loaned to so they do not have to be purchased, and conducting training in how to use them proficiently
Environmental re-structuring
Opportunity
Promoting a particular species as a pest in an area to highlight it as a social problem in need of a solution
Motivation
Increasing access to services by offering more locations or extended opening hours
Education
Capability
Motivation
Producing written material or video clips to disseminate and illustrate information on cat management techniques
Training
Capability
Running a workshop to provide practical and technical instructions on how to build a cat-exclusion fence

© 2019 by the authors. Licensee MDPI, Basel, Switzerland. This article is an open access article distributed under the terms and conditions of the Creative Commons Attribution (CC BY) license (http://creativecommons.org/licenses/by/4.0/).