Mirrors Improve Rabbit Natural Behavior in a Free-Range Breeding System
1
Department of Veterinary Medicine and Animal Production, University of Napoli Federico II, Via F. Delpino 1, 80137 Naples, Italy
2
Department of Biology, University of Napoli Federico II, Via Cintia, 80126 Naples, Italy
3
Arid Land Agriculture Department, Faculty of Meteorology, Environment and Arid Land Agriculture, King Abdulaziz University, Jeddah 21589, Saudi Arabia
*
Author to whom correspondence should be addressed.
Received: 12 July 2019 / Revised: 2 August 2019 / Accepted: 3 August 2019 / Published: 6 August 2019
Simple Summary
The study showed that the use of mirrors may represent a low-cost useful tool to stimulate the expression of natural behaviors when rabbits are bred in small groups in a free-range system. The use of mirrors appeared to simulate the condition in which rabbits were allowed to have visual contacts with the other groups, improving important natural behaviors (olfactory investigation, gnawing, alertness, allo-grooming, stretching, locomotion). This is important in the view of adopting welfare-friendly techniques in rearing of farm animals, since consumers demand for high quality animal products is changing in a way that includes in the concept of home-made products also alternative rearing systems complying with the conditions of welfare.
The aim of this research was to evaluate the possible usefulness of mirrors in improving rabbit behavior in a free-range breeding system. Three groups (each consisting of nine replicates of three animals) were compared: isolated, isolated with mirrors and separated by a wire mesh (possible visual and olfactory contacts). Rabbits allowed to have a visual and olfactory contact showed a significantly higher expression of important natural behaviors (olfactory investigation, gnawing, alertness, stretching, locomotion) compared to the isolated rabbits (with or without mirrors); while rabbits in the mirror group showed higher allo-grooming activity than those isolated and no different locomotion activity than those separated by wire mesh. Thus, mirrors seemed to be able to modify the behavioral repertoire of isolated rabbits by acting on social perception in rabbits reared in small groups in a free-range system. Nevertheless, despite it being advisable to use a combination of different indicators in order to assess the stress level of an animal, the accuracy of serum cortisol, as well as of some secondary stress markers assay, appeared to be limited in this type of breeding.
View Full-Text
►

▼

Show Figures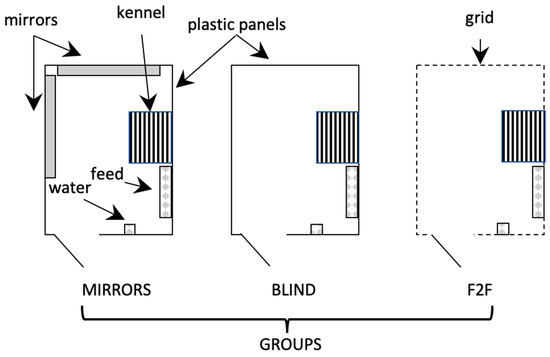 Figure 1
This is an open access article distributed under the
Creative Commons Attribution License
which permits unrestricted use, distribution, and reproduction in any medium, provided the original work is properly cited

MDPI and ACS Style
Mastellone, V.; Bovera, F.; Musco, N.; Panettieri, V.; Piccolo, G.; Scandurra, A.; Di Meo, C.; Attia, Y.A.; Lombardi, P. Mirrors Improve Rabbit Natural Behavior in a Free-Range Breeding System. Animals 2019, 9, 533.
Show more citation formats
Show less citations formats
Note that from the first issue of 2016, MDPI journals use article numbers instead of page numbers. See further details
here
.