Sow-Piglet Nose Contacts in Free-Farrowing Pens
Institute of Animal Welfare Science, University of Veterinary Medicine, Vienna, Veterinaerplatz 1, 1210 Vienna, Austria
*
Author to whom correspondence should be addressed.
Received: 30 June 2019 / Revised: 25 July 2019 / Accepted: 25 July 2019 / Published: 31 July 2019
Simple Summary
The mother–offspring interaction is important for the young's development, yet it is rarely taken into account in farm animals for whom restricted contact and early separation from the mother are common. Nose-to-nose contact is a poorly understood form of social interaction between pigs. We investigated the occurrence and type of nose-to-nose contacts and whether and why it could differ between sows and piglets. Twenty-two sows and their 249 piglets were observed in free-farrowing pens for the first three weeks of the piglets' life. Sows and their piglets made nose contact with each other every 10 min, on average. Heavier piglets made more nose contact with the sow than lighter piglets in their first week of life. Unexperienced mothers nosed their piglets more in the second week of the piglets' life. Allowing sows and piglets to freely make nose contact may improve mother–young relationships and piglets' development, possibly benefiting animal welfare and productivity.
Nose contact is a frequent form of social behaviour in pigs, but the motivational reasons underlying this behaviour remain unclear. We investigated the frequency, direction and type of sow–piglet nosing behaviour and its association with sow and piglet traits. Social nosing behaviour was recorded by live observations and video recordings in 22 sows and their 249 piglets in free-farrowing pens once weekly during the first three weeks after farrowing (3 times 30 min of observations per litter). Piglet-to-sow nosing occurred on average 32.8 ± 2.35 times per 30 min per litter. Heavier piglets at one week of age nosed the sow more than lighter piglets (
p
= 0.01). Piglet-to-sow nosing was unrelated to the piglet's sex or teat order. Sow-to-piglet nosing occurred on average 3.6 ± 0.53 times per 30 min, and this was unrelated to litter size. Primiparous sows nosed their piglets more in the second week after farrowing. Litters in which piglet-to-sow nosing occurred more showed less variation in the expression of this behaviour across the weeks. Social nosing between sow and piglets deserves further research to understand the positive implications of this behaviour for sow and piglet welfare.
View Full-Text
►

▼

Show Figures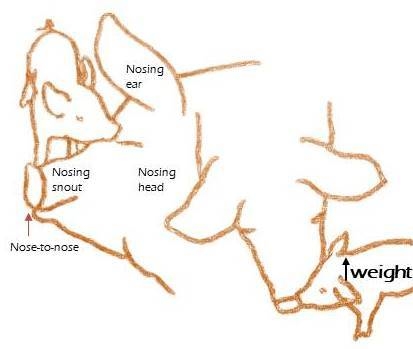 Graphical abstract
This is an open access article distributed under the
Creative Commons Attribution License
which permits unrestricted use, distribution, and reproduction in any medium, provided the original work is properly cited

Note that from the first issue of 2016, MDPI journals use article numbers instead of page numbers. See further details
here
.