Eastern Grey Kangaroo (
Macropus giganteus

) Vigilance Behaviour Varies between Human-Modified and Natural Environments

1

University of the Sunshine Coast, 91 Sippy Downs Drive, Sippy Downs, QLD 4556, Australia

2

Global-Change Ecology Research Group, School of Science and Engineering, University of the Sunshine Coast, Sippy Downs, QLD 4556, Australia

*

Authors to whom correspondence should be addressed.

Received: 7 May 2019 / Revised: 18 July 2019 / Accepted: 24 July 2019 / Published: 27 July 2019
Simple Summary
Urban landscapes are increasing across the globe, causing wildlife to face new challenges and driving behavioural change. Wildlife in these urban landscapes must adapt their behaviour to survive. We investigated vigilance behaviour in urban and non-urban populations of eastern grey kangaroos. We found that the difference in land use alone did not affect their vigilance behaviour, but kangaroos spent more time vigilant in areas of high human population density. Season and sex also influenced the amount of time spent vigilant: more time was spent vigilant in winter and in female kangaroos. This is the first study to compare the vigilance behaviour between urban and non-urban populations of a large mammal across regions, giving the first insight into how kangaroos adapt their behaviour in urban environments.
Rapid increases in urban land use extent across the globe are creating challenges for many wildlife species. Urban landscapes present a novel environment for many species, yet our understanding of wildlife behavioural adaptations to urban environments is still poor. This study compared the vigilance behaviour of a large mammal in response to urbanisation at a landscape level. Here, we investigate urban (
n
= 12) and non-urban (
n
= 12) populations of kangaroos in two regions of Australia, and the relationship between kangaroo vigilance and urbanisation. We used a linear modelling approach to determine whether anti-predator vigilance and the number of vigilant acts performed were influenced by land use type (i.e., urban or non-urban), human population densities, kangaroo demographics, and environmental factors. Kangaroo behaviour differed between the two study regions; kangaroo vigilance was higher in urban than non-urban sites in the southern region, which also had the highest human population densities, however no effect of land use was found in the northern region. Season and sex influenced the vigilance levels across both regions, with higher levels seen in winter and female kangaroos. This study is the first to compare urban and non-urban vigilance of large mammals at a landscape level and provide novel insights into behavioural adaptations of large mammals to urban environments.
View Full-Text
►

▼

Show Figures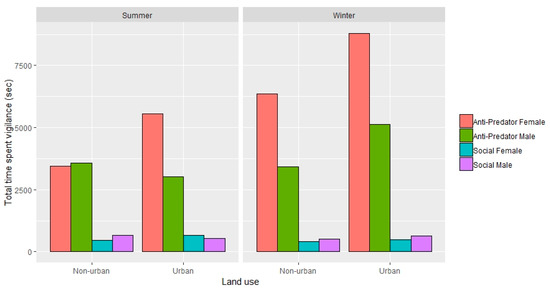 Figure 1
This is an open access article distributed under the
Creative Commons Attribution License
which permits unrestricted use, distribution, and reproduction in any medium, provided the original work is properly cited

Note that from the first issue of 2016, MDPI journals use article numbers instead of page numbers. See further details
here
.