Physiological and Behavioural Responses of Cattle to High and Low Space, Feed and Water Allowances During Long Distance Transport in the South of Chile
1
Centre of Animal Welfare and Ethics, School of Veterinary Science, University of Queensland, Gatton, Queensland 4343, Australia
2
Instituto de Ciencia Animal, Facultad de Ciencias Veterinarias, OIE Collaborating Centre for Animal Welfare and Livestock Production Systems—Chile, Universidad Austral de Chile, Valdivia 5090000, Chile
*
Author to whom correspondence should be addressed.
Received: 10 April 2019 / Revised: 3 May 2019 / Accepted: 7 May 2019 / Published: 10 May 2019
Simple Summary
Regarding the topography of Chile, livestock have to travel for long distances (1240 km), including road and sea transport. During this journey food and water deprivation, overstocking and handling issues have been reported as common problems. The lack of adequate conditions onboard can produce adverse consequences for the welfare of livestock in transit. In the current study the physiological and behavioural implications of two different space allowances and the lack of food and water during the long-distance transport has been studied. The current space provided in Chile to the cattle onboard (1 m2/500 kg) appears to be detrimental to their welfare. Lack of room to allow postural adjustment in combination with limited access to food and water resulted in poor nutrition and dehydration. Behavioural responses to the low space were also affected. Cattle increased the time spend eating and ruminating when 30% extra space and more feed was provided. We conclude that, under the current Chilean standards for the long-distance transport, the welfare of the livestock is adversely affected. This research can provide valuable information for the reform of welfare standards for the transport of livestock in Chile.
Abstract
Long distance transport of livestock from Patagonia to central Chile involves both road and sea transport and has a potential impact on the welfare of animals. Fifty
Bos taurus
cattle of approximate age six months were exposed to a journey of four days, with both the sea and road components undertaken in a truck (roll-off roll-on system) with two pens of different dimensions. Thirty-two and eighteen cattle were randomly allocated to two treatment groups: Low and High welfare standards, which were provided 0.66 m
2
/head and 0.86 m
2
/head, respectively, and a fixed amount of feed and water daily to each pen, 1.25 kg hay/head and 3.1 L water/head in the Low welfare treatment and 2.22 kg/head and 5.6 L/head in the High welfare treatment, respectively. Low welfare animals had increased plasma total protein and albumin, which is suggested to be due to limited water availability, and also haptoglobin, suggesting inflammatory responses. Cattle in the High welfare treatment spent more time eating and ruminating than those in the Low space allowance, but they had increased cortisol at the end of the journey, perhaps reflecting increased fighting with more space. Cattle welfare in both treatments was adversely affected by the limited feed and water supplies, with increased beta-hydroxybutyrate at the end of the voyage; total protein was increased in just the low welfare standard group where low space allowance and less food and water was provided. Creatine phosphokinase also increased after the journey, compared with before, indicating bruising. Limiting feed and water availability to cattle in the low welfare treatment resulted in physiological evidence of undernutrition and low hydration status, but it also reduced the stress response, probably because there was less fighting.
View Full-Text
►

▼

Figures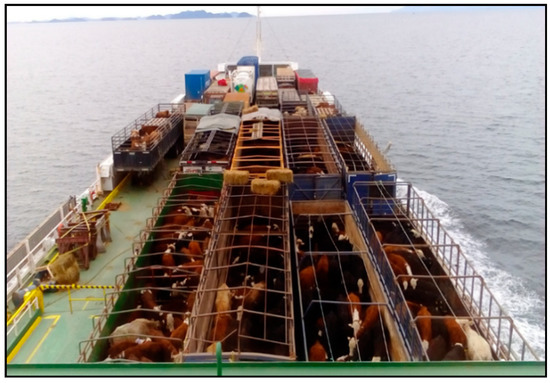 Figure 1
This is an open access article distributed under the
Creative Commons Attribution License
which permits unrestricted use, distribution, and reproduction in any medium, provided the original work is properly cited (CC BY 4.0).

Share & Cite This Article
MDPI and ACS Style
Navarro, G.; Bravo, V.; Gallo, C.; Phillips, C.J.C. Physiological and Behavioural Responses of Cattle to High and Low Space, Feed and Water Allowances During Long Distance Transport in the South of Chile. Animals 2019, 9, 229.
Note that from the first issue of 2016, MDPI journals use article numbers instead of page numbers. See further details here.
Related Articles
Comments
[Return to top]