Cow Lying Behaviour and Bedding Quality Changes during Five Weeks on a Stand-Off Pad
AgResearch Ltd., Ruakura Research Centre, Private Bag 3123, Hamilton 3240, New Zealand
*
Author to whom correspondence should be addressed.
Received: 1 April 2019 / Revised: 1 May 2019 / Accepted: 16 May 2019 / Published: 21 May 2019
Simple Summary
New Zealand dairy farmers place cows in uncovered off-paddock facilities for a part (e.g., 18 h) of the day to reduce their impact on pasture during winter. Lying time is a key indicator of whether these hybrid pasture systems are meeting welfare requirements. While it is easy to measure lying time in a research setting using accelerometers, it is not yet common to measure it on farm, and more convenient indicators are needed. We investigated the lying behaviour of dairy cows as bedding quality deteriorated over a five-week period to determine what measures may be useful as farmer-friendly indicators of cow welfare. The daily lying time of the two groups of cows on bedding according to normal farm practice (NFP) declined over the five weeks and was significantly less than that of cows on fresh bedding during the last 10 days of the trial. The fresh woodchip bedding contained less than 65% moisture throughout the trial. By week 3 and week 4, the moisture content of the lying surface exceeded 75% for NFP Group 2 and Group1, respectively. A bedding moisture threshold of 75% assessed by a 'gumboot score' and cows lying rather than grazing when on pasture may be useful farmer-friendly indicators of cow welfare because of their relationship with reduced lying time.
Bedding quality and cow lying time were measured during five weeks in a normal farm practice (NFP) off-paddock system with no bedding refreshment. Two groups of 100 non-lactating dairy cows were compared to groups of 8 cows with fresh bedding (FB). The cows were on a woodchip pad for 18 h/d at a space allowance of 5.4 m
2
/cow, with 6 h/d on pasture for 5 weeks. Lying times were recorded continuously for 60 cows per group using accelerometers. Bedding moisture content was measured weekly. Data for each NFP group were analysed and compared with those of their respective FB group using repeated measures. The lying time declined over five weeks from 11.6 h/day during the first week to 5.6 h/day during the fifth week (SED = 0.3; F
1,25
= 351.56;
p
< 0.001). The moisture content of the bedding increased over the five weeks and was significantly higher for both NFP groups (NFP Group 1: F
5,59
= 8.33;
p
< 0.001; NFP Group 2: F
5,61
= 5.54;
p
< 0.001) than those of the respective FB groups. The percentage of total time lying when in the paddock increased for the NFP groups, reaching 15% in the last week of the trial. During five weeks on a stand-off pad, bedding quality deteriorated, and cows lay down less, to such an extent that welfare was compromised.
View Full-Text
►

▼

Show Figures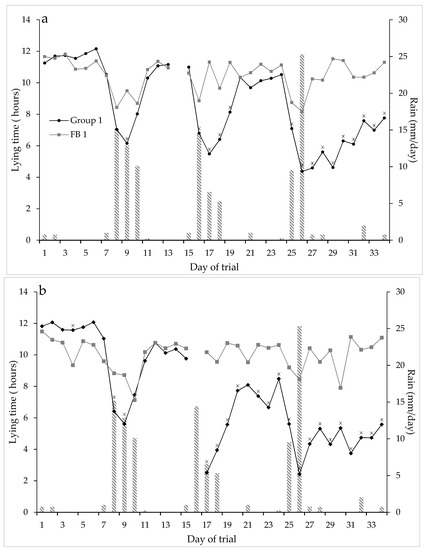 Figure 1
This is an open access article distributed under the
Creative Commons Attribution License
which permits unrestricted use, distribution, and reproduction in any medium, provided the original work is properly cited

Note that from the first issue of 2016, MDPI journals use article numbers instead of page numbers. See further details
here
.