Species-Specific Discrimination of Insect Meals for Aquafeeds by Direct Comparison of Tandem Mass Spectra
1
Institute of Marine Research, P.O. Box 1870 Nordnes, 5817 Bergen, Norway
2
Centre Wallon de Recherches agronomiques (CRA-W), 5030 Gembloux, Belgium
3
University of Namur, rue de Bruxelles 61, B-5000 Namur, Belgium
4
University of Namur, mass spectrometry facility (MaSUN), rue de Bruxelles 61, B-5000 Namur, Belgium
5
Leids Universitair Medisch Centrum, 2316 Leiden, The Netherlands
*
Authors to whom correspondence should be addressed.
Received: 2 April 2019 / Revised: 3 May 2019 / Accepted: 5 May 2019 / Published: 7 May 2019
Simple Summary
Aquaculture is amongst the most efficient ways to produce animal protein for human consumption, and this sector is expected to continue to grow worldwide. Inclusion of novel protein sources, like insect meal, may help to mitigate the expected scarcities of feed resources and reduce environmental pressure. However, considered as processed animal protein (PAP), insect meal must comply with the respective legal constraints associated with PAP legislation to guarantee its safety for use as fish feed ingredients. Therefore, there is a need for the development of methods to identify and quantify the species origin of insect-based ingredients in aquafeed. In this study, we propose high-throughput tandem mass spectrometry for the identification and differentiation of 18 different insect meal samples from the species Hermetia illucens (8), Tenebrio molitor (5), Alphitobius diaperinus (3) and Acheta domesticus (2). Using high throughput proteomics tools in combination with direct spectral comparison, we were able to differentiate the insect meal samples according to the taxonomic classification of the insect species. Mass spectrometry-based proteomics is a powerful tool for the species-specific discrimination of insect meals for feed formulations.
Abstract
Insect protein has the potential to become a sustainable feed ingredient for the rapidly growing aquaculture industry. In the European Union, insect derived protein is placed under the same legislation as processed animal proteins (PAP). It is therefore of interest to develop methods for regulatory use, which unambiguously identify the species origin of insect-based ingredients. We performed (i) total protein quantification of insect samples using the traditional nitrogen-to-protein conversion factor of 6.25 and the sum of anhydrous amino acids, (ii) quantitative amino acid profiling and (iii) high-throughput tandem mass spectrometry to describe and differentiate 18 different commercial-grade insect meal samples derived from
Hermetia illucens
(8),
Tenebrio molitor
(5),
Alphitobius diaperinus
(3) and
Acheta domesticus
(2). In addition, we investigated and compared different protein extraction and digestion protocols for proteomic analysis. We found that irrespective of sample preparation, shotgun proteomics in combination with direct spectral comparison were able to differentiate insect meal according to their taxonomic classification. The insect specific spectral libraries created in the present work can in future be used to develop more sensitive targeted methods of insect PAP identification and quantification in commercial feed mixtures.
View Full-Text
►

▼

Figures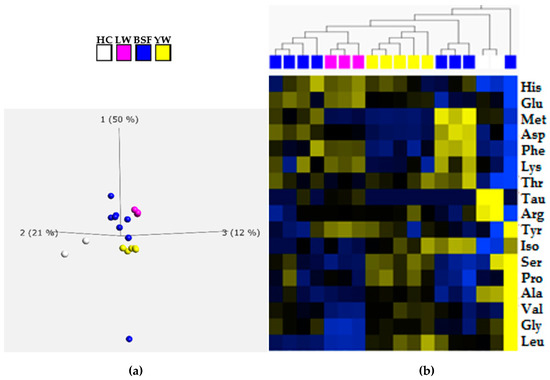 Figure 1
This is an open access article distributed under the
Creative Commons Attribution License
which permits unrestricted use, distribution, and reproduction in any medium, provided the original work is properly cited (CC BY 4.0).

Share & Cite This Article
MDPI and ACS Style
Belghit, I.; Lock, E.-J.; Fumière, O.; Lecrenier, M.-C.; Renard, P.; Dieu, M.; Berntssen, M.H.G.; Palmblad, M.; Rasinger, J.D. Species-Specific Discrimination of Insect Meals for Aquafeeds by Direct Comparison of Tandem Mass Spectra. Animals 2019, 9, 222.
Note that from the first issue of 2016, MDPI journals use article numbers instead of page numbers. See further details here.
Related Articles
Comments
[Return to top]