Exploring Differential Transcriptome between Jejunal and Cecal Tissue of Broiler Chickens
1
Department of Agricultural and Food Sciences (DISTAL), University of Bologna, 40126 Bologna BO, Italy
2
Department of Agricultural, Environmental and Food Sciences, University of Molise, 86100 Campobasso CB, Italy
3
Division of Medical Genetics, Fondazione IRCCS Casa Sollievo della Sofferenza, 71013 San Giovanni Rotondo FG, Italy
*
Author to whom correspondence should be addressed.
Received: 5 April 2019 / Revised: 29 April 2019 / Accepted: 2 May 2019 / Published: 7 May 2019
(This article belongs to the Section
Poultry
)
Simple Summary
Intestinal main functions and different gut tract peculiarities in poultry are known. However, a wider view at the molecular level in terms of functional genes may contribute to deepening knowledge on less considered biological aspects, with possible differentiation in gene expression and functionality between gut tracts. This experiment aimed to extend the exploration of chicken gut functional aspects by scouting differential gene expression in the jejunum and cecum, which may help in the detection of new interesting functions from a biological point of view. The work identified key aspects linked to gut biological processes that may be worthy of further investigations in experimental studies considering factors which may specifically address peculiarities of the different chicken gut tracts at the molecular level.
Abstract
The study proposed an exploratory functional analysis on differential gene expression of the jejunum and of cecum in chickens. For this study, 150 Ross 308 male chickens were randomly allotted in six pens (25 birds/pen) and fed the same commercial diet. From 19 birds of 42 days of age, jejunum and cecum mucosae were collected for RNA extraction for transcriptome microarray analysis. Differentially expressed genes (DEGs) submitted to DAVID (Database for Annotation, Visualization, and Integrated Discovery) and Gene Set Enrichment Analysis (GSEA) software evidenced enriched gene clusters for biological functions differentiated in the tissues. DAVID analysis in the jejunum showed enriched annotations for cell membrane integral components, PPAR (peroxisome proliferator-activated receptor) signaling pathway, and peroxisome and lipid metabolism, and showed DEGs for gluconeogenesis, not previously reported in chicken jejunum. The cecum showed enriched annotations for disulfide bond category, cysteine and methionine metabolism, glycoprotein category, cell cycle, and extracellular matrix (ECM). GSEA analysis in the jejunum showed peroxisome and PPAR signaling pathway-related gene sets, as found with DAVID, and gene sets for immune regulation, tryptophan and histidine metabolism, and renin–angiotensin system, like in mammals. The cecum showed cell cycle and regulation processes, as well as ECM receptor interaction and focal adhesion-related gene sets. Typical intestinal functions specific for the gut site and interesting functional genes groups emerged, revealing tissue-related key aspects which future studies might take advantage of.
View Full-Text
►

▼

Figures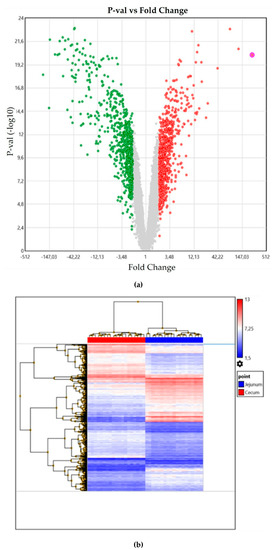 Figure 1
This is an open access article distributed under the
Creative Commons Attribution License
which permits unrestricted use, distribution, and reproduction in any medium, provided the original work is properly cited (CC BY 4.0).

Share & Cite This Article
MDPI and ACS Style
Bertocchi, M.; Sirri, F.; Palumbo, O.; Luise, D.; Maiorano, G.; Bosi, P.; Trevisi, P. Exploring Differential Transcriptome between Jejunal and Cecal Tissue of Broiler Chickens. Animals 2019, 9, 221.
Note that from the first issue of 2016, MDPI journals use article numbers instead of page numbers. See further details here.
Related Articles
Comments
[Return to top]