Rearing Undocked Pigs on Fully Slatted Floors Using Multiple Types and Variations of Enrichment
1
Pig Development Department, Teagasc, P61 P302 Moorepark, Ireland
2
Animal & Veterinary Sciences Research Group, SRUC, Roslin Institute Building, Easter Bush, Midlothian EH25 9RG, UK
3
Royal (Dick) School of Veterinary Studies, University of Edinburgh, Easter Bush, Midlothian EH25 9RG, UK
4
Agrocampus Ouest, 35042 Rennes, France
*
Author to whom correspondence should be addressed.
Received: 28 February 2019 / Revised: 22 March 2019 / Accepted: 28 March 2019 / Published: 2 April 2019
Simple Summary
Floors with a series of gaps to allow pig manure to pass through (slatted floors) are common in the pig industry as they enable the efficient management of pig waste. Pigs need enrichment materials to occupy them and to reduce harmful behaviours like tail biting. Loose materials are problematic in slatted systems because they can block up the slats and slurry pumps. This study aimed to establish if it is possible to rear pigs with undocked tails in a fully slatted system with compatible enrichment, while keeping tail biting at a manageable level and to investigate how important the variation of enrichment is. The results showed that although some tail biting occurred, the level was low with only mild lesions observed. Only 1 out of 96 pigs sustained severe tail damage (portion of tail bitten off). Pigs receiving a more varied enrichment tended to have lower tail lesion scores than pigs continuously presented with the same enrichment. This study showed that an optimal quantity and quality of slat-compatible enrichment provision can reduce the risk of tail biting in undocked pigs in fully slatted systems. The important role of adequate environmental enrichment provision in fulfilling pigs' biological needs cannot be overemphasised.
Abstract
In fully slatted systems, tail biting is difficult to manage when pigs' tails are not docked because loose enrichment material can obstruct slurry systems. This pilot study sought to determine: a) whether intact-tailed pigs can be reared with a manageable level of tail biting by using multiple slat-compatible enrichment; b) whether a variation of enrichment has an effect; and c) whether pigs show a preference in enrichment use. Ninety-six undocked pigs were given the same enrichment items from one week after birth until weaning. At weaning, four different combinations of 8 enrichment items were utilized based on predefined characteristics. These were randomly assigned to 8 pens (
n
= 12 pigs/pen). Four pens had the same combination (SAME) from assignment and four pens switched combinations every two weeks (SWITCH). Individual lesion scores, interactions with the enrichment, and harmful behaviours were recorded. The average tail score during the experiment was low (0.93 ± 0.02). Only one pig in a SAME pen had a severely bitten tail (partly amputated). The overall level of interaction with enrichment did not decline over time. Pigs interacted with a rack of loose material most frequently (
p
< 0.001). The study showed promising results for rearing undocked pigs on fully slatted floors using slat-compatible enrichment.
View Full-Text
►

▼

Figures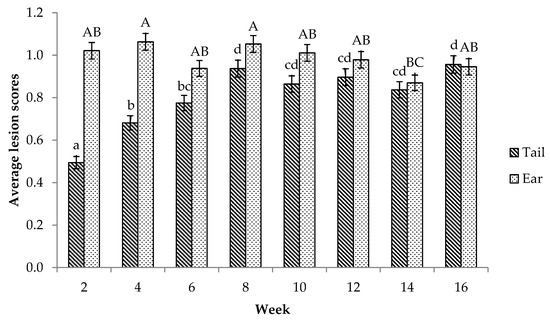 Figure 1
This is an open access article distributed under the
Creative Commons Attribution License
which permits unrestricted use, distribution, and reproduction in any medium, provided the original work is properly cited (CC BY 4.0).

Share & Cite This Article
MDPI and ACS Style
Chou, J.-Y.; Drique, C.M.V.; Sandercock, D.A.; D'Eath, R.B.; O'Driscoll, K. Rearing Undocked Pigs on Fully Slatted Floors Using Multiple Types and Variations of Enrichment. Animals 2019, 9, 139.
Note that from the first issue of 2016, MDPI journals use article numbers instead of page numbers. See further details here.
Related Articles
Comments
[Return to top]