The Demography and Practice of Australians Caring for Native Wildlife and the Psychological, Physical and Financial Effects of Rescue, Rehabilitation and Release of Wildlife on the Welfare of Carers
1
School of Veterinary Science, The University of Sydney, Sydney, NSW 2006, Australia
2
Scandy Statistical Modelling Pty Ltd., 70 Burwood Drive, Blackmans Bay, Tasmania 7052, Australia
*
Author to whom correspondence should be addressed.
Received: 21 November 2019 / Revised: 4 December 2019 / Accepted: 10 December 2019 / Published: 12 December 2019
Simple Summary
Little is known about the physical, financial and emotional effects on the 20,000 volunteers who rescue, rehabilitate and release injured and/or orphaned Australian wildlife. A survey for wildlife carers was instigated to address this knowledge gap. Collated survey responses from the wildlife carers suggested that their physical workload is on average 32 h per week but can be up to 100 h, their financial input is on average AUD5300 per year and over a lifetime of caring can go up to AUD800,000. The emotional input is such that 28% of the respondents were experiencing moderate to severe grief. Grief increases as more joeys die in care and as expenditure rises, and is age dependent. Burnout and compassion fatigue are likely outcomes. Over 65% of respondents felt that their welfare, and that of the animals for whom they care, is neglected and unappreciated by government agencies. Unless these deficiencies are corrected by financial and emotional support and workload is reduced for carers, animal and wildlife carer welfare will be compromised.
The rescue, rehabilitation and release of injured and orphaned Australian wildlife is managed by over 20,000 carers, mostly voluntarily. These volunteers experience mental, physical and financial challenges that have not been researched adequately. This study collated the responses (
n
= 316) to a survey conducted among Australian wildlife carers who actively foster orphaned joeys for hand-raising and injured adult mammals for rehabilitation and release. It confirmed 86% of rehabilitators are female, 70% are over the age of 46 years and their prime motivation is an affinity with animals. The average time spent in the sector is 11.5 years, and the work week is 31.6 h, caring for 15 animals per year, with an average of 2.6 dying. The average financial commitment is AUD5300 annually and up to AUD800,000 over a lifetime. Regarding the grief experienced by carers, the lower the age, the longer the time spent, the greater the financial input and the more joeys that died, the more severe is the grief experienced. Moderate to severe grief is experienced by 28% of carers, which, coupled with other factors, could lead to burnout or compassion fatigue. Soon, wildlife carer welfare will likely be compromised unless financial and mental support is provided and their workload reduced.
View Full-Text
►

▼

Show Figures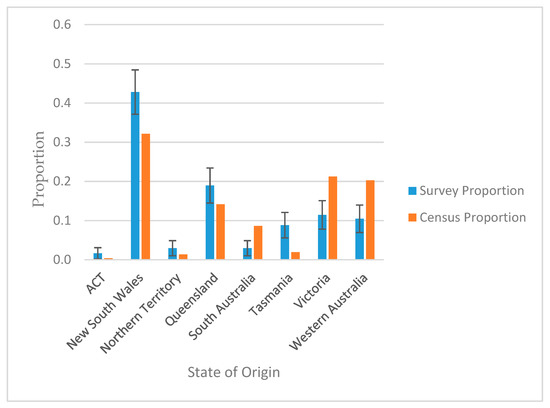 Figure 1
This is an open access article distributed under the
Creative Commons Attribution License
which permits unrestricted use, distribution, and reproduction in any medium, provided the original work is properly cited

MDPI and ACS Style
Englefield, B.; Candy, S.; Starling, M.; McGreevy, P. The Demography and Practice of Australians Caring for Native Wildlife and the Psychological, Physical and Financial Effects of Rescue, Rehabilitation and Release of Wildlife on the Welfare of Carers. Animals 2019, 9, 1127.
Show more citation formats
Show less citations formats
Note that from the first issue of 2016, MDPI journals use article numbers instead of page numbers. See further details
here
.