Spider Monkeys Rule the Roost: Ateline Sleeping Sites Influence Rainforest Heterogeneity
1
Osa Conservation, Conservation Science Team, Washington, DC, 20005, USA
2
Institute of Biodiversity, Animal Health and Comparative Medicine, College of Medical, Veterinary and Life Sciences, University of Glasgow, Glasgow, G12 8QQ, UK
3
Division of Biology, Imperial College London, Silwood Park Campus, Ascot, Berkshire SL5 7PY, UK
4
Centre for Ecology & Conservation, School of Bio sciences, University of Exeter, Penryn Campus, Cornwall, TR10 9FE, UK
*
Author to whom correspondence should be addressed.
Received: 16 October 2019 / Revised: 26 November 2019 / Accepted: 27 November 2019 / Published: 1 December 2019
Simple Summary
Spider monkeys are important dispersers of many hardwood trees that contribute greatly to the carbon sequestration of tropical forests. One way in which Spider monkeys influence tropical ecosystem structure and function is through the creation of visible terrestrial latrines beneath their "sleeping sites"—trees in which they frequently return to sleep. Spider monkey latrines are thought to create high quality resource patches for rainforest plants and other wildlife to exploit. We investigate this using camera traps placed in both the canopy and on the rainforest floor to determine which rainforest wildlife are attracted to the latrines beneath the sleeping sites of spider monkeys. We also assess the tree species and dung beetles found within the latrines compared with other areas of the forest. Our evidence suggests that spider monkey roosting sites are a hub of activity for other rainforest wildlife, and act as germinating beds for many rainforest trees. If rainforests were to lose spider monkeys, from intensive hunting for example, many other rainforest wildlife species would be affected, and forests would therefore be made up of different tree communities than landscapes where spider monkeys exist.
The sleeping site behavior of Ateline primates has been of interest since the 1980s, yet limited focus has been given to their influence upon other rainforest species. Here, we use a combination of arboreal and terrestrial camera traps, and dung beetle pitfall traps, to characterize spider monkey sleeping site use and quantify the impact of their associated latrines on terrestrial vertebrate and dung beetle activity. We also characterize the physical characteristics of the sleeping sites and the floristic and soil composition of latrines beneath them. Spider monkey activity at sleeping sites peaked at dawn and dusk and group composition varied by sex of the adults detected. The habitat-use of terrestrial fauna (vertebrates and dung beetles) differed between latrine sites and non-latrine controls, underpinned by species-specific changes in the relative abundance of several seed-dispersing species (such as paca and great curassow). Seedling density was higher in latrines than in non-latrine controls. Although most soil properties were similar between latrines and controls, potassium and manganese concentrations were different. These results suggest that spider monkey sleeping site fidelity leads to a hotspot of ecological activity in latrines and downstream impacts on rainforest floristic composition and diversity.
View Full-Text
►

▼

Show Figures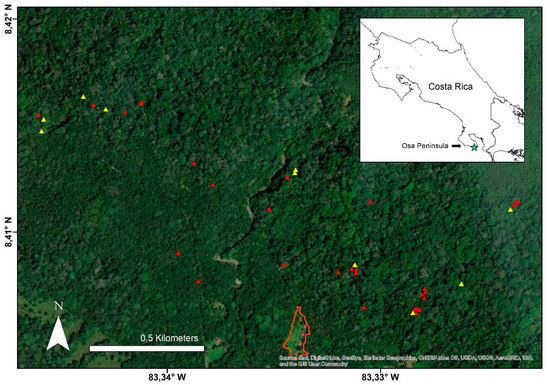 Figure 1
This is an open access article distributed under the
Creative Commons Attribution License
which permits unrestricted use, distribution, and reproduction in any medium, provided the original work is properly cited

MDPI and ACS Style
Whitworth, A.; Whittaker, L.; Pillco Huarcaya, R.; Flatt, E.; Morales, M.L.; Connor, D.; Priego, M.G.; Forsyth, A.; Beirne, C. Spider Monkeys Rule the Roost: Ateline Sleeping Sites Influence Rainforest Heterogeneity. Animals 2019, 9, 1052.
Show more citation formats
Show less citations formats
Note that from the first issue of 2016, MDPI journals use article numbers instead of page numbers. See further details
here
.