Measuring Faecal Glucocorticoid Metabolites to Assess Adrenocortical Activity in Reindeer
1
Norwegian Institute of Bioeconomy Research, P.O. Box 115, 1431 Ås, Norway
2
Department of Biomedical Sciences, University of Veterinary Medicine, Veterinärplatz 1, A-1210 Vienna, Austria
*
Author to whom correspondence should be addressed.
†
Present address: Wageningen Livestock Research, Wageningen University & Research P.O. Box 338, 6700 AH Wageningen, The Netherlands.
Received: 2 October 2019 / Revised: 12 November 2019 / Accepted: 13 November 2019 / Published: 18 November 2019
Simple Summary
We validated an 11-oxoaetiocholanolone enzyme immunoassay for measuring faecal cortisol metabolites (FCMs) in reindeer. Samples were collected from eight male reindeer following adrenocorticotrophic hormone (ACTH) stimulation and from another group of reindeer during handling and calf marking. The overall FCM levels peaked after seven to eight hours in both locations, proving that the assay is suited to evaluate the adrenocortical activity in reindeer.
Several non-invasive methods for assessing stress responses have been developed and validated for many animal species. Due to species-specific differences in metabolism and excretion of stress hormones, methods should be validated for each species. The aim of this study was to conduct a physiological validation of an 11-oxoaetiocholanolone enzyme immunoassay (EIA) for measuring faecal cortisol metabolites (FCMs) in male reindeer by administration of adrenocorticotrophic hormone (ACTH; intramuscular, 0.25 mg per animal). A total of 317 samples were collected from eight male reindeer over a 44 h period at Tverrvatnet in Norway in mid-winter. In addition, 114 samples were collected from a group of reindeer during normal handling and calf marking at Stjernevatn in Norway. Following ACTH injection, FCM levels (median and range) were 568 (268–2415) ng/g after two hours, 2718 (414–8550) ng/g after seven hours and 918 (500–6931) ng/g after 24 h. Levels were significantly higher from seven hours onwards compared to earlier hours (
p
< 0.001). The FCM levels at Stjernevatn were significantly (
p
< 0.001) different before (samples collected zero to two hours; median: 479 ng/g) and after calf marking (eight to ten hours; median: 1469 ng/g). Identification of the faecal samples belonging to individual animals was conducted using DNA analysis across time. This study reports a successful validation of a non-invasive technique for measuring stress in reindeer, which can be applied in future studies in the fields of biology, ethology, ecology, animal conservation and welfare.
View Full-Text
►

▼

Show Figures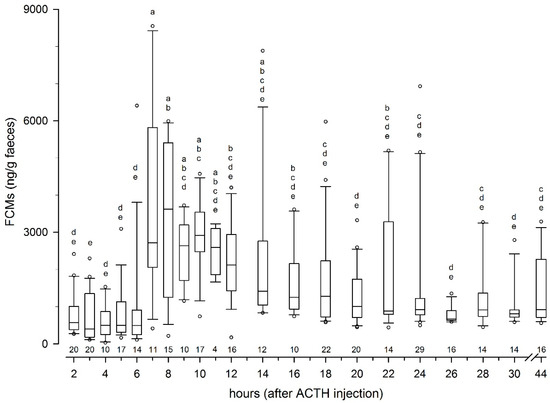 Figure 1
This is an open access article distributed under the
Creative Commons Attribution License
which permits unrestricted use, distribution, and reproduction in any medium, provided the original work is properly cited

MDPI and ACS Style
Özkan Gülzari, Ş.; Jørgensen, G.H.M.; Eilertsen, S.M.; Hansen, I.; Hagen, S.B.; Fløystad, I.; Palme, R. Measuring Faecal Glucocorticoid Metabolites to Assess Adrenocortical Activity in Reindeer. Animals 2019, 9, 987.
Show more citation formats
Show less citations formats
Note that from the first issue of 2016, MDPI journals use article numbers instead of page numbers. See further details
here
.