Towards Non-Invasive Methods in Measuring Fish Welfare: The Measurement of Cortisol Concentrations in Fish Skin Mucus as a Biomarker of Habitat Quality
1
Department of Animal Health and Anatomy, Veterinary Faculty, Universitat Autònoma de Barcelona, Bellaterra, 08193 Barcelona, Spain
2
Department of Evolutionary Biology, Ecology and Environmental Sciences, Universitat de Barcelona, Avinguda Diagonal 643, 08028 Barcelona, Spain
3
Department of Animal and Food Science, Veterinary Faculty, Universitat Autònoma de Barcelona, Bellaterra, 08193 Barcelona, Spain
4
Cetaqua, Centro tecnológico del agua, Cornellà de Llobregat, 08940 Barcelona, Spain
*
Author to whom correspondence should be addressed.
†
M.L.-B. and D.V. were co-principal investigators.
Received: 20 September 2019 / Revised: 29 October 2019 / Accepted: 6 November 2019 / Published: 8 November 2019
Simple Summary
The analysis of circulating cortisol has been by far the most common method used as a means to assess fish stress responses and, thus, animal welfare. To avoid many of the drawbacks inherent to blood sampling, cortisol can be less-invasively detected in fish skin mucus. The measurement of cortisol in skin mucus however, has, to date, only been demonstrated as suitable for farm fish, although its application to free-ranging animals would offer many advantages. The present study was therefore designed to evaluate the applicability of skin mucus cortisol analysis as a potential tool to assess habitat quality. To that end, wild fish residing in environments of different habitat quality were sampled for blood and skin mucus. First, several physiological endpoints typically used as indicators of exposure to pollutants were accurately related to the habitat quality in the Catalan chub (Squalius laietanus). Second, cortisol levels in blood were also compared between habitats, and they were successfully correlated to skin mucus cortisol concentrations. Finally, we contrasted the patterns of response of all the endpoints assessed to skin mucus cortisol levels across the sites. The strong linkages detected in this study provide new evidence that the measurement of cortisol in skin mucus could be potentially used as a biomarker of habitat quality in freshwater fish.
Cortisol levels in fish skin mucus have shown to be good stress indicators in farm fish exposed to different stressors. Its applicability in free-ranging animals subject to long-term environmental stressors though remains to be explored. The present study was therefore designed to examine whether skin mucus cortisol levels from a wild freshwater fish (Catalan chub,
Squalius laietanus
) are affected by the habitat quality. Several well-established hematological parameters and cortisol concentrations were measured in blood and compared to variations in skin mucus cortisol values across three habitats with different pollution gradient. Fluctuations of cortisol in skin mucus varied across the streams of differing habitat quality, following a similar pattern of response to that detected by the assessment of cortisol levels in blood and the hematological parameters. Furthermore, there was a close relationship between cortisol concentrations in skin mucus and several of the erythrocytic alterations and the relative proportion of neutrophils to lymphocytes. Taken together, results of this study provide the first evidence that skin mucus cortisol levels could be influenced by habitat quality. Although results should be interpreted with caution, because a small sample size was collected in one studied habitat, the measurement of cortisol in skin mucus could be potentially used as a biomarker in freshwater fish.
View Full-Text
►

▼

Show Figures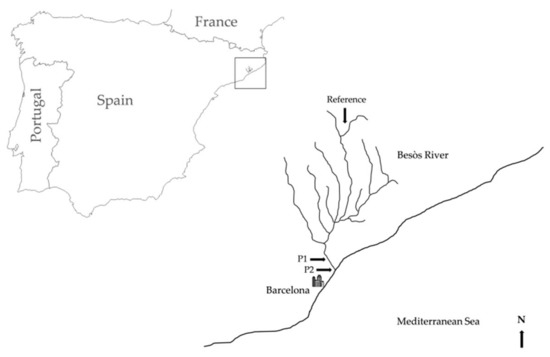 Figure 1
This is an open access article distributed under the
Creative Commons Attribution License
which permits unrestricted use, distribution, and reproduction in any medium, provided the original work is properly cited

MDPI and ACS Style
Carbajal, A.; Soler, P.; Tallo-Parra, O.; Isasa, M.; Echevarria, C.; Lopez-Bejar, M.; Vinyoles, D. Towards Non-Invasive Methods in Measuring Fish Welfare: The Measurement of Cortisol Concentrations in Fish Skin Mucus as a Biomarker of Habitat Quality. Animals 2019, 9, 939.
Show more citation formats
Show less citations formats
Note that from the first issue of 2016, MDPI journals use article numbers instead of page numbers. See further details
here
.