Dietary Inositol Reduces Fearfulness and Avoidance in Laying Hens
1
Department of Animal and Poultry Science, University of Saskatchewan, Saskatoon, SK S7N 5A8, Canada
2
AB Vista, Marlborough, SN8 4AN, UK
*
Author to whom correspondence should be addressed.
Received: 8 October 2019 / Revised: 1 November 2019 / Accepted: 5 November 2019 / Published: 8 November 2019
Simple Summary
Brain inositol is known to affect memory, and the incidence of depression, anxiety, and obsessive-compulsive disorder in mammals. Phytate, a naturally occurring inositol ester in plants, binds other nutrients, making them unavailable for digestion. The addition of phytase, the enzyme capable of hydrolyzing phytate, to diets increases the release of both inositol and nutrients for absorption in the chicken digestive tract. In this study, we assessed how dietary phytase or pure inositol affected laying hen behaviour, fearfulness, aggression, and stress levels. To increase the probability of seeing effects, hens were not beak treated and were fed two balanced protein levels differing in digestible amino acid sufficiency. Inositol did not affect stress levels, as measured by heterophil-to-lymphocyte ratio, or the number of hen comb or skin lesions. However, regardless of the source, pure inositol or phytase derived inositol reduced the number of feathers in the vent area, suggesting an increase in feather pecking. Pure inositol reduced fearfulness in laying hens, but phytase-derived inositol did not.
Myo-inositol (inositol) affects memory, and the incidence of depression and anxiety in mammals. An experiment was designed to determine if pure inositol (0.16%), or high levels of phytase (3000 FTU/kg) affect the behaviour of fully beaked Lohmann LSL lite hens fed amino acid sufficient (19% crude protein (CP)) and deficient diets (16% CP), from 19 to 59 weeks of age. The data collected included live-scan behaviour observations and novel object (NO) tests (both at 1, 10 and 40 weeks of the trial); heterophil-to-lymphocyte (H/L) ratios (week 1 and week 40 of the trial); end of trial feather cover, and comb and skin lesions; and daily mortality. Reducing CP increased sitting by 2.5%. Inositol, but not phytase, reduced the latency to peck at the NO by 300 sec. Inositol reduced vent feather cover by 12% and tended to increase mortality by 13%. No effects on H/L ratio, and comb or skin lesions were found. In conclusion, regardless of the source, inositol reduced vent feather cover, while it tended to increase mortality. Only pure inositol reduced fearfulness in laying hens.
View Full-Text
►

▼

Show Figures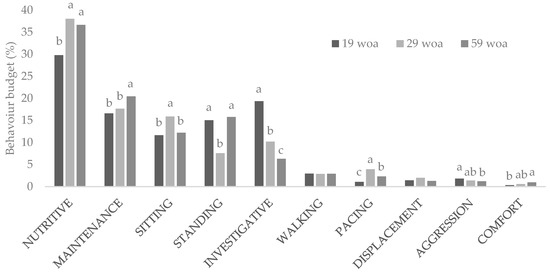 Figure 1
This is an open access article distributed under the
Creative Commons Attribution License
which permits unrestricted use, distribution, and reproduction in any medium, provided the original work is properly cited

Note that from the first issue of 2016, MDPI journals use article numbers instead of page numbers. See further details
here
.