Weber's Law and the Scalar Property of Timing: A Test of Canine Timing
1
School of Psychology, The University of Waikato/Te Whare Whãnanga o Waikato, Hamilton 3240, New Zealand
2
School of Psychology, University of New England, Armidale, NSW 2351, Australia
*
Author to whom correspondence should be addressed.
Received: 31 August 2019 / Revised: 4 October 2019 / Accepted: 9 October 2019 / Published: 14 October 2019
Simple Summary
Understanding the perceptual abilities of companion animals such as dogs adds to our understanding of the cognitive abilities of non-human animals. This study assessed the time perception abilities of dogs. In this study, dogs were required to identify whether the duration of a light was of a short or long duration by pressing a response lever. Dogs were able to correctly classify the durations as short or long. When given durations that were intermediate of the original short and long stimuli, their performance approached chance levels near the middle of the short and long durations. The performance of dogs on this task was similar to other animals, such as rats, pigeons and possums. Aspects of their performance also challenged some long-held assumptions of existing models of time perception. Research that assesses the cognitive abilities of dogs remains a fertile area of research that will improve our understanding about their abilities and limits.
Domestic dogs completed a temporal bisection procedure that required a response to one lever following a light stimulus of short duration and to another lever following a light stimulus of a longer duration. The short and long durations across the four conditions were (0.5–2.0 s, 1.0–4.0 s, 2.0–8.0 s, and 4.0–16.0 s). Durations that were intermediate, the training durations, and the training durations, were presented during generalization tests. The dogs bisected the intervals near the geometric mean of the short and long-stimulus pair. Weber fractions were not constant when plotted as a function of time: A U-shaped function described them. These results replicate the findings of previous research reporting points of subjective equality falling close to the geometric mean and also confirm recent reports of systematic departures from Weber's law.
View Full-Text
►

▼

Show Figures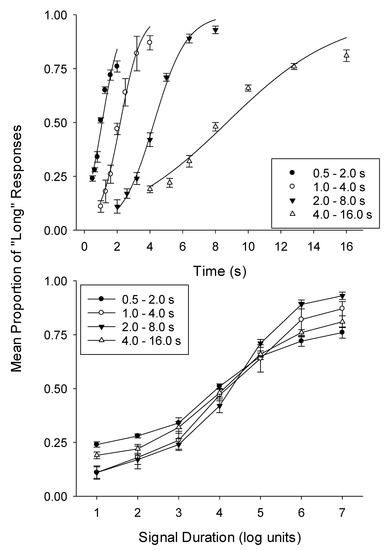 Figure 1
This is an open access article distributed under the
Creative Commons Attribution License
which permits unrestricted use, distribution, and reproduction in any medium, provided the original work is properly cited

Note that from the first issue of 2016, MDPI journals use article numbers instead of page numbers. See further details
here
.