Open Access This article is
freely available
re-usable
Review
A Review of Success Factors for Piglet Fostering in Lactation
SunPork Farms, P.O. Box 92, Wasleys 5400, SA, Australia
*
Author to whom correspondence should be addressed.
Received: 31 January 2018 / Accepted: 4 March 2018 / Published: 9 March 2018
Abstract
:
Simple Summary
An understanding of behavioural and physiological mechanisms responsible for piglet survival and growth will assist in developing the best recommendations in which to manage piglet movements in the farrowing house. This review has identified six key principles that should underpin successful piglet fostering. These fostering principles will improve productivity and welfare of sows and piglets in commercial pig production.
Abstract
Piglet movement from one sow to another, or fostering, is required in modern pig farming but there is little available literature on the most effective strategy. In this review, we focus on the behavioural and physiological mechanisms responsible for piglet survival and growth, and have identified six key principles. (1) Colostrum provides piglets with warmth, energy and immunity. It is most accessible during the first 12 h from the birth sow, therefore no piglet should be moved before this; (2) To ensure even intake of birth sow colostrum, techniques such as split suckling prior to piglet movement should be implemented; (3) Udder assessment for functional teats should occur at farrowing, with number of fostered piglets not exceeding teat number; (4) Primiparous sows should receive as many piglets as the udder allows to maximise mammary stimulation, although older parities should be assessed for rearing ability; (5) Piglet fostering should occur between 12 and 24 h and movement kept to a minimum to prevent transfer of disease; Litter outliers should be moved and relocated to a litter of similar size; (6) Piglet movement after 24 h should be minimised. When required, strategies such as nurse usage should be employed. These principles will result in improved farrowing house performance by increasing the litter weight weaned per sow.
Keywords:
colostrum; split suckling; udder assessment; rearing ability; nurse sow; piglet survival
Acknowledgments
The authors wish to thank members of the SunPork Solutions team for editing this document prior to publication, and to Australian Pork Limited for funding this work.
Author Contributions
Kate J. Plush conceived and designed the review; Jena G. Alexopoulos and Suzanne Hallett sourced the publications; and Jena G. Alexopoulos, David S. Lines and Kate J. Plush wrote the review.
Conflicts of Interest
The authors declare no conflict of interest.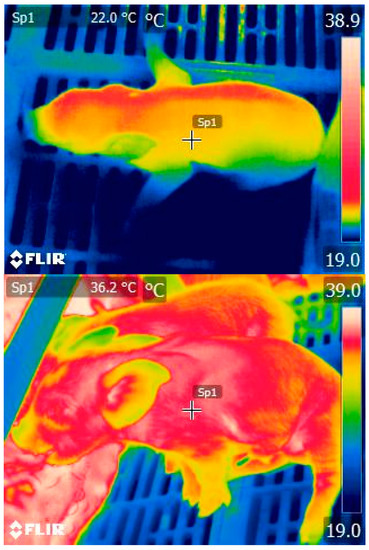 Figure 1. Thermal image detecting skin temperature of newborn piglets that are receiving colostrum (lower: 36.3 °C), and of a "low viability" piglet who has failed to reach the udder and so ingest colostrum (upper: 22.0 °C). Thermal colour scale (19–39 °C) presented on the right hand-side of each image. Image taken by Jena G. Alexopoulos.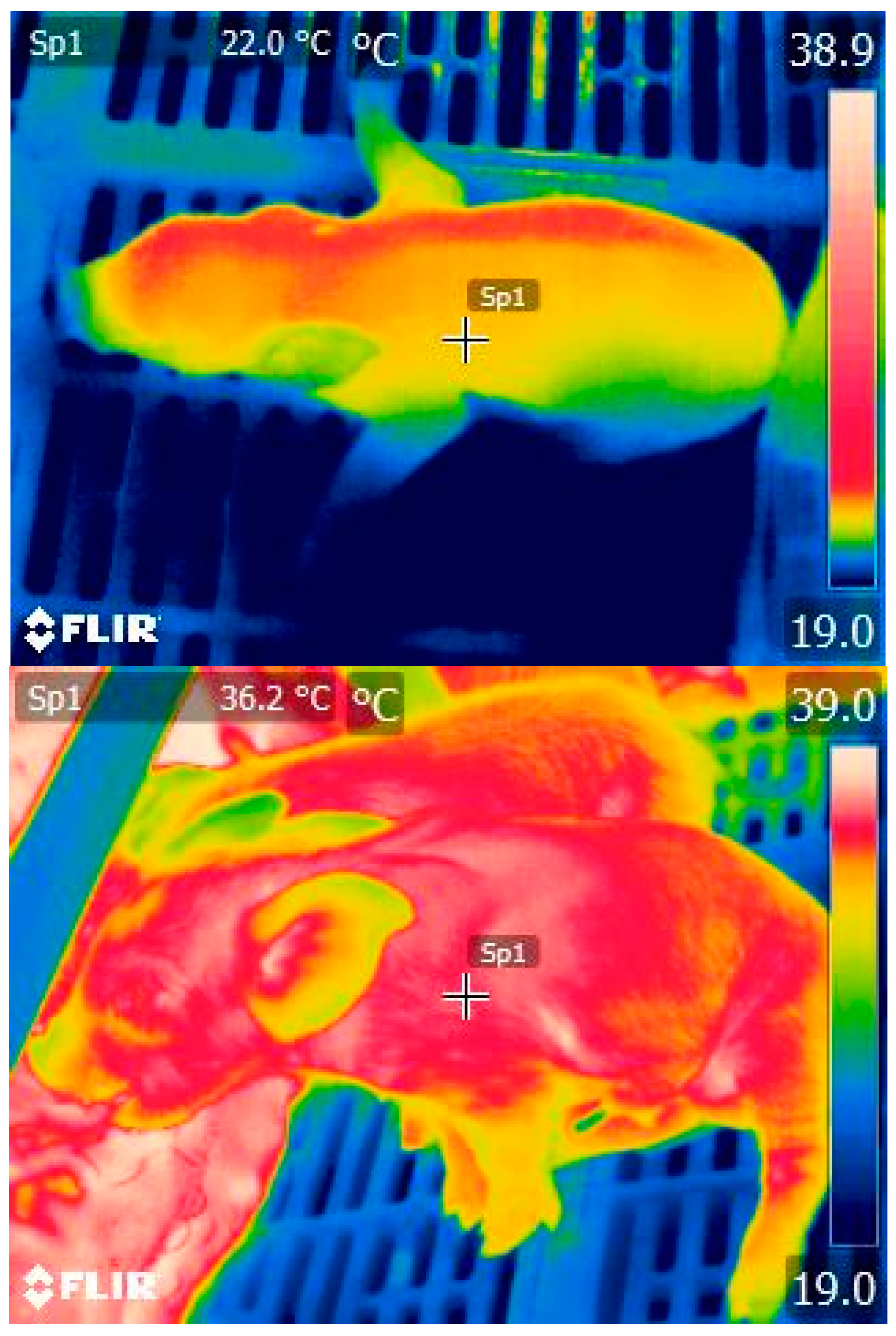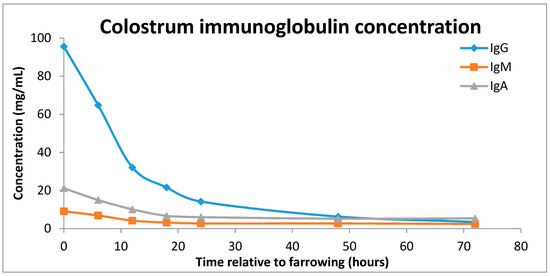 Figure 2.
Concentration of immunoglobulins (IgG blue line, IgM, orange line and IgA, purple line) in sow colostrum over a 72 h period post farrowing (adapted from Klobasa, Werhahn and Butler [
7
]).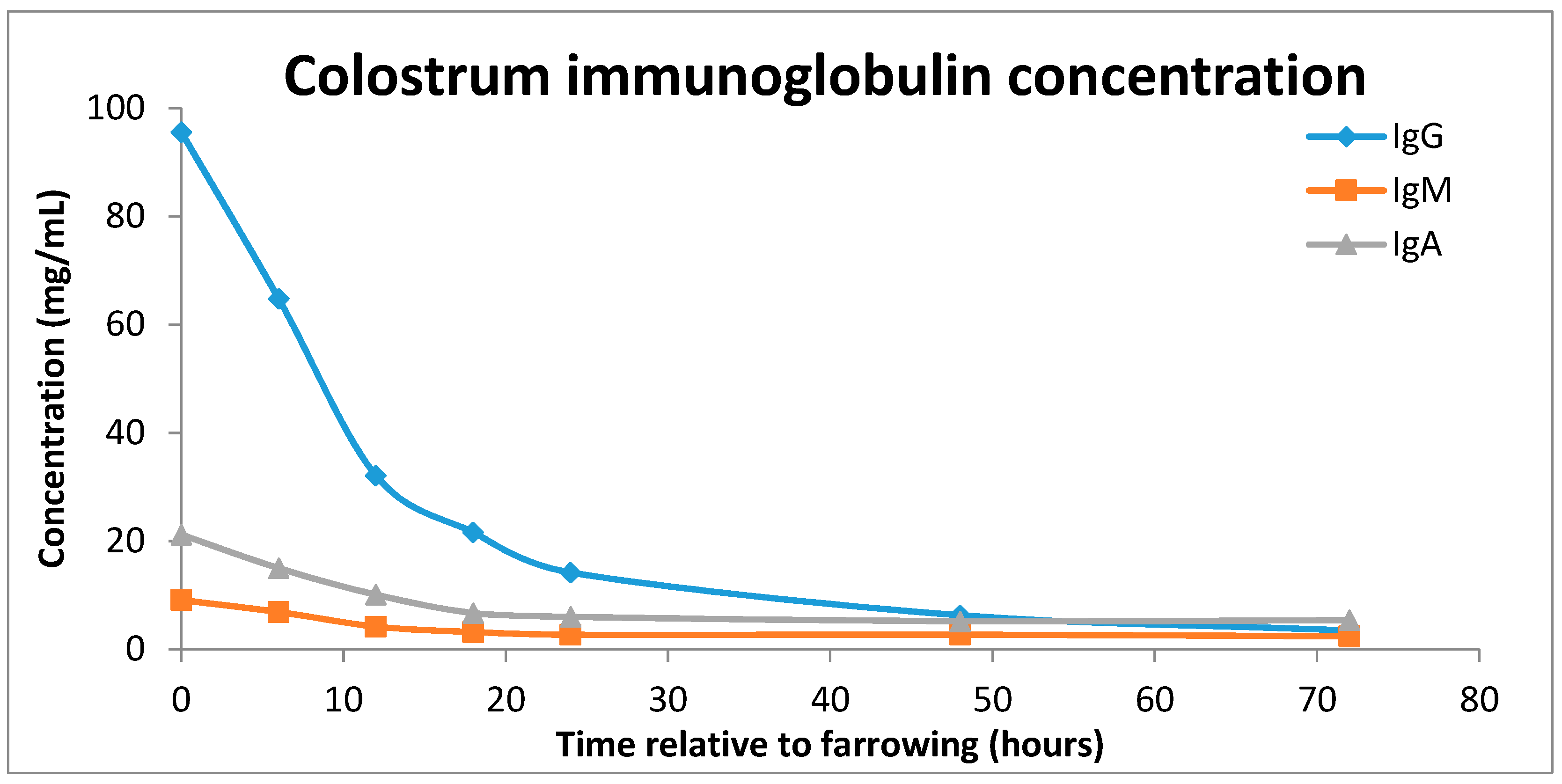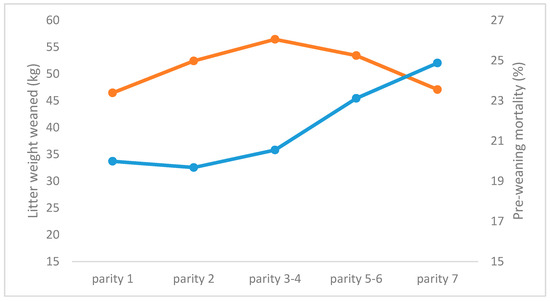 Figure 3.
Litter weight at weaning (kg, orange line) and pre-weaning mortality (%, blue line) for sows with increasing parity (adapted from [
48
]).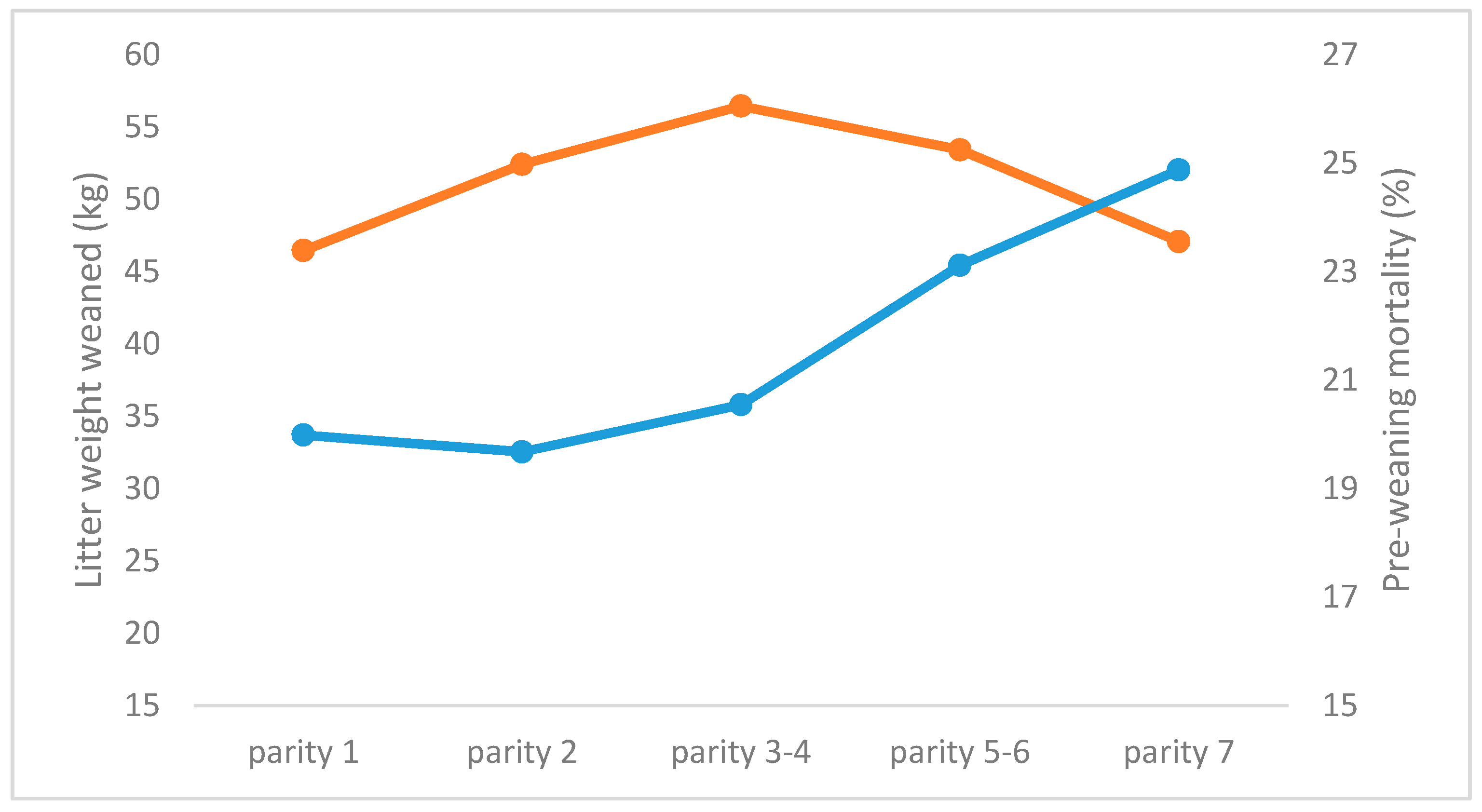 © 2018 by the authors. Licensee MDPI, Basel, Switzerland. This article is an open access article distributed under the terms and conditions of the Creative Commons Attribution (CC BY) license (http://creativecommons.org/licenses/by/4.0/).