Long Term Benefits on Social Behaviour after Early Life Socialization of Piglets
1
Animal Behaviour & Welfare, Animal and Veterinary Sciences Research Group, Scotland's Rural College (SRUC), West Mains Rd., Edinburgh EH9 3JG, UK
2
Institute of Animal Husbandry and Animal Welfare, Department of Farm Animals and Veterinary Public Health, University for Veterinary Medicine Vienna, Veterinärplatz 1, Vienna A-1210, Austria
3
Institute for Global Food Security, School of Biological Sciences, Queen's University, Belfast BT9 7BL, UK
*
Author to whom correspondence should be addressed.
Received: 4 October 2018 / Revised: 22 October 2018 / Accepted: 25 October 2018 / Published: 29 October 2018
Simple Summary
Pig welfare is a societal concern, partly due to the intensive rearing conditions. One welfare concern is aggression between newly regrouped pigs. Aggression at weaning is reduced by putting several groups of piglets together when young; termed socialization. Information is missing about how socialization affects sow health and if the behavioural changes in piglets are long-lasting. We aimed to address these questions by studying sow udder quality and pig behaviour and growth in socialized and control groups. Pigs were socialized by either joining two litters (32 sows; 16 groups) at 14 days of age or not joining them (33 sows). At weaning, the sows of socialized groups had more udder damage than the controls. Socialized piglets had double the amount of bite injuries (skin lesions) than controls the day after socialization, but had 19% fewer skin lesions at regrouping at eight weeks old when injuries are more numerous and severe. At 11 weeks old, there was no difference between the groups. In a test for aggressiveness, socialized pigs attacked more often and quicker, showing greater confidence in agonistic skills. Socialization means additional work for farmers and may cause more udder damage, but has beneficial effects for pig behaviour and welfare at later regrouping.
Early life socialization of piglets has been shown to reduce piglet aggression at weaning, but information on sow health and long-term benefits is lacking. We aimed to assess how socialization impacts sow udder quality and long-term pig behaviour and growth. At two weeks of age, 65 litters either experienced socialization with one other litter (SOC) or did not (control; CON). Sows (housed in farrowing crates) were scored for teat damage and piglets were observed for aggressive behaviour (resident-intruder test) and growth and skin lesions up to 11 weeks under conventional farm conditions (including weaning and regrouping). At weaning, SOC sows had more teat damage than CON sows (
p
= 0.04). SOC piglets had double the number of lesions 24 h post-socialization compared to the control (19 versus 8;
p
< 0.001). In the resident-intruder test, more SOC pigs attacked the intruder (SOC 78%; CON 66%;
p
< 0.01), and attacked more quickly (
p
= 0.01). During regrouping (week 8), SOC pigs had 19% fewer lesions (SOC 68; CON 84;
p
< 0.05), but three weeks later, groups did not differ. Growth was unaffected by treatment. Overall, socialized piglets seem to be equipped with greater confidence or agonistic skills, leading to fewer injuries from fighting up to at least six weeks after socialization.
View Full-Text
►

▼

Show Figures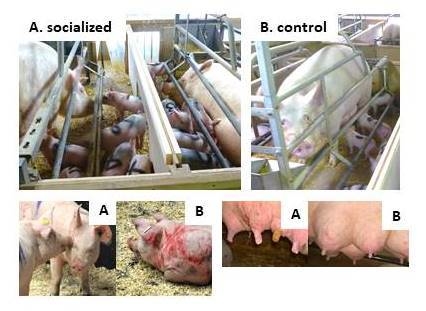 Graphical abstract
This is an open access article distributed under the
Creative Commons Attribution License
which permits unrestricted use, distribution, and reproduction in any medium, provided the original work is properly cited

Note that from the first issue of 2016, MDPI journals use article numbers instead of page numbers. See further details
here
.