Behavior and Characteristics of Sap-Feeding North Island kākā (
Nestor meridionalis septentrionalis

) in Wellington, New Zealand

Centre for Biodiversity and Restoration Ecology, School of Biological Sciences, Victoria University of Wellington, P.O. Box 600, Wellington, New Zealand

*

Author to whom correspondence should be addressed.

Received: 6 July 2013 / Revised: 12 August 2013 / Accepted: 12 August 2013 / Published: 16 August 2013
Simple Summary
Understanding the behavior of problem animal species assists in understanding and mitigating problems caused by wildlife in urban landscapes. The kākā, a threatened New Zealand native parrot, causes damage to trees while feeding on sap. Through observations of sap foraging kākā in Wellington City, this study builds on the limited knowledge of sap feeding and tests hypotheses about the age and sex of sap feeding birds. We found that sap feeding likely occurs in both sexes and across age groups, and that sap feeding birds also utilize supplementary food. This study suggests that sap is an important food source for kākā and that further provision of supplementary food is unlikely to reduce sap feeding and associated tree damage.
The North Island kākā (
Nestor meridionalis
septentrionalis
), a threatened New Zealand native parrot, was successfully reintroduced to an urban sanctuary in Wellington, New Zealand. Conflict has recently begun to emerge with Wellington City residents due to tree damage caused by kākā sap foraging. Little is known about sap foraging behavior of kākā, and this study aimed to gain a greater understanding of this behavior, and to test hypotheses that sap feeding is predominantly a female activity and that one technique, forming transverse gouges through bark, may be restricted to adult kākā. We used instantaneous scan sampling to record the behavior of kākā during 25 60–100 minute observation periods at Anderson Park, Wellington Botanic Garden, and during 13 opportunistic observations of sap feeding kākā in Wellington City. Forty-one observations of sap feeding were made of 21 individually-identified birds. Sap feeding birds were predominantly young and, based on estimated sex, females were no more likely to sap feed than males (exact binomial test
p
= 0.868). Twenty of the 21 identified sap feeding kākā utilized supplementary feeding stations at Zealandia-Karori Wildlife Sanctuary. Kākā were observed defending sap feeding sites from tui (
Prosthemadera novaeseelandiae
) and conspecifics. Sap appears to be an important resource for kākā across sexes and life stages, and provision of supplementary food is unlikely to reduce sap feeding and tree damage in Wellington City.
View Full-Text
►

▼

Show Figures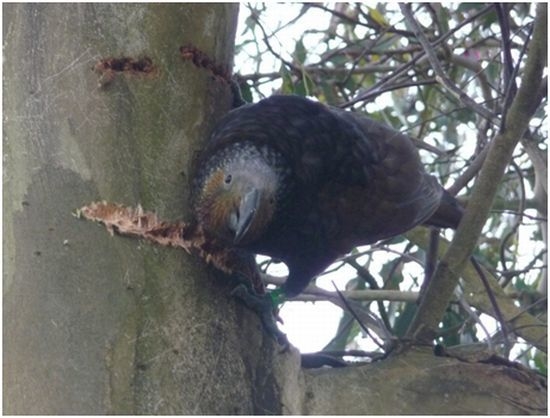 Graphical abstract

MDPI and ACS Style
Charles, K.E.; Linklater, W.L. Behavior and Characteristics of Sap-Feeding North Island kākā (Nestor meridionalis septentrionalis) in Wellington, New Zealand. Animals 2013, 3, 830-842. https://doi.org/10.3390/ani3030830
AMA Style
Charles KE, Linklater WL. Behavior and Characteristics of Sap-Feeding North Island kākā (Nestor meridionalis septentrionalis) in Wellington, New Zealand. Animals. 2013; 3(3):830-842. https://doi.org/10.3390/ani3030830
Chicago/Turabian Style
Charles, Kerry E.; Linklater, Wayne L. 2013. "Behavior and Characteristics of Sap-Feeding North Island kākā (Nestor meridionalis septentrionalis) in Wellington, New Zealand" Animals 3, no. 3: 830-842. https://doi.org/10.3390/ani3030830