Recent Advances in Camel Milk Processing
1
UMR SELMET, CIRAD-ES, 34398 Montpellier, France
2
Department of Biotechnology, Faculty of Biology and Biotechnology, Al-Farabi Kazakh National University, Almaty 050040, Kazakhstan
*
Author to whom correspondence should be addressed.
Academic Editors: Mohammed Gagaoua, Amira Leila Dib, Elhacene Bererhi and Giuseppe Pulina
Received: 9 February 2021
/
Revised: 23 March 2021
/
Accepted: 6 April 2021
/
Published: 8 April 2021
Simple Summary
The camel milk market was limited for a long time by its almost exclusive self-consumption use in nomadic camps. Significant development has been observed for the past two or three decades, including internationally, boosted by its reputation regarding its health effects for regular consumers. Such emergence has led the stakeholders in the sector to offer diversified products corresponding to the tastes of increasingly urbanized consumers, more sensitive to "modern" products. Thus, traditionally drunk in raw or naturally fermented form, camel milk has undergone unprecedented transformations such as pasteurization, directed fermentation, cheese or yoghurt processing, and manufacture of milk powder for the export market. However, the specific characteristics of this milk (composition, physical properties) mean that the technologies applied (copied from technologies used for cow milk) must be adapted. In this review, some technological innovations are presented, enabling stakeholders of the camel milk sector to satisfy the demand of manufacturers and consumers.
Camel milk is a newcomer to domestic markets and especially to the international milk market. This recent emergence has been accompanied by a diversification of processed products, based on the technologies developed for milk from other dairy species. However, technical innovations had to be adapted to a product with specific behavior and composition. The transformation of camel milk into pasteurized milk, fermented milk, cheese, powder, or other products was supported, under the pressure of commercial development, by technological innovations made possible by a basic and applied research set. Some of these innovations regarding one of the less studied milk sources are presented here, as well as their limitations. Technical investigations for an optimal pasteurization, development of controlled fermentation at industrial scale, control of cheese technology suitable for standardized production, and improvements in processes for the supply of a high-quality milk powder are among the challenges of research regarding camel milk.
View Full-Text
►

▼

Show Figures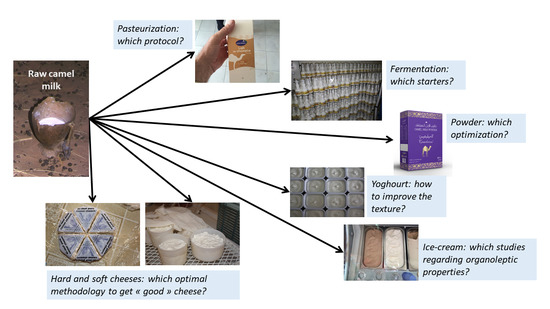 Graphical abstract
This is an open access article distributed under the
Creative Commons Attribution License
which permits unrestricted use, distribution, and reproduction in any medium, provided the original work is properly cited.

MDPI and ACS Style
Konuspayeva, G.; Faye, B. Recent Advances in Camel Milk Processing. Animals 2021, 11, 1045. https://doi.org/10.3390/ani11041045
AMA Style
Konuspayeva G, Faye B. Recent Advances in Camel Milk Processing. Animals. 2021; 11(4):1045. https://doi.org/10.3390/ani11041045
Chicago/Turabian Style
Konuspayeva, Gaukhar, and Bernard Faye. 2021. "Recent Advances in Camel Milk Processing" Animals 11, no. 4: 1045. https://doi.org/10.3390/ani11041045
Note that from the first issue of 2016, MDPI journals use article numbers instead of page numbers. See further details
here
.