Understanding the Relationship between Intention and Cat Containment Behaviour: A Case Study of Kitten and Cat Adopters from RSPCA Queensland
1
School of Psychology, University of New England, Armidale, NSW 2350, Australia
2
RSPCA Australia, PO Box 265, Deakin West, ACT 2600, Australia
3
Sydney School of Veterinary Science, University of Sydney, Sydney, NSW 2006, Australia
4
RSPCA Queensland, Locked Bag 3000, Archerfield BH, Qld 4108, Australia
*
Author to whom correspondence should be addressed.
Received: 11 June 2020 / Revised: 14 July 2020 / Accepted: 15 July 2020 / Published: 16 July 2020
Simple Summary
People shape an intention to perform a certain behaviour from a positive assessment of that behaviour, which in turn creates a level of desire, and impulse, to do it. Whether or not this behaviour is actually performed depends on competing plans, evaluations, motives and impulses. This study explored the relationship between the intentions and actual cat containment behaviours of 72 cat adopters from a RSPCA Queensland animal shelter. We found that the cat containment intentions of these participants only moderately predicted their containment behaviour, and identified a number of important factors that prevented some of the participants from containing their cat once they got it home. The results from this research will be used to guide the development of additional targeted strategies to assist individual cat owners contain their pet.
In Australia, cat owners are encouraged to keep their pet cats contained on their property at all times. This study explores the relationship between the intentions and behaviours of 72 kitten and cat adopters from a RSPCA Queensland animal shelter, to provide a more in-depth understanding of the factors influencing the adoption of cat containment behaviours. At the time of adoption, 64 participants (89%) indicated they were intending to keep their cat fully contained. Eight weeks after adoption, 63 participants (87%) reported they were doing so (59 who had stated their intention at the time of adoption, and 4 who had not). We found cat owner containment behaviour was moderately correlated with containment intentions. For some of the participants when it came to enacting this behaviour, their intentions and the provided education information was not enough to overcome the more compelling capability, opportunity and motivational factors which presented themselves once they got home. We were able to identify these factors and suggest additional behaviour change strategies that would assist. Although it is important to provide cat adopters with advice about how to contain their cats properly, these results also highlight the importance of focusing attention on other behaviour change strategies that address the particular barriers faced by some cat-owners who are unsuccessful in keeping their cat contained on their property.
View Full-Text
►

▼

Show Figures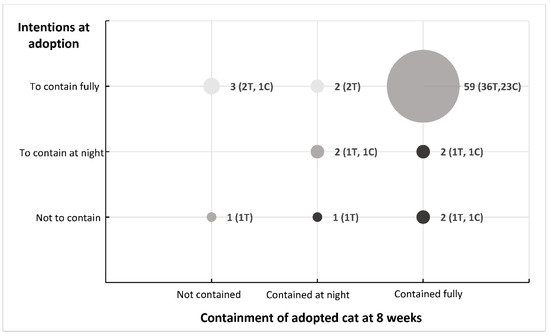 Figure 1
This is an open access article distributed under the
Creative Commons Attribution License
which permits unrestricted use, distribution, and reproduction in any medium, provided the original work is properly cited

MDPI and ACS Style
McLeod, L.J.; Evans, D.; Jones, B.; Paterson, M.; Zito, S. Understanding the Relationship between Intention and Cat Containment Behaviour: A Case Study of Kitten and Cat Adopters from RSPCA Queensland. Animals 2020, 10, 1214.
Show more citation formats
Show less citations formats
Note that from the first issue of 2016, MDPI journals use article numbers instead of page numbers. See further details
here
.