Effects of Single and Repeated Doses on Disposition and Kinetics of Doxycycline Hyclate in Goats
1
Department of Pharmacology and Toxicology, Faculty of Veterinary Medicine, University of Hatay Mustafa Kemal, Hatay 31060, Turkey
2
Department of Pharmacology and Toxicology, Faculty of Veterinary Medicine, University of Kastamonu, Kastamonu 37200, Turkey
3
Department of Pharmacology and Toxicology, Faculty of Veterinary Medicine, University of Selcuk, Konya 42031, Turkey
*
Author to whom correspondence should be addressed.
Received: 29 April 2020 / Revised: 17 June 2020 / Accepted: 19 June 2020 / Published: 24 June 2020
Simple Summary
Doxycycline is used to treat bacterial infections such as pneumonia, skin and soft tissue infections, urinary tract infections, salmonellosis, and colibacillosis in goats. In goats, the single intravenous and intramuscular pharmacokinetics of doxycycline are known. However, there is no information regarding oral pharmacokinetics. This study aims to determine the single and repeated pharmacokinetics, bioavailability, and accumulation of doxycycline hyclate. Although doxycycline hyclate exhibited low intramuscular and oral bioavailability, its oral administration with favorable properties such as weak accumulation, wide distribution volume and long elimination half-life can be useful in the treatment of infections caused by susceptible pathogens in goats.
The aims of this study in goats were to determine the pharmacokinetics of doxycycline hyclate following single intravenous (IV), intramuscular (IM) and oral administrations of 20 mg/kg and to evaluate the pharmacokinetics and accumulation of doxycycline hyclate after repeated oral administrations at a 20 mg/kg dose every 24 h for 5 days. Six healthy male goats were used for the study. The study was performed in four periods according to a longitudinal study with a 15-day washout period. Plasma concentrations of doxycycline were determined using HPLC-UV and analyzed by a non-compartmental method. IM injection of doxycycline caused swelling and pain due to irritation in the injection site. After IM and oral administrations, terminal elimination half-life (t
1/2λz
) and mean residence time (MRT) were prolonged and areas under the curve (AUCs) were low. The mean bioavailability of IM and oral administration was 51.51% and 31.39%, respectively. Following repeated oral administration, the accumulation ratio of doxycycline was 1.76. Pharmacokinetic properties including weak accumulation, wide distribution volume and long elimination half-life can make doxycycline hyclate valuable for repeated use via an oral route in the treatment of some infectious diseases in goats. However, the determination of pharmacodynamic effects on susceptible pathogens isolated from goats is also necessary to confirm the drug dosage regimen.
View Full-Text
►

▼

Show Figures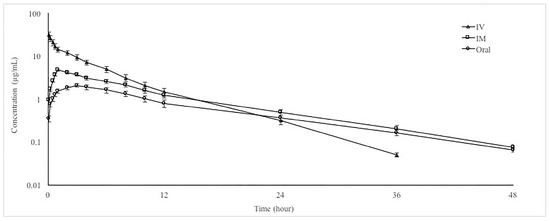 Figure 1
This is an open access article distributed under the
Creative Commons Attribution License
which permits unrestricted use, distribution, and reproduction in any medium, provided the original work is properly cited

Note that from the first issue of 2016, MDPI journals use article numbers instead of page numbers. See further details
here
.