Non-Invasive Assessment of Body Condition and Stress-Related Fecal Glucocorticoid Metabolite Concentrations in African Elephants (
Loxodonta africana

) Roaming in Fynbos Vegetation

1

Mammal Research Institute, Department of Zoology and Entomology, Faculty of Natural and Agricultural Sciences, University of Pretoria, Pretoria 0028, South Africa

2

Wildlife and Ecological Investments (WEI), Unit 20/21, Fountain Square, 136 Main Road, P.O. Box 3288, Somerset West 7130, South Africa

*

Author to whom correspondence should be addressed.

Received: 27 March 2020 / Revised: 22 April 2020 / Accepted: 27 April 2020 / Published: 8 May 2020

(This article belongs to the Section

Wildlife

)
Simple Summary
The Western Cape Province of South Africa is characterized by Fynbos vegetation. This unique endemic vegetation type belongs to the Cape Floral Kingdom, the smallest of the six floral kingdoms in the world, and only a few provincial, national and private game reserves in this area currently support populations of African elephants (Loxodonta africana). As a result, not much is known about the ability of elephants to thrive in such a unique environment. External factors such as a nutritionally poor diet can be perceived as a stressor by mammals, and establishing links between these two factors was the focus of this study. The results of monitoring individual stress-related hormone levels and body conditions suggest that elephants can obtain adequate nutrition from Fynbos vegetation.
Fynbos is a unique endemic vegetation type belonging to the Cape Floral Kingdom in the Western Cape Province of South Africa, representing the smallest of the six floral kingdoms in the world. Nowadays, only a few game reserves in this region support populations of African elephants (
Loxodonta africana
), and thus, little information exists regarding the suitability of the nutritionally poor Fynbos vegetation for these megaherbivores. Using already established non-invasive methods, the monitoring of individual body conditions and fecal glucocorticoid metabolite (fGCM) concentrations, as a measure of physiological stress, was performed to examine a herd of 13 elephants in a Western Cape Province Private Game Reserve, during two monitoring periods (April and June 2018), following a severe drought. The results indicate that overall median body condition scores (April and June: 3.0, range 2.0–3.0) and fGCM concentrations (April: 0.46 µg/g dry weight (DW), range 0.35–0.66 µg/g DW; June: 0.61 µg/g DW, range 0.22–1.06 µg/g DW) were comparable to those of other elephant populations previously studied utilizing the same techniques. These findings indicate that the individuals obtain sufficient nutrients from the surrounding Fynbos vegetation during the months monitored. However, a frequent assessment of body conditions and stress-associated fGCM concentrations in these animals would assist conservation management authorities and animal welfare practitioners in determining ways to manage this species in environments with comparably poorer nutritional vegetation.
View Full-Text
►

▼

Show Figures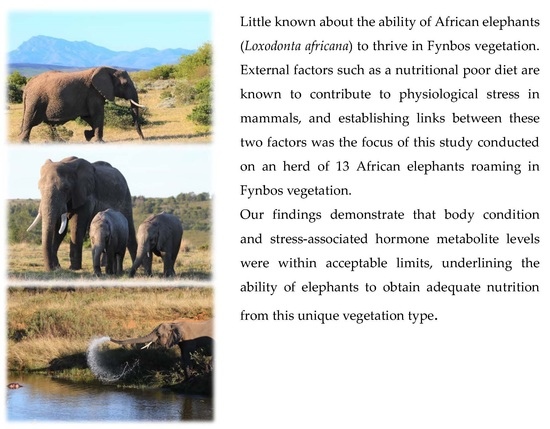 Graphical abstract
This is an open access article distributed under the
Creative Commons Attribution License
which permits unrestricted use, distribution, and reproduction in any medium, provided the original work is properly cited

MDPI and ACS Style
Carlin, E.; Teren, G.; Ganswindt, A. Non-Invasive Assessment of Body Condition and Stress-Related Fecal Glucocorticoid Metabolite Concentrations in African Elephants (Loxodonta africana) Roaming in Fynbos Vegetation. Animals 2020, 10, 814.
Show more citation formats
Show less citations formats
Note that from the first issue of 2016, MDPI journals use article numbers instead of page numbers. See further details
here
.