Determination of Dairy Cattle Euthanasia Criteria and Analysis of Barriers to Humane Euthanasia in the United States: Dairy Producer Surveys and Focus Groups
1
Department of Population Health and Pathobiology, College of Veterinary Medicine, North Carolina State University, Raleigh, NC 27606, USA
2
Department of Animal Science, College of Agricultural Sciences, Colorado State University, Fort Collins, CO 80523, USA
3
College of Veterinary Medicine, Iowa State University, Ames, IA 50011, USA
4
College of Food, Agricultural, and Environmental Sciences, School of Environment and Natural Resources, The Ohio State University, Columbus, OH 43210, USA
5
Departments of Health Management and Companion Animals, Atlantic Veterinary College, University of Prince Edward Island, Charlottetown, PE C1A 4P3, Canada
6
Department of Veterinary Diagnostic and Production Animal Medicine, College of Veterinary Medicine, Iowa State University, Ames, IA 50011, USA
*
Author to whom correspondence should be addressed.
Received: 30 March 2020 / Revised: 21 April 2020 / Accepted: 24 April 2020 / Published: 29 April 2020
Simple Summary
Making and carrying out euthanasia decisions is a complex, multi-factorial process and effective on-farm euthanasia training tools are needed to increase consistency throughout the dairy industry. This two-part study evaluated the main factors influencing euthanasia practices on dairy farms across the United States using dairy producer surveys (Part I) and focus groups (Part II). Survey results suggest that farm owners are most commonly responsible for making and carrying out euthanasia decisions on-farm and most dairy farmers treat and monitor compromised cattle for a variety of health conditions. Non-ambulatory cattle represent a severely compromised subpopulation of animals; however, they were selected to never be euthanized by 6.3% and 11.7% of survey respondents, respectively. Focus group discussions identified three main themes and 15 subthemes including animal, human and farm operation factors. Animal welfare and health status were frequently discussed and participants readily recognized the multi-factorial nature of on-farm euthanasia. Dairy producers are nuanced in their thinking about euthanasia decision making. However, the high variability in euthanasia timelines represents a significant animal welfare challenge. Training programs that focus on implementing specific standards for euthanasia is a critical next step and more research is needed to understand the factors influencing producer psychological perspectives regarding euthanasia decision making.
There are currently no clear guidelines in the US and some other countries regarding euthanasia decision making timelines for dairy cattle that become injured or ill to the extent that recovery is unlikely or impossible. Our study aimed to identify decision making criteria and the most common factors considered when making and carrying out euthanasia decisions. Dairy producers were recruited to participate in a mailed survey (Part I, 307 completed surveys were returned) or in one of three focus groups (Part II, 8–10 producers/group,
n
= 24). Part I (survey): Farm owners were most commonly responsible for on-farm euthanasia and most respondents would treat and monitor compromised cattle for a majority of 15 health conditions. Responses were highly variable; for example, 6.3% and 11.7% of respondents would never euthanize a non-ambulatory cow or calf, respectively. Part II (focus groups): Three main themes (animal, human, and farm operation) were identified from discussion which focused primarily on animal welfare (16% of the discussion) and human psychology (16%). Participants expressed a desire to eliminate animal suffering by euthanizing, alongside a wide range of emotional states. Development of specific standards for euthanasia is a critical next step and more research is needed to understand the human emotions surrounding euthanasia decision making.
View Full-Text
►

▼

Show Figures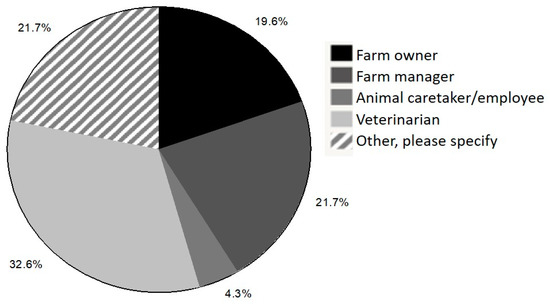 Figure 1
This is an open access article distributed under the
Creative Commons Attribution License
which permits unrestricted use, distribution, and reproduction in any medium, provided the original work is properly cited

MDPI and ACS Style
Wagner, B.K.; Cramer, M.C.; Fowler, H.N.; Varnell, H.L.; Dietsch, A.M.; Proudfoot, K.L.; Shearer, J.; Correa, M.; Pairis-Garcia, M.D. Determination of Dairy Cattle Euthanasia Criteria and Analysis of Barriers to Humane Euthanasia in the United States: Dairy Producer Surveys and Focus Groups. Animals 2020, 10, 770.
Show more citation formats
Show less citations formats
Note that from the first issue of 2016, MDPI journals use article numbers instead of page numbers. See further details
here
.