Maternal Exposure to T-2 Toxin Affects Puberty Genes and Delays Estrus Cycle in Mice Offspring
College of Animal Science and Technology, Nanjing Agricultural University, Nanjing 210095, China
*
Author to whom correspondence should be addressed.
Received: 27 February 2020 / Revised: 29 February 2020 / Accepted: 29 February 2020 / Published: 12 March 2020
Simple Summary
The experiment was designed to investigate the effect of gestational and lactational exposure to the T-2 toxin and its effects on the puberty of female mice offspring. T-2 toxin contaminates feed participates in the maternal diet. It directly interferes with the normal physiological function of offspring because the maternal diet is the most important during pregnancy and lactation. Female mice are more sensitive to the maternal diet during the lactation stage. Thus, their maturity stage is very complex and regulated by the hypothalamus, which controls Gonadotropin-releasing hormone (GnRH), and it also secretes reproductive hormones. Current findings report that T-2 toxins during late gestation and lactation period directly affect offspring, disturb the vaginal environment, delayed normal estrus cycle, and puberty age induces oxidative stress-caused ovarian damage. Based on findings, we think it is necessary to raise people's attention to T-2 toxin-contaminated feed offered to animals. Current results reveal information about the health risks associated with a maternal diet, which affects the next generation.
Among foodborne toxicities, the T-2 toxin is the most toxic member of trichothecenes mycotoxins, which has been shown to impair the development and reproductive efficiency of animals. Pups are particularly more quickly prone to programming the effects of the maternal diet during the gestational and lactation periods. Few studies have reported the maternal toxic effect on the next generation. Dams were served the T-2 toxin at a dose of 0.005 and 0.05 mg/kg body weight/day and control group 0 mg/kg from gestation day 14 to lactation day 21. Female mice offspring were selected at the weaning age. Our observations indicate that age during the vaginal opening and di-estrus stage increased and the length of the estrus cycle, first di-estrus, and regular estrus cycling were delayed with prolonged di-estrus in the 0.05 mg/kg group compared to the 0.005 mg/kg and control group. Transcription level analysis showed that mice at a dose of 0.05 mg/kg exhibited a decrease in hypothalamic mRNA expression of
Gnrh
and
Gnrhr, Lhb,
and
Fshb
in the pituitary gland, with a significant decrease of
Fshr
and
Lhr
in the ovaries. Present findings report that postnatal exposure to the T-2 toxin delayed puberty age in female mice and induced oxidative stress, ovarian damage, and reduced vaginal epithelium wall majorly in the 0.05 mg/kg group, and showed fewer effects in the 0.005 mg/kg group.
View Full-Text
►

▼

Show Figures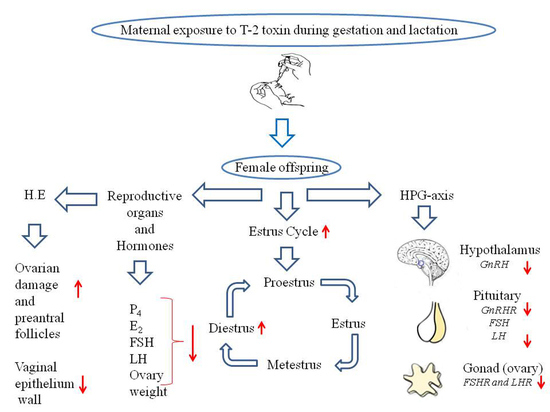 Graphical abstract
This is an open access article distributed under the
Creative Commons Attribution License
which permits unrestricted use, distribution, and reproduction in any medium, provided the original work is properly cited

Note that from the first issue of 2016, MDPI journals use article numbers instead of page numbers. See further details
here
.