Maternal and Early Postnatal Diet Supplemented with Conjugated Linoleic Acid Isomers Affect Lipid Profile in Hearts of Offspring Rats with Mammary Tumors
1
The Kielanowski Institute of Animal Physiology and Nutrition, Polish Academy of Sciences, Instytucka 3, 05-110 Jabłonna, Poland
2
Department of Animal Improvement and Nutrigenomics, Institute of Genetics and Animal Breeding, Polish Academy of Sciences, Postępu 36A Jastrzębiec, 05-552 Magdalenka, Poland
*
Authors to whom correspondence should be addressed.
Received: 13 February 2020 / Revised: 5 March 2020 / Accepted: 8 March 2020 / Published: 11 March 2020
Simple Summary
Proper feeding during pregnancy and breastfeeding plays an important role in ensuring the health of offspring in childhood as well as in adulthood. The idea of the "developmental origin of health and disease" (DOHaD) assumes that stimuli acting during fetal life cause long-term developmental and physiological changes in the main organs and influence the risk of many diseases. Our research, connected with DOHaD, made an attempt to evaluate the impact of the diet modification of mothers through the addition of conjugated linoleic acid isomers (CLA) on the lipid profile, fatty acid profile and the oxidative stress in the hearts of offspring with breast cancer. Earlier studies utilizing CLA in DOHaD concerned their impact on reducing the incidence of cancer. Considering reports on the co-occurrence of cardiovascular diseases (CVD) in oncological patients as a result of tumor development and also after chemotherapy and radiotherapy, further research is needed to assess the potential protective effect of CLA isomers in CVD. For this purpose, the content of selected CVD biomarkers was determined using modern analytical techniques. Our research has tried to explain the physiological role of CLA and its mechanism of action in the context of maintaining good health and in the prevention of non-communicable diseases.
Linking the early life environment with later health status is known as "developmental programming". This study aimed to assess whether the introduction of conjugated linoleic acids (CLAs) into the maternal diet affects the content fatty acids (FAs), conjugated FAs (CFAs), cholesterol, oxysterols, malondialdehyde (MDA) and tocopherols in the hearts of their female offspring treated with 7,12-dimethylbenz[a]anthracene and if offspring supplementation enhanced the effect of maternal supplementation. FA, cholesterol and oxysterol contents were determined by gas chromatography-mass spectrometry, while contents of CFAs and MDA were determined by high-performance liquid chromatography (HPLC) with photodiode detection. The supplementation of mothers with CLAs significantly decreased the amount of atherogenic saturated FAs and enhanced the level of eicosapentaenoic FA in the hearts of offspring. Continuous progeny supplementation decreased the content of arachidonic acid in hearts. Supplementation of the maternal diet with CLAs and its continuation during the postnatal period increased the ratio of hypo to hypercholesterolemic FAs. Significantly fewer oxysterols were detected in the hearts of progeny of dams fed with CLAs as compared to the offspring of mothers receiving safflower oil. Both fetal and postnatal CLA intake significantly reduced 7β-hydroxycholesterol accumulation. It can be concluded that CLA supplementation during the fetal and postnatal period may be an effective method of maintaining the cardiac health status of newborns.
View Full-Text
►

▼

Show Figures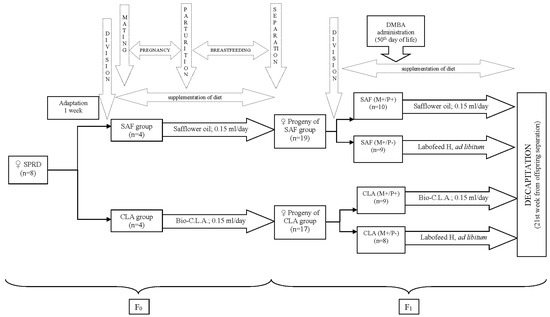 Figure 1
This is an open access article distributed under the
Creative Commons Attribution License
which permits unrestricted use, distribution, and reproduction in any medium, provided the original work is properly cited

MDPI and ACS Style
Białek, M.; Białek, A.; Czauderna, M. Maternal and Early Postnatal Diet Supplemented with Conjugated Linoleic Acid Isomers Affect Lipid Profile in Hearts of Offspring Rats with Mammary Tumors. Animals 2020, 10, 464.
Show more citation formats
Show less citations formats
Note that from the first issue of 2016, MDPI journals use article numbers instead of page numbers. See further details
here
.