The Influence of Diet Containing Wheat Gluten Supplemented with Dipeptides or Amino Acids on the Morphology of White Muscle of Yellow Perch (
Perca flavescens

)

1

Department of Ichthyobiology, Fisheries and Aquaculture Biotechnology, Faculty of Animal Science, Warsaw University of Life Sciences-SGGW (WULS-SGGW), Ciszewskiego 8, 02-786 Warsaw, Poland

2

The Kielanowski Institute of Animal Physiology and Nutrition, Polish Academy of Sciences, Instytucka 3, 05-110 Jabłonna, Poland

*

Author to whom correspondence should be addressed.

Received: 24 January 2020 / Revised: 22 February 2020 / Accepted: 24 February 2020 / Published: 27 February 2020
Simple Summary
The research was carried out to determine the possibility of feeding the predatory species using feed formulated with a plant protein source—wheat gluten. Percid fish such as yellow perch, European perch, or pikeperch are more and more often an object of rearing in pond aquaculture and recirculating aquaculture system (RAS). This is particularly important because aquaculture is constantly developing in the world and meets the limited possibilities of using natural resources for fishmeal production. Moreover, fishing for the production of fishmeal adversely affects the natural environment, including the conservation status of predatory fish species which play a key role in maintaining the balance of the aquatic environment. The study showed that the use of feed formulated on wheat gluten is beneficial in yellow perch feeding. Furthermore, feed containing wheat gluten compared to commercial feed based on fish meal showed no significant differences in the growth rate and survival of fish. This is important as a consequence of the implementation of sustainable and nature-friendly aquaculture through the protection of natural resources such as protection of schools of fish being the source of fishmeal. Moreover, over the past 40 years, the price of fishmeal increased significantly and as other products used to produce fish feed are subject to fluctuations. This is caused by many factors, including increased demand, reduction of natural resources, or climate change. Currently, the prices of wheat gluten and fishmeal are at a comparable level. Therefore, it seems that a balanced development of the aquaculture sector will be associated with the protection of natural fish stocks and, therefore, with greater use of agriculture products in animal nutrition.
Nutrition affects the metabolism of muscle cells and myogenic progenitor cells which play a crucial role in the growth and development of the muscle tissue. Because of the fact that the development process of yellow perch muscle tissue is not well known, the study aimed to analyze the influence of diets containing wheat gluten and supplemented with Lys and Gly in dipeptides or free form. Fish were allocated into 12 tanks and divided into four groups. Two of the experimental diets were supplemented Lys-Gly in the dipeptide form (DP group) or free amino acids (FAA group). The third was not supplemented with lysine (LF group). The fourth group of fish was fed commercial starter Bio-Oregon (C group). Histological or histomorphometric analyses were conducted: white muscle area, the total number of muscle fibers, the total number of white muscle nuclei, muscle fiber area, number of proliferating myonuclei. Fish fed LF diet showed the lowest number of nuclei and satellite cells proliferation. Results in DP and FAA groups were similar to that observed in fish fed C diet. Summarizing, wheat gluten-based diets supplemented with Lys-Gly dipeptide or free Lys and Gly amino acids exert beneficial effects on the morphology of yellow perch white muscle.
View Full-Text
►

▼

Show Figures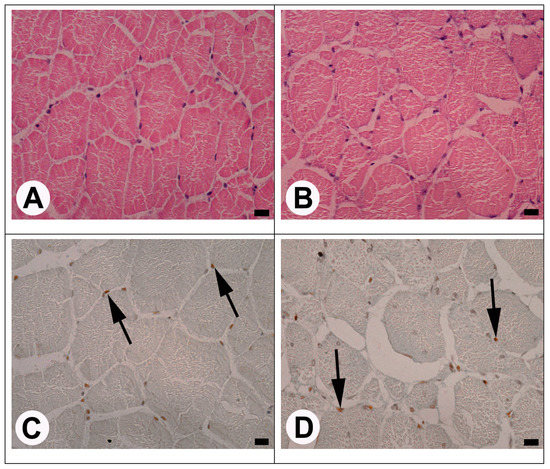 Figure 1
This is an open access article distributed under the
Creative Commons Attribution License
which permits unrestricted use, distribution, and reproduction in any medium, provided the original work is properly cited

MDPI and ACS Style
Kamaszewski, M.; Wójcik, M.; Krawczyńska, A.; Ostaszewska, T. The Influence of Diet Containing Wheat Gluten Supplemented with Dipeptides or Amino Acids on the Morphology of White Muscle of Yellow Perch (Perca flavescens). Animals 2020, 10, 388.
Show more citation formats
Show less citations formats
Note that from the first issue of 2016, MDPI journals use article numbers instead of page numbers. See further details
here
.