Reproductive and Behavioral Evaluation of a New Immunocastration Dog Vaccine
1
Laboratory of Veterinary Vaccines, Department of Animal Biology, Faculty of Veterinary and Animal Science, Universidad de Chile, Santiago 8820808, Chile
2
Escuela de Medicina Veterinaria, Facultad de Ciencias de la Vida, Universidad Andres Bello, Santiago 8370146, Chile
3
Department of Animal Pathology, Faculty of Veterinary and Animal Sciences, Universidad de Chile, Santiago 8820808, Chile
4
Department of Preventive Medicine, Faculty of Veterinary and Animal Science, Universidad de Chile, Santiago 8820808, Chile
*
Author to whom correspondence should be addressed.
Received: 12 November 2019 / Revised: 24 January 2020 / Accepted: 28 January 2020 / Published: 31 January 2020
Simple Summary
Population control of free-roaming dogs is a topic of great interest worldwide. Immunocastration (immune blockade of GnRH-I, the hormone that commands reproductive ability) has emerged as a complementary alternative to surgical castration. In this work, the effectiveness of an immunocastration vaccine for dogs was evaluated, as were the reproductive and behavioral characteristics of vaccinated animals. Two consecutive trials were carried out for this purpose. A first trial was conducted under experimental conditions, observing an immune response against the vaccine over a nine-month period that was associated with changes in the testicular function of the animals (decrease in testosterone and alteration of the characteristics of the ejaculate). The second trial was conducted on dogs who had owners, and vaccinated animals showed an immune response against the five-month vaccine and a decrease in unwanted behaviors associated with the presence of sex hormones. While more studies are needed, this vaccine is emerging as a promising tool for the reproductive and behavioral management of male dogs.
Canine immunocastration development has been of interest for many years as a complementary strategy to surgical castration. The purpose of this paper was to verify the effect of a recombinant vaccine for dog immunocastration. Two tests were done, one under controlled conditions and a second under field conditions. Animals were injected with 1 mL of 500 µg GnRXG/Q recombinant protein; 500 µg of low molecular weight chitosan as adjuvant; 1 mL NaCl 0.9% q.s. In the first trial, eight Beagle male dogs between the ages of 1 and 3 comprised the sample, randomly divided into two groups: vaccinated group (
n
= 7) and control group (
n
= 2). The second trial had 32 dogs with owners. In the first controlled conditions trial, the vaccine produced specific antibodies that remained until the end of the trial (day 270), inducing reduced testosterone and spermiogram changes in the immunized animals. In a second trial, on the field, specific immunity was induced, which remained high up to day 150. The vaccine also reduced sexual agonistic and marking behaviors. This new vaccine proved to be safe, immunogenic, capable of reducing gonadal functionality, and had a positive effect on inducing reduced sexual, agonistic, and marking behavior of the animals.
View Full-Text
►

▼

Show Figures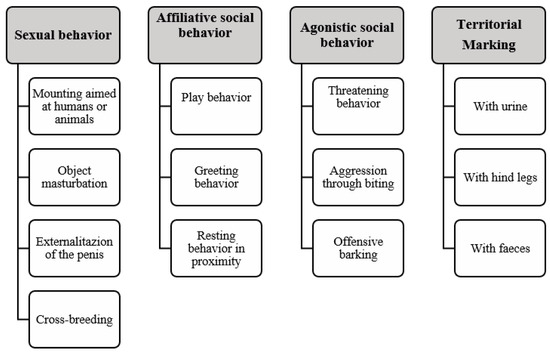 Figure 1
This is an open access article distributed under the
Creative Commons Attribution License
which permits unrestricted use, distribution, and reproduction in any medium, provided the original work is properly cited

MDPI and ACS Style
Siel, D.; Ubilla, M.J.; Vidal, S.; Loaiza, A.; Quiroga, J.; Cifuentes, F.; Hardman, T.; Lapierre, L.; Paredes, R.; Sáenz, L. Reproductive and Behavioral Evaluation of a New Immunocastration Dog Vaccine. Animals 2020, 10, 226.
Show more citation formats
Show less citations formats
Note that from the first issue of 2016, MDPI journals use article numbers instead of page numbers. See further details
here
.