Effects of Oral Glutamine Supplementation on Early Postnatal Muscle Morphology in Low and Normal Birth Weight Piglets
1
Institute of Muscle Biology and Growth, Leibniz Institute for Farm Animal Biology (FBN), 18196 Dummerstorf, Germany
2
Institute of Nutritional Physiology "Oskar Kellner", Leibniz Institute for Farm Animal Biology (FBN), 18196 Dummerstorf, Germany
*
Author to whom correspondence should be addressed.
Received: 29 September 2020 / Revised: 23 October 2020 / Accepted: 24 October 2020 / Published: 28 October 2020
(This article belongs to the Section
Pigs
)
Simple Summary
The lower survival rate and diminished overall growth and performance of low birth weight piglets is an economic and ethical issue in pig production. Adapted nutrition can help to compensate growth retardation, in particular, if nutrients in milk are not sufficient for newborn piglets. This study investigated the effects of oral glutamine supplementation during the first days after birth on skeletal muscle morphology of piglets with low or normal birth weight. The results indicated that glutamine supplementation changed the intramuscular amino acid concentration in the short term and influenced the muscle fiber size and abundance of myosin heavy chain isoforms within longissimus and semitendinosus muscle in neonatal piglets. Furthermore, differences in muscle fiber size and intramuscular lipid deposition were observed between low and normal birth weight piglets that disappeared in older piglets, independent of supplementation. The results indicated a delayed muscle development in low birth weight piglets. This delay can partly be compensated during growth by adequate nutrition.
Adapted nutrition can improve the growth of low birth weight (LBW) piglets. Since maternal milk is thought to provide insufficient glutamine (Gln) for LBW piglets, the current study investigated the influence of Gln supplementation during the early suckling period on development and lipid deposition in skeletal muscle. The weight differences between LBW and normal birth weight (NBW) littermates persisted from birth to slaughter (
p
< 0.001). However, intramuscular Gln and Ala concentrations were altered in piglets according to the supplementation (
p
< 0.01). There were larger muscle fibers (
p
= 0.048) in Gln-supplemented piglets. Capillarization or nuclei number per muscle fiber was not influenced by birth weight (BiW) or Gln supplementation. Abundance of myosin heavy chain (MYH) isoforms was slightly altered by Gln supplementation. LBW piglets had more lipid droplets than NBW piglets at day 5 of life in both muscles (
p
< 0.01). The differences decreased with age. Adipocyte development increased with age, but was not influenced by BiW or supplementation. The results indicate that BiW differences were accompanied by differences in lipid deposition and muscle fiber structure, suggesting a delayed development in LBW piglets. Supplementation with Gln may support piglets to overcome those disadvantages.
View Full-Text
►

▼

Show Figures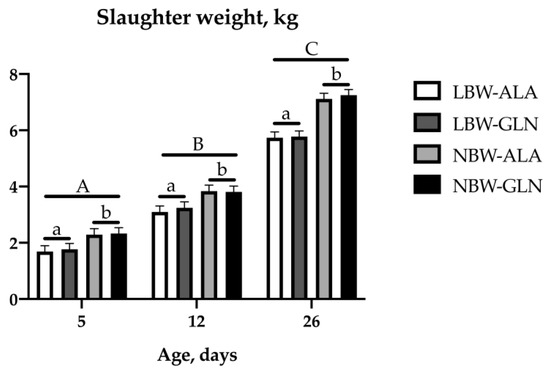 Figure 1
This is an open access article distributed under the
Creative Commons Attribution License
which permits unrestricted use, distribution, and reproduction in any medium, provided the original work is properly cited

MDPI and ACS Style
Zhao, Y.; Albrecht, E.; Sciascia, Q.L.; Li, Z.; Görs, S.; Schregel, J.; Metges, C.C.; Maak, S. Effects of Oral Glutamine Supplementation on Early Postnatal Muscle Morphology in Low and Normal Birth Weight Piglets. Animals 2020, 10, 1976.
Show more citation formats
Show less citations formats
Note that from the first issue of 2016, MDPI journals use article numbers instead of page numbers. See further details
here
.