Embryonic Thermal Manipulation Affects the Antioxidant Response to Post-Hatch Thermal Exposure in Broiler Chickens
1
Department of Applied Biological Sciences, Faculty of Science and Arts, Jordan University of Science and Technology, P.O. Box 3030, Irbid 22110, Jordan
2
Department of Basic Medical Veterinary Sciences, Faculty of Veterinary Medicine, Jordan University of Science and Technology, P.O. Box 3030, Irbid 22110, Jordan
*
Author to whom correspondence should be addressed.
Received: 23 November 2019 / Revised: 8 January 2020 / Accepted: 10 January 2020 / Published: 13 January 2020
Simple Summary
The broiler chicken is one of the most important livestock species in the world, as it occupies a major role in the modern human diet. Due to uneven artificial selection pressures, the broiler has increased in size over the past few decades at the expense of its ability to withstand oxidative damage, the latter of which is often a byproduct of thermal stress. In order to attenuate the effects of heat stress, thermal manipulation (TM), which involves changes in incubation temperature at certain points of embryonic development, is increasingly being presented as a way in which to improve broiler thermotolerance. Therefore, the objective of this study was to investigate how TM might affect broiler response to post-hatch thermal stress in the context of the genes that help combat oxidative damage, namely the catalase, NADPH oxidase 4 (NOX4), and superoxide dismutase 2 (SOD2) genes. Expression of all three aforementioned genes differed significantly between TM and control chickens after exposure to cold and heat stress. Conclusively, TM may act as a viable mode of preventative treatment for broilers at risk of thermally induced oxidative stress.
Thermal stress is a major source of oxidative damage in the broiler chicken (
Gallus gallus domesticus
) due to the latter's impaired metabolic function. While heat stress has been extensively studied in broilers, the effects of cold stress on broiler physiologic and oxidative function are still relatively unknown. The present study aimed to understand how thermal manipulation (TM) might affect a broiler's oxidative response to post-hatch thermal stress in terms of the mRNA expression of the catalase, NADPH oxidase 4 (
NOX4
), and superoxide dismutase 2 (
SOD2
) genes. During embryonic days 10 to 18, TM was carried out by raising the temperature to 39 °C at 65% relative humidity for 18 h/day. To induce heat stress, room temperature was raised from 21 to 35 °C during post-hatch days (PD) 28 to 35, while cold stress was induced during PD 32 to 37 by lowering the room temperature from 21 to 16 °C. At the end of the thermal stress periods, a number of chickens were euthanized to extract hepatic and splenic tissue from the heat-stressed group and cardiac, hepatic, muscular, and splenic tissue from the cold-stressed group. Catalase,
NOX4
, and
SOD2
expression in the heart, liver, and spleen were decreased in TM chickens compared to controls after both cold and heat stress. In contrast, the expression levels of these genes in the breast muscles of the TM group were increased or not affected. Moreover, TM chicks possessed an increased body weight (BW) and decreased cloacal temperature (T
C
) compared to controls on PD 37. In addition, TM led to increased BW and lower T
C
after both cold and heat stress. Conclusively, our findings suggest that TM has a significant effect on the oxidative function of thermally stressed broilers.
View Full-Text
►

▼

Show Figures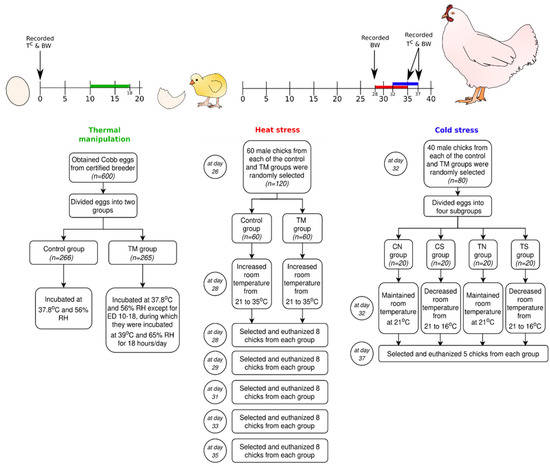 Figure 1
This is an open access article distributed under the
Creative Commons Attribution License
which permits unrestricted use, distribution, and reproduction in any medium, provided the original work is properly cited

Note that from the first issue of 2016, MDPI journals use article numbers instead of page numbers. See further details
here
.