Evaluation of SCD, ACACA and FASN Mutations: Effects on Pork Quality and Other Production Traits in Pigs Selected Based on RNA-Seq Results
1
Department of Animal Molecular Biology, National Research Institute of Animal Production, Krakowska 1, 32-083 Balice, Poland
2
Department of Pig Breeding, National Research Institute of Animal Production, Krakowska 1, 32-083 Balice, Poland
3
Faculty of Biotechnology and Horticulture, University of Agriculture in Kraków, al. 29 Listopada 54, 31-425 Kraków, Poland
4
Department of Cattle Breeding, National Research Institute of Animal Production, Krakowska 1, 32-083 Balice, Poland
5
Department of Animal Science and Veterinary Technology, Tarleton State University, Stephenville, TX 76402, USA
*
Author to whom correspondence should be addressed.
Received: 7 November 2019 / Revised: 7 January 2020 / Accepted: 10 January 2020 / Published: 12 January 2020
Simple Summary
This study aimed to evaluate mutations within three candidate genes (SCD, ACACA, FASN) for their effects on fattening and slaughter characteristics, as well as meat quality traits, including intramuscular fat (IMF) level in pork. They were selected within differentially expressed genes activated in response to variable backfat content obtained using the RNA sequencing method. The RNA-seq analysis identifies mutations/SNPs located in the mRNA and could be a useful tool for prediction of genetic markers in farm animals. The results showed that selection for FASN A allele in Polish Large White pigs could lead to improved meat quality traits such as water exudation and meat colour. However, analysed polymorphisms showed only slight effects on fat metabolism and IMF content.
In recent years, pig producers have struggled with the problem of low intramuscular fat levels in pork, which impacts palatability and ultimately meat quality. Reduced levels of intramuscular fat are likely the result of breeding objectives aimed at increasing lean meat content. In this study, three mutations within candidate genes for fat content (
SCD, ACACA,
and
FASN)
were selected, based on RNA-seq results and the relationship between polymorphisms in genes related to lipid metabolism, fattening and slaughter characteristics, as well as pork quality, including IMF level, were evaluated to identify selection markers. Moreover, their impact on gene expression was also examined. The PCR–RFLP (polymerase cha- in reaction – restriction fragments length) method was used to establish genotypes and effect sizes of potential genetic markers were estimated using a GLM model. It was identified that a
FASN
missense variant was positively associated with the expression level of this gene, which suggested its linkage with a mutation having a regulatory function. The association study indicated that the FASN missense variant may play a role in the determination of feed conversion and meat colour. In turn, a mutation in the
ACACA
gene showed a relationship with IMF content in the Puławska breed where the differences reached as much as 20%. We suggest considering all three mutations in further studies based on different pig populations due to the crucial role of
SCD, ACACA,
and
FASN
genes in lipid metabolism.
View Full-Text
►

▼

Show Figures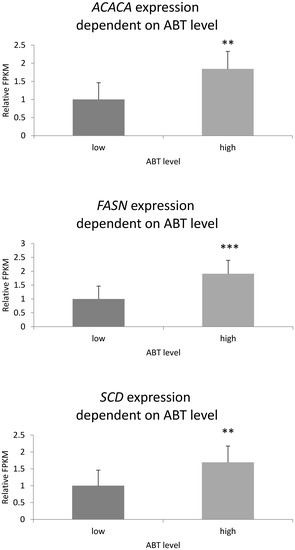 Figure 1
This is an open access article distributed under the
Creative Commons Attribution License
which permits unrestricted use, distribution, and reproduction in any medium, provided the original work is properly cited

MDPI and ACS Style
Piórkowska, K.; Małopolska, M.; Ropka-Molik, K.; Szyndler-Nędza, M.; Wiechniak, A.; Żukowski, K.; Lambert, B.; Tyra, M. Evaluation of SCD, ACACA and FASN Mutations: Effects on Pork Quality and Other Production Traits in Pigs Selected Based on RNA-Seq Results. Animals 2020, 10, 123.
Show more citation formats
Show less citations formats
Note that from the first issue of 2016, MDPI journals use article numbers instead of page numbers. See further details
here
.