Positive Roles of Resveratrol in Early Development of Testicular Germ Cells against Maternal Restraint Stress in Mice
1
College of Animal Science and Technology, Nanjing Agricultural University, Nanjing 210095, China
2
Faculty of Animal Husbandry and Veterinary Science, Sindh Agriculture University Tando Jam, Tando Jam 70060, Pakistan
*
Author to whom correspondence should be addressed.
Received: 10 December 2019 / Revised: 31 December 2019 / Accepted: 3 January 2020 / Published: 12 January 2020
Simple Summary
Maternal stress during pregnancy affected the early programming of the brain in the fetus with changes in neuroendocrine regulation, and offspring behavior was proven in the literature. In addition, resveratrol (RES) was reported to play positive roles against stress. However, how maternal stress affects testicular development and whether RES has potential protecting roles is unknown.
Our present study was designed to evaluate the effects of resveratrol (RES) in Swiss mice by exposing them to prenatal stress. Twenty-four Swiss mice were divided into four groups: control (C), maternal restraint stress (MRS), maternal restraint stress + resveratrol (MRS + RES) 2 mg, and maternal restraint stress + resveratrol (MRS + RES) 20 mg. Dams were exposed to stress by restraint in plastic tubes for four hours a day from 12–18 days of gestation. The results showed that male pups of MRS were significantly decreased in the testis weight, anogenital distance, area of seminiferous tubules, diameter of seminiferous tubules, area of the lumen, diameter of the lumen, and epithelial height of seminiferous tubules. However, the anomalies of the reproductive tract produced under restraint stress were neutralized by the use of RES 2 mg/kg. A significant difference was observed between terminal deoxynucleotidyl transferase dUTP nick end labeling (TUNEL)- positive germ cells in MRS and MRS + RES 20 mg/kg groups, while it was non-significant between MRS + RES 2 mg/kg and C groups. Apart from these effects, blood glucose levels were increased in MRS and MRS + RES 20 mg/kg groups, while experimental animals of the MRS + RES 2 mg/kg group significantly recovered. These results suggested that a lower dose of RES could cure the adverse effects of prenatal stress in early age male progeny. Thus, our study suggests, for the first time, practical values for a lower dose of RES 2 mg/kg as a safe and effective agent in the first week age of prenatally stressed mice.
View Full-Text
►

▼

Show Figures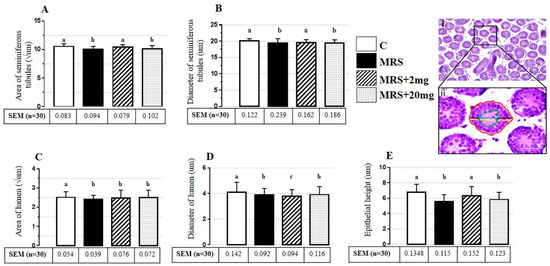 Figure 1
This is an open access article distributed under the
Creative Commons Attribution License
which permits unrestricted use, distribution, and reproduction in any medium, provided the original work is properly cited

MDPI and ACS Style
Mustafa, S.; Ennab, W.; Nazar, K.; Wei, Q.; Lv, Z.; Shi, Z.; Shi, F. Positive Roles of Resveratrol in Early Development of Testicular Germ Cells against Maternal Restraint Stress in Mice. Animals 2020, 10, 122.
Show more citation formats
Show less citations formats
Note that from the first issue of 2016, MDPI journals use article numbers instead of page numbers. See further details
here
.