Efficient Epstein-Barr Virus Progeny Production Mediated by Cancer-Derived LMP1 and Virally-Encoded microRNAs
1
Division of Microbiology, Faculty of Medicine, Tohoku Medical and Pharmaceutical University, Sendai 983-8536, Japan
2
Division of Cancer Cell Regulation, Aichi Cancer Center Research Institute, Nagoya 464-8681, Japan
3
Department of Head and Neck Surgery, Aichi Cancer Center Hospital, Nagoya 464-8681, Japan
4
Department of Head and Neck Surgery, Asahi University Hospital, Gifu 500-8523, Japan
*
Author to whom correspondence should be addressed.
Received: 26 March 2019 / Revised: 25 April 2019 / Accepted: 28 April 2019 / Published: 30 April 2019
Abstract
Epstein-Barr virus (EBV) genomes, particularly their latent genes, are heterogeneous among strains. The heterogeneity of EBV-encoded latent membrane protein 1 (LMP1) raises the question of whether there are functional differences between LMP1 expressed by cancer-associated EBV and that by non-cancerous strains. Here, we used bacterial artificial chromosome (BAC)-cloned EBV genomes retaining all virally encoded microRNA (miRNA) genes to investigate the functions of cancer-derived LMP1 in the context of the EBV genome. HEK293 cells were stably transfected with EBV-BAC clone DNAs encoding either nasopharyngeal carcinoma (NPC)-derived CAO-LMP1 (LMP1
CAO
) or LMP1 from a prototype B95-8 strain of EBV (LMP1
B95-8
). When an EBV-BAC clone DNA encoding LMP1
CAO
was stably transfected into HEK293 cells, it generated many more stable transformants than the control clone encoding LMP1
B95-8
. Furthermore, stably transfected HEK293 cells exhibited highly efficient production of progeny virus. Importantly, deletion of the clustered viral miRNA genes compromised the ability to produce progeny viruses. These results indicate that cancer-derived LMP1 and viral miRNAs together are necessary for efficient production of progeny virus, and that the resulting increase in efficiency contributes to EBV-mediated epithelial carcinogenesis.
View Full-Text
►

▼

Figures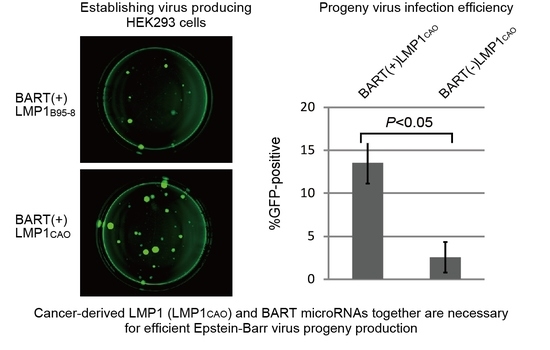 Graphical abstract
This is an open access article distributed under the
Creative Commons Attribution License
which permits unrestricted use, distribution, and reproduction in any medium, provided the original work is properly cited (CC BY 4.0).

Share & Cite This Article
MDPI and ACS Style
Yajima, M.; Miyata, M.; Ikuta, K.; Hasegawa, Y.; Oneyama, C.; Kanda, T. Efficient Epstein-Barr Virus Progeny Production Mediated by Cancer-Derived LMP1 and Virally-Encoded microRNAs. Microorganisms 2019, 7, 119.
Note that from the first issue of 2016, MDPI journals use article numbers instead of page numbers. See further details here.
Related Articles
Comments
[Return to top]