Open Access This article is
freely available
re-usable
Article
Genetic Diversity and Demographic History of
Ganoderma boninense
in Oil Palm Plantations of Sarawak, Malaysia Inferred from ITS Regions
1
Sarawak Tropical Peat Research Institute, Lot 6035, Kuching-Kota Samarahan Expressway, 94300 Kota Samarahan, Sarawak, Malaysia
2
Applied Agricultural Resources Sdn. Bhd. (AAR)—University of Nottingham Malaysia Campus (UNMC) Biotechnology Research Centre, Jalan Broga, 43500 Semenyih, Selangor Darul Ehsan, Malaysia
*
Author to whom correspondence should be addressed.
Received: 3 September 2019 / Accepted: 14 October 2019 / Published: 16 October 2019
Abstract
:
Ganoderma boninense
causes basal stem rot (BSR) and is responsible for substantial economic losses to Southeast Asia's palm oil industry. Sarawak, a major producer in Malaysia, is also affected by this disease. Emergence of BSR in oil palm planted on peat throughout Sarawak is alarming as the soil type was previously regarded as non-conducive. Phylogenetic analysis indicated a single species,
G. boninense
as the cause of BSR in Sarawak. Information on evolutionary and demographic history for
G. boninense
in Sarawak inferred through informative genes is lacking. Hence, a haplotype study on single nucleotide polymorphisms in internal transcribed spacers (SNPs-ITS) of
G. boninense
was carried out. Sequence variations were analysed for population structure, phylogenetic and phylogeographic relationships. The internal transcribed spacers (ITS) region of 117 isolates from four populations in eight locations across Sarawak coastal areas revealed seven haplotypes. A major haplotype, designated GbHap1 (81.2%), was found throughout all sampling locations. Single nucleotide polymorphisms were observed mainly in the ITS1 region. The genetic structure was not detected, and genetic distance did not correlate with geographical distance. Haplotype network analysis suggested evidence of recent demographic expansion. Low genetic differences among populations also suggested that these isolates belong to a single
G. boninense
founder population adapting to oil palm as the host.
Keywords:
Ganoderma boninense
; oil palm; basal stem rot; phylogenetic; phylogeographic relationship; ITS
3. Discussion
3.1. High Morphological Plasticity in Ganoderma spp. Leads to Misidentification
All samples collected in this study were identified as
G. boninense
isolates based on ITS DNA sequences. Although Rakib et al. [
8
] identified randomly sampled pathogenic
Ganoderma
isolates infecting oil palm using multiplex PCR as
G. zonatum
,
G. boninense
and
G. miniatocinctum
, it is however, generally accepted that
G. boninense
is the dominant causal phytopathogen of BSR and USR disease in Malaysia [
11
,
12
]. Nucleotide database of NCBI showed that the only ITS record of
G. miniatocinctum
(Accession No. KM220586) from Malaysia is identical to
G. boninense
(Accession No. MG200173). The record of
G. zonatum
ITS from Malaysia, however, was not publicly available for comparison with the generated
G. boninense
clade haplotypes. Phylogenetic analyses verified the inclusion of generated haplotype sequences within the
G. boninense
clade. Phylogenetic studies have also demonstrated that
G. boninense
and
G. zonatum
commonly formed a unique clade and are closely related to one another than other
Ganoderma
species [
21
,
35
].
Phylogenetic analysis revealed a strong support for clade containing
G. angustiporum
,
G. boninense
,
G. ryvardenii
and
G. zonatum
(
Figure 1
). However, only species such as
G. boninense
,
G. ryvardenii
and
G. zonatum
indicated host preference to palm (
Table S1
). Our results are in agreement with Pilotti's report [
4
] which demonstrated that
G. boninense
has a restricted host range to palm in natural condition. In the literature, non-palm hosts for
G. boninense
have not been reported. Apart from oil palm, other palm host species for
G. boninense
also include
Clinostigma savoryana
(pacific beauty palm),
Cocos nucifera
(coconut),
Livistona chinensis
(fountain palm) (var.
boninensis
and var.
subglobosa
) and
Wodyetia bifurcate
(foxtail palm) [
36
]. The first record of disease occurrence for foxtail palm in Malaysia was reported in 2018, indicating that this pathogen can be a threat to both oil palm industry and ornamental palms used in landscaping [
37
]. Elliott et al. [
38
] reported 12 different palm species (native and non-native) that could host
G. zonatum
and the non-palm host records may have been inaccurately identified based on information from phylogenetic analyses.
Ganoderma ryvardenii
is a relatively new species compared to
G. boninense
and
G. zonatum
and has only been reported in oil palm plantation from Cameroon [
39
].
Ganoderma angustisporum
is a new species reported in 2018 by Xing et al. [
40
] in China that differs in morphological features and host tree compared with
G. boninense, G. zonatum and G. ryvardenii
. It is plausible that the genus
Ganoderma
is relatively young and expanding its range to other hosts or climate zones [
41
] and many species have yet to be discovered. These unknown species could assist in explaining
Ganoderma
species divergence.
High morphological plasticity is common among
Ganoderma
species and this can lead to species misidentification [
7
,
23
]. A survey of 600
Ganoderma
spp. sequences in the NCBI GenBank
®
nucleotide database has revealed that 65% of these sequences were misidentified or incorrectly labelled [
41
]. Hence, reliable taxonomic assignments in public databases would benefit researchers across multiple disciplines and, given the economic impacts of
Ganoderma
species such as
G. boninense
in the oil palm industry, accurate identification would influence disease management. Geographical regions and fungal-host relationships should also be considered in assessing monophyletic taxa in the
Ganoderma
genus [
42
].
3.2. Ganoderma boninense SNPs-ITS Variation Analyses Showed a Single Population Throughout Sarawak
3.3. Haplotype GbHap1 as a Dominant Ancestral Isolate in Recent Population Expansion
The demographic history of the
G. boninense
population in Sarawak was investigated using a neutrality test through Tajima's D and Fu's F
S
. Values were calculated as an individual population as well as a single population with both having negative values but were not statistically significant to conclude a demographic expansion (
Table 2
). The neutrality test based on haplotype frequencies such as Fu's FS performed better than Tajima's D in detecting demographic expansion, contraction and bottlenecks [
53
]. Fu's FS test, however, can be affected by recombination events [
53
]. We did not perform additional tests for detection of recombination events as both neutrality tests were not significant. Simulation of demographic expansion for
G. boninense
samples from Peninsular Malaysia and Sumatra Island of Indonesia by Merciere et al. [
50
] through microsatellites suggested a demographic expansion time estimated to have occurred between 12,800 to 22,820 years ago. Authors, however, caution that population size and generation time could still be influenced by the introduction of new planting materials and the presence of actively sporulating
G. boninense
basidiomata. Regardless, population distribution and the expansion of sampled
G. boninense
isolates between Peninsular Malaysia and Sumatra, Indonesia was not influenced by factors such as planting generation, planting material genetic background or even regional geographical separation by way of the strait of Malacca [
50
]. Specific interaction between
G. boninense
isolates to its host (oil palm) was not detected through their microsatellites analyses and molecular evidence was insufficient to establish the existence of any sub-population. As multiple individuals have the potential to cause further infection and propagate, population size would continue to expand through outcrossing and basidiospores spreading across long distances by nature or human activities [
54
].
Although our study found no statistically significant evidence for demographic expansion using the neutrality test, a haplotype network was generated (
Figure 2
) and it displayed a star-like structure with a numerically dominant haplotype in the centre and multiple variants of haplotypes with low nucleotide diversity surrounding the central haplotype. Traces of species history that could alter its genetic makeup can be detected by studying haplotype and nucleotide diversity, haplotype frequencies and their pattern of distribution in order to explain possible demographic events that shaped the variations found within any population genetics through coalescent theory [
47
]. The relationship between haplotypes can also be better visualised through a network as reticulation events with ancestral and descendant co-existence are shown [
55
]. Reticulation events can occur in genetic clines at contact zones in the form of SNPs and in lineage-scale migration observed through allopatric populations [
56
]. This star-like configuration of the haplotype network could be indicative of a recent population expansion throughout the taxa's history. However, estimation of expansion time was not possible through haplotype network visualisation. As coalescent theory suggests, haplotype numbers could only be an indicative that
G. boninense
isolates are recent individuals adapted to oil palm as hosts with GbHap1 being the numeric dominant haplotype as the ancestral isolate. Nevertheless, the haplotype network (
Figure 2
) configuration also included the possible missing haplotype and reticulation within the network—this could as well suggest that the sampled population may not represent actual haplotype diversity. Therefore, haplotype diversity of
G. boninense
may be higher than the information presented (
Table 2
).
3.4. Challenges and Recommendations
5. Conclusions
This study shed light on the phylogenetic and phylogeographic relationships of
G. boninense
isolates collected throughout oil palm plantations planted on peat located near coastal areas in Sarawak.
Ganoderma boninense
was identified as the causal agent regardless of BSR or USR origin. Analysis of variation in SNPs-ITS region showed a common major
G. boninense
haplotype distributed throughout Sarawak. Minority haplotypes were generated from this major haplotype based on haplotype network. Genetic structure was not detected among population with distribution of similar haplotype can be found up to the farthest distance of 504 km between sampling points. Haplotype diversity and the level of variations observed in the ITS region would suggest the possibility of only a single founder population of
G. boninense
existing in the collected samples throughout Sarawak. These findings, however, may only be related to the analysed gene of collected samples and should not be the representative patterns of the whole genome or taxa. Taking into consideration the disease cycle, subsequent resampling at the same or nearby location could also provide more information on population generation, population expansion and genetic differentiation of indigenous
G. boninense
isolates. Future application of comparing multiple gene regions such as
rpb
2 and
tef
1α could also be useful in resolving evolutionary relationships and population dynamics among phytopathogenic
G. boninense
or closely related species.
Supplementary Materials
Supplementary materials can be found at
https://www.mdpi.com/2076-2607/7/10/464/s1
. Table S1. Information on
Ganoderma
species used in phylogenetic analysis. Table S2. Pairwise genetic distance among seven haplotypes of
G. boninense
isolated from oil palm plantation in Sarawak with
Tomophagus colossus
(KJ143923) as the outgroup. Table S3. Sampling sites for
G. boninense
basidiomata collection throughout Sarawak.
Author Contributions
F.M., S.Y.L.L., W.C.W., H.J.T., M.L.L. and M.S.J. sampled and verified sample collection. F.M., H.J.T., M.L.Y., M.L.L., M.S.J., S.P.D. performed laboratory works and analyses; F.M. prepared and edited the manuscript draft; S.Y.L.L. and W.C.W. reviewed and edited the manuscript; L.M. supervised, acquired resources and funding. All authors read and approved the final version of the manuscript.
Funding
This study was supported by the Sarawak State Government.
Acknowledgments
The authors would like to thank the oil palm plantation managements for permission to sample within their plantations. The authors would also like to thank the valuable assistance of staff from TROPI's Molecular and Microbiology Research Division and Chai Chuan Jian.
Conflicts of Interest
The authors declare no conflict of interest.
Figure 1.
Phylogenetic tree constructed for
G. boninense
(species highlighted in red font) based on maximum likelihood (ML) and Bayesian phylogenetic analysis of internal transcribed spacers (ITS) sequences. Statistical values shown are ML-bootstrap values above 50% and Bayesian inference (BI) posterior probability above 90% (in bold). The scale bar (0.02) indicates the number of nucleotide substitution per site. Sub-clusters of
G. ryvardenii
and G.
zonatum
are highlighted in green and blue font, respectively.
Tomophagus colossus
is included as the outgroup. Data matrix and tree files can be viewed through the following URL:
http://purl.org/phylo/treebase/phylows/study/TB2:S24430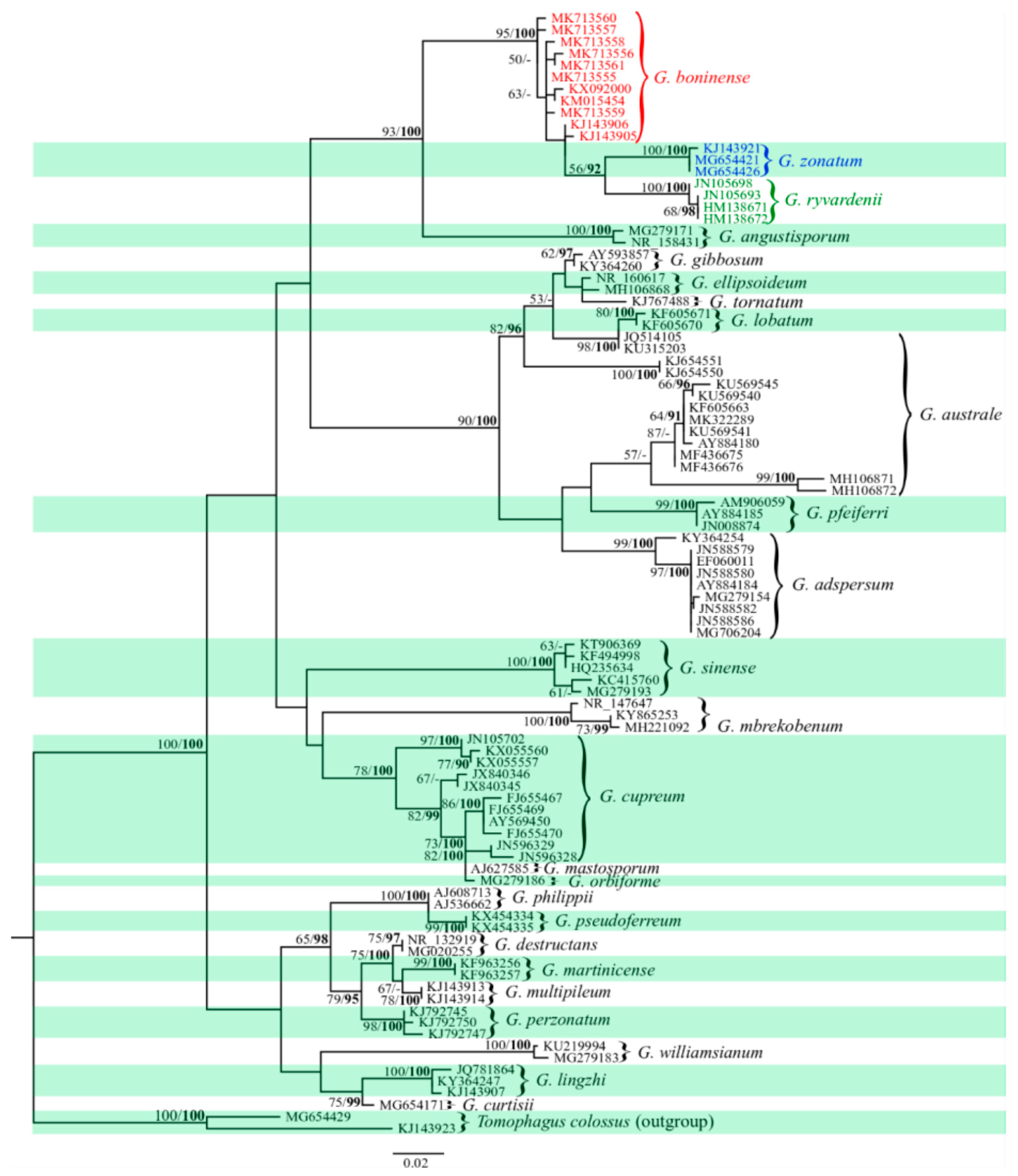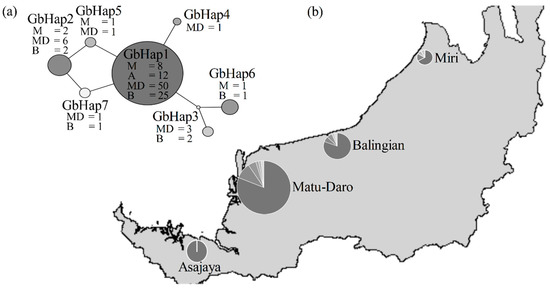 Figure 2.
(
a
) Haplotype network of
G. boninense
based on ITS sequences. Radius of the circle for the haplotype network is proportional to the number of isolates obtained, as shown in the parentheses. The major haplotypes (GbHap1 and GbHap2) are placed in the inner clades. The small circle is a hypothesised missing haplotype. (
b
) Geographical distribution of
G. boninense
haplotypes according to designated population: Miri (M), Asajaya (A), Matu-Daro (MD) and Balingian (B). The number of specific haplotypes found in a certain location is shown in the haplotype network.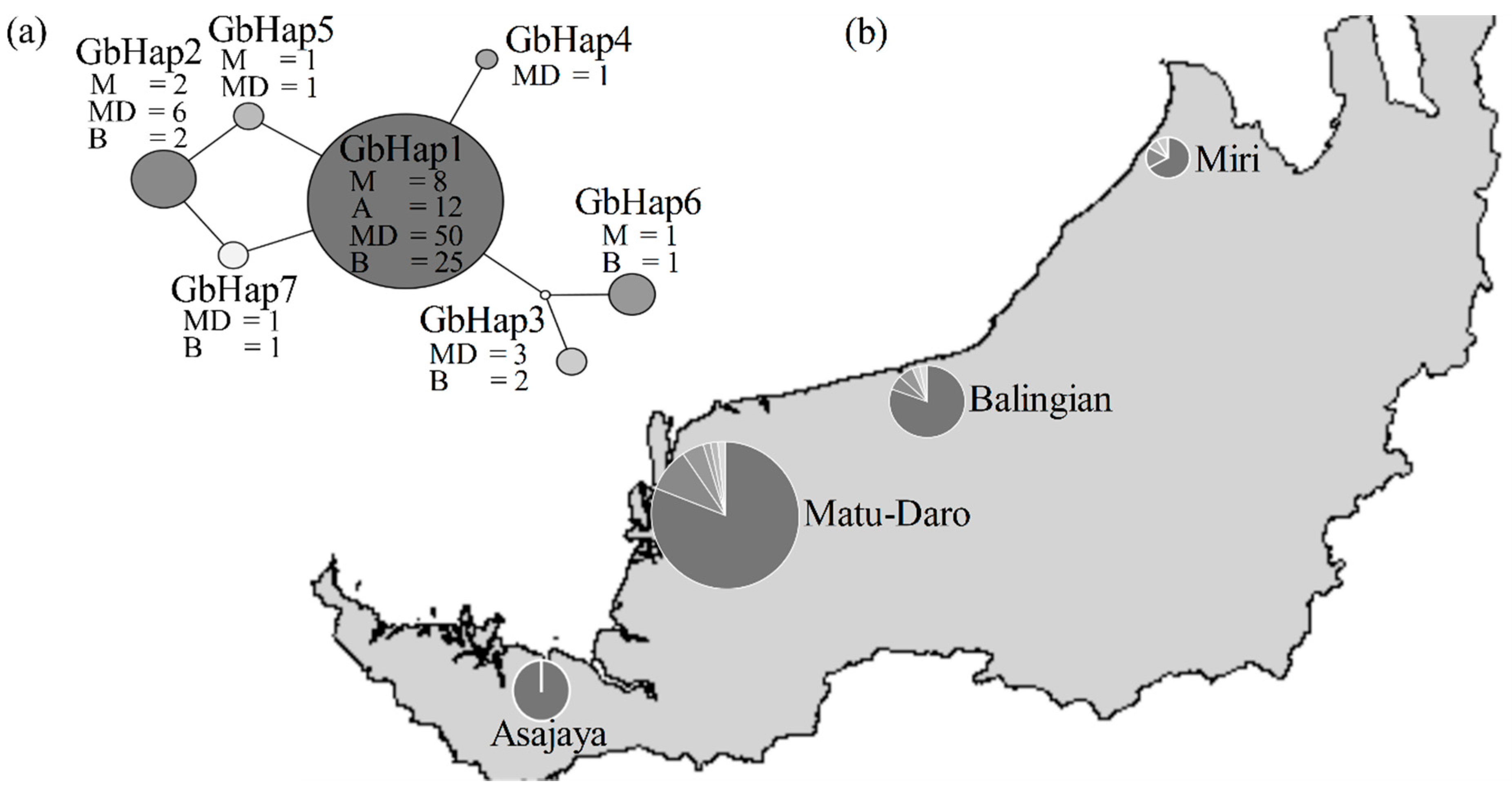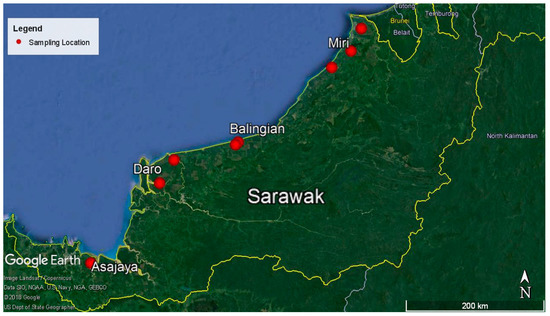 Figure 3.
Sampling locations of
Ganoderma
basidiomata across oil palm plantations in Sarawak. Map extracted from Google Earth [
62
].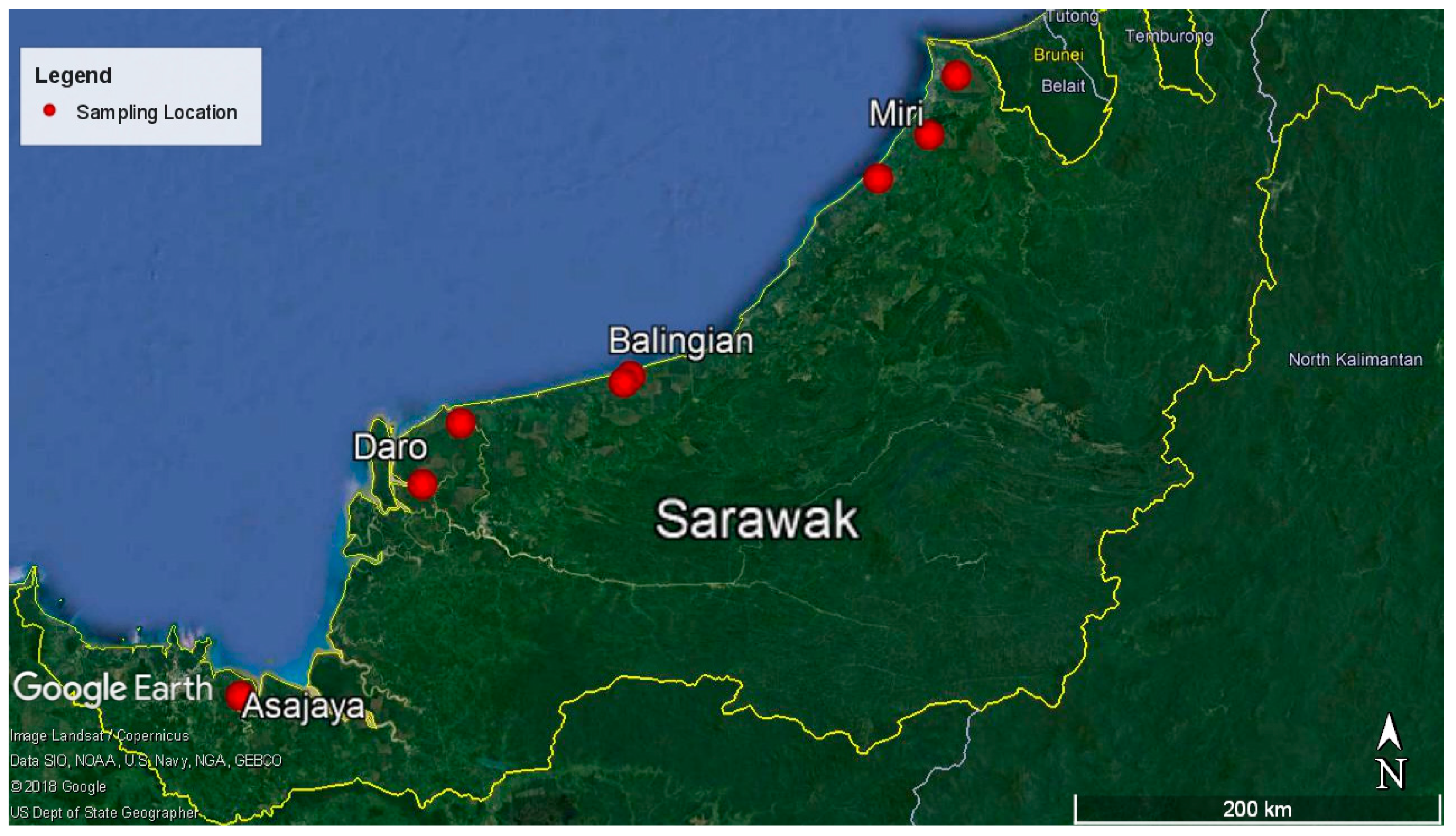 Variables
17
64
84
130
152
503
Haplotype
GBHap1
T
T
T
G
T
C
GbHap2
∙
∙
∙
T
C
∙
GbHap3
C
∙
C
∙
∙
∙
GbHap4
∙
C
∙
∙
∙
∙
GbHap5
∙
∙
∙
∙
C
∙
GbHap6
∙
∙
C
∙
∙
T
GbHap7
∙
∙
∙
T
∙
∙
Dots indicate the identity of similar nucleotide bases with the

G. boninense

haplotype 1 (GbHap1) sequence.

Table 2.
Distribution of seven observed haplotypes, sequence variation and molecular diversity indices among populations of
G. boninense
. Haplotype diversity represent probability that two randomly sampled genes are different. Nucleotide diversity is the average number of nucleotide differences per site in pairwise comparison among gene sequences. As a single population, Tajima's D was −0.9869 * and Fu's FS was −2.772 *.
Haplotypes
Populations
Miri (

n

= 12)
Asajaya (

n

= 12)
Matu-Daro (

n

= 62)
Balingian (

n

= 31)
GbHap1
0.667
1.000
0.820
0.806
GbHap2
0.167
0
0.098
0.065
GbHap3
0
0
0.049
0.065
GbHap4
0
0
0.016
0
GbHap5
0.083
0
0.016
0
GbHap6
0.083
0
0
0.032
GbHap7
0
0
0.016
0.032
Sequence Variation
Total no. of polymorphic loci (S)
4
0
5
5
Total no. mutation (Eta)
4
0
5
5
Ave. no. nucleotide differences (k)
1.045
0
0.627
0.675
Molecular Diversity Indices
Nucleotide diversity (PiJC)
0.002
0
0.001
0.001
Theta S (per sequence)
1.325
0
1.065
1.252
Number of haplotypes (h)
4
1
6
5
Haplotype diversity (Hd)
0.561
0
0.343
0.351
Tajima's D
−0.741 *
N/A
−0.955 *
−1.246 *
Fu's FS
−0.524 *
N/A
−2.272 *
−1.634 *
* Not statistically significant; Tajima's D

p

> 0.05; Fu's FS

p

> 0.02. N/A: Not applicable.

Table 3.
Population subdivision (F
ST
) values and probability test (Chi-square) for population differentiation based on 1000 permutations of the sequence dataset. Genetic subdivision between populations was not detected as indicated by the negative F
ST
value and the high
p
-value (
p
> 0.05). The low F
ST
value for Asajaya as with other population was also not statistically significant.
G. boninense
populations within Sarawak showed a homogenous genetic structure and high gene flow (migration index, Nm > 4).
| Population | Miri | Asajaya | Matu-Daro | Balingian |
| --- | --- | --- | --- | --- |
| Miri | N/A | | | |
| Asajaya | 0.104 * | N/A | | |
| Matu-Daro | −0.003 * | 0.008 * | N/A | |
| Balingian | −0.014 * | 0.048 * | −0.014 * | N/A |
* Not statistically significant with

p

> 0.05. N/A: Not applicable.

Table 4.
Hierarchical analysis of molecular variance (AMOVA) in
G. boninense
. Negative values for variations among populations is regarded as zero. Genetic structure for sampled
G. boninense
population was not detected through AMOVA. Genetic variation was attributed to variation within population.
Source of Variations
Sum of Squares
Variance Components
Percentage of Variations

p-

Value
Among populations
0.871
−0.001
−0.254
0.503 *
Within populations
34.992
0.310
100.254
* Not statistically significant with

p

> 0.05.

© 2019 by the authors. Licensee MDPI, Basel, Switzerland. This article is an open access article distributed under the terms and conditions of the Creative Commons Attribution (CC BY) license (http://creativecommons.org/licenses/by/4.0/).