New Layouts of Fiber Reinforcements to Enable Full Finger Motion Assist with Pneumatic Multi-Chamber Elastomer Actuators
1
Department of Medical Engineering, Graduate school of Engineering, Chiba University, Inage-ku, Yayoi-cho 1-33, Chiba 263-8522, Japan
2
Center for Frontier Medical Engineering, Chiba University, Inage-ku, Yayoi-cho 1-33, Chiba 263-8522, Japan
*
Author to whom correspondence should be addressed.
Received: 7 April 2018 / Revised: 1 June 2018 / Accepted: 13 June 2018 / Published: 18 June 2018
Abstract
Fiber-reinforced fluid-driven elastomer actuators have enabled the production of simple, low-cost and safe hand rehabilitation devices. However, so far, the actuators support only finger flexion-extension, and little has been reported on abduction-adduction, which is essential for manipulation tasks and grasping larger objects. The technical design difficulty of realizing abduction-adduction lies in the suppression of interference effects between the metacarpophalangeal (MCP) joint's two orthogonal motion axes, caused by the necessary multi-chamber actuator structure and its reinforcements, under strong spatial constraints. This problem has not been solved yet, regardless of research efforts on designing various actuator structures. In this study, our goal was to enable flexion of all three finger joints and abduction-adduction of the MCP joint, while minimizing the interference and realizing required ranges of motion. For this, we propose two new types of fiber reinforcements (separate single loops and two-directional hitching) and their combination to direct a multi-chamber structure's expansion and strengthen its force output into the wanted directions. The reinforcements' effects on actuator response were evaluated by attaching prototypes to a dummy finger and measuring its range of motion and related joint torques and forces. Results showed that the single loops provided length extension, while the hitching constrained it from the bottom at the centerline and strengthened flexion. When combined, they could be used to adjust the amount of length extension and flexion along the actuator, without detrimentally affecting the flexion or abduction-adduction functions. In conclusion, the two new reinforcement types have the potential of being a major design factor for fitting the actuators' response for different users' finger kinematics.
View Full-Text
►

▼

Figures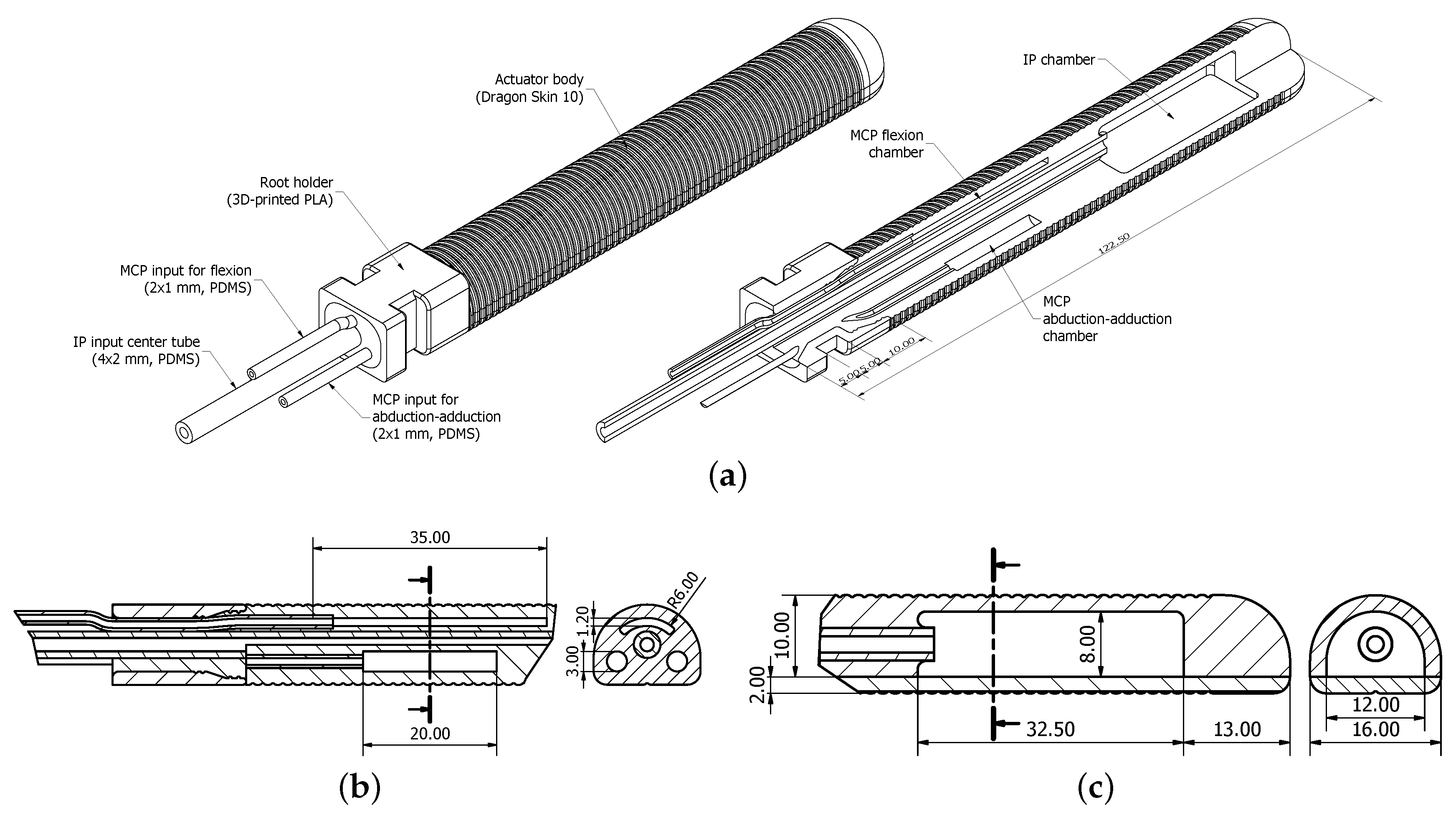 Figure 1
This is an open access article distributed under the
Creative Commons Attribution License
which permits unrestricted use, distribution, and reproduction in any medium, provided the original work is properly cited (CC BY 4.0).

Share & Cite This Article
MDPI and ACS Style
Tarvainen, T.V.J.; Fernandez-Vargas, J.; Yu, W. New Layouts of Fiber Reinforcements to Enable Full Finger Motion Assist with Pneumatic Multi-Chamber Elastomer Actuators. Actuators 2018, 7, 31.
Note that from the first issue of 2016, MDPI journals use article numbers instead of page numbers. See further details here.
Related Articles
Comments
[Return to top]